Since it began, the pandemic has compelled organizations to reassess their business priorities. Survival strategies have replaced conversations around growth and diversification.
When the world is still coming to grips with the impact of the pandemic, it might be contentious to begin discussing talent acquisition.
However, given the current situation, business resilience, and continuity in a post-covid world is quickly emerging as a key priority for leaders across the board. Despite ongoing cutbacks and layoffs, businesses will continue to rely on talent to survive and thrive.
As the world returns to work, now is the time to build a talent strategy that helps you do more with less. Building a successful candidate pipeline for critical roles can take years of work. And a good amount of trial and error. The good news is – we have some time until business gets back to normal.
So, HR and talent acquisition professionals are uniquely positioned to leverage this time to plan and develop the right capabilities to steer the ship forward.
Let's look at how you can put the lessons learned over the past few months to achieve recruiting zen with a pipeline of qualified candidates.
What is a Talent Pipeline?
A talent pipeline is a set of stages that a candidate moves through. As they progress from a lead to an employee. Once each pipeline stage is completed, candidates advance to the next stage. Like most modern recruitment practices, talent pipelining has been derived from proven sales and marketing strategies.
Talent pipelining is proactive recruitment at its best. Building it will help you fill positions faster than Chinese firms can erect skyscrapers.
What's more? You don't have to settle. You can choose your pick from a highly qualified group of candidates who're already familiar with your organization. The essence of a building a successful talent pipeline lies in candidate relationship management because you are no longer looking to fill open roles. But thinking about meeting future talent needs.
Every organization, regardless of size or the industry, stands to benefit from building a sustainable talent pipeline. In addition to better candidates, talent pipelining allows you to diversify your talent pool, deliver personalized candidate experiences, and improve your overall employer brand.
Organizations have had to make difficult decisions over the past few weeks. Especially in terms of headcount and budgets. As a result, candidate perception of organizations has also taken a beating. While the overall candidate sentiment is likely to be negative at the moment, talent acquisition teams have an opportunity to rewrite the rules of engagement with talent planning.
5 Steps to Building a Successful Talent Pipeline
A successful talent pipeline is often the result of strategic talent planning combined with employer branding. If you already use an applicant tracking system (ATS) or an integrated talent acquisition suite, you have a head start.
This five-step guide will take you through the fundamentals of building an effective talent pipeline:
Step #1: It All Begins With Your Employer Brand
At its core, talent pipelining is about influencing candidate behavior. More than anything else. How do you get talent interested in your organization? What sets your company apart? Why should candidates choose to work with you?
The answer is your employer brand. Your reputation as an employer will attract high-quality candidates. Even in a market that's reeling from the effects of a global pandemic and calls for increasing racial diversity. Your brand reflects your organization's core values, culture, and vision.
And it is set to become even more critical in a post-covid world. Where candidates can witness how organizations reacted to the crisis. It is not what we say, but what we do that defines us.
Some of the "best places to work" were also some of the earliest companies to announce furloughs and layoffs when business was slow. It just goes on to show how awards and titles can mean very little when the rubber hits the road.
Add to that the recent events that rattled our collective consciousness and significantly changed our perception about racial equity. This has also put organizations on the spot. Candidates and employees are watching keenly as organizations and HR teams respond to the unfolding crisis.
At a time when candidates can quickly look up information about your organization. From compensation and benefits to the work culture and advancement opportunities. Building a strong employer brand is no longer optional.
So, how do you position yourself as an employer of choice in an increasingly competitive talent market? Here are a few simple steps that can help you get started:
1. Career Sites
Most candidates will land on your career site through social media, job boards, or organic search. In a way, your career site is their first impression of your organization. Once they are on your career page, they're looking to learn more about what you have to offer. And what makes you unique.
Use your career site to showcase your values, culture, and give them a glimpse of what life in your company looks like. This is where you show candidates instead of telling them the values you cherish as an organization.
Ensure that the messaging on your careers site is consistent with that on your social handles, website, Glassdoor pages, and company literature.
Check if the site is mobile optimized and supports popular internet browsers. Best-of-breed ATS and recruitment marketing solutions offer dedicated modules for career pages and easy integration.
2. Glassdoor Page
One of the most popular employer review platforms. Glassdoor is a go-to resource for candidates looking to learn more about an organization. With detailed reviews on everything from the interview experience to salaries and culture, Glassdoor is undoubtedly one of the most potent branding channels available to employers.
Setting up a company profile and encouraging employees to post their experiences can help you project an authentic employer brand. While also revealing shortfalls and potential issues across the candidate and employee experience.
3. Social Media
Social media has quickly become the dominant marketing channel. Recruitment is not an exception. According to Glassdoor, 79 percent of job applicants use social media in their job search. So, projecting a positive employer brand on social media is key to attracting the best candidates.
Most recruiters typically use social media for posting jobs. However, this doesn't contribute to employer brand building. The best way to use social media for brand building is by promoting authentic conversations about life at your organization.
Celebrate employee achievements. Share real-life stories. Post photos and videos to show potential candidates what it is like working with you.

Example 1: Kronos successfully demonstrates the values it stands for through this post 

Example 2: Netflix does a wonderful job of tapping into the power of diversity with this video
4. Employee Advocacy
Building on your social media strategy, you can also look at employee advocacy as an effective branding tool. Employee advocacy is the word-of-mouth marketing equivalent for recruitment.
Identify employees who can act as your brand ambassadors and share the perks of working with your organization a wide audience. Candidates are three times more likely to trust your employees over recruiters to provide credible information about your work culture.
5. Keep Listening
One of the biggest mistakes an organization can make in branding: not listening to what people are saying. While we all love glowing reviews and positive testimonials, candidates are bound to have varying opinions about their interviews or their overall experience.
Instead of ignoring comments or reviews that are critical of your organization's process. Respond to candidates with empathy and grace. This is your opportunity to show candidates that you truly care about their experience, and you would still like them to consider your organization in the future.
Step #2: Identify Critical Skills Gaps and Future Talent Needs
It is well documented how companies like Yahoo, Blackberry, and Kodak failed to keep up with the times. In a world marked by disruption and increasing competition, success is a result of organizational agility. In the people context, agility refers to an organization's ability to align its leaders, workforce, and processes to meet the market's changing demands.
Leaders today need to anticipate shifts in the economic landscape and respond by delivering the right skills in the shortest time possible. However, it is tough finding great talent unless you already know them. This means having a pipeline of qualifies candidates ready to fill your organization's skills gaps.
But first things first. How do you decide the skills you need in your pipeline? Here's where strategic talent planning comes into play. Strategic talent planning can help you assess the state of your current workforce and anticipate future talent needs.
Here are some questions that can help you get started with talent planning:
What are your short- and long-term business goals?
The first step in talent planning is understanding where your company is headed in the short- and long-term. Once you know where you are headed, you can begin acquiring the skills to help you get there.
For instance, if your organization is looking to expand its product portfolio, then you know that you'll have to hire more engineers and product marketers over the next few years. On the other hand, if your company is looking to enter new markets, you'll likely need more salespeople.
What skills do you currently have?
Before you begin hiring new talent, take stock of the people and skills you already have in your organization. You can perform a skills gap analysis to get an overview of your entire organization and plan your pipelining strategy.
Get all stakeholders on board. Including the C-suite, line managers, hiring managers, and employees. Determine what skills are missing at the team and individual levels. Line managers can fill you in on the current skills gaps in their teams.
You can also conduct organization-wide skills assessments, surveys, and interviews with employees to uncover skills gaps. If you have a workforce analytics solution, you can use it to get a consolidated view of your organization's current skill sets and employee performance levels.
Additionally, you'll also be able to analyze your turnover rates, new hires, and internal movement to optimize your talent pipeline. Once you've analyzed your current skills and underlying gaps in your organization, you can move to the next stage. Identifying future talent needs.
What skills will you need in the future?
Industry 4.0 and Digital 2.0 are set to bring massive changes across businesses. This means you will need to hire not only your current skills gaps but also your future work. Regardless of the industry you operate, you will need advanced analytical skills across critical business functions. Such as marketing, finance, human resources, and operations.
As artificial intelligence and machine learning become key drivers of the new world of work, your organization will need IT talent and processes to thrive in such an environment. To identify skills you will need in the future, begin by tracking your industry trends and collecting feedback from functional heads.
As a result of increasing automation, some jobs may become redundant in the future. In such scenarios, consulting with your learning and development (L&D) team on reskilling or upskilling initiatives is a good idea to broaden your talent pool. By now, you should have a list of skills ready for your talent pipeline. Both current as well as future skills.
Next, you need to source candidates to fill your pipeline.
Step #3: Design a Talent Sourcing Strategy
The objective of building a talent pipeline. This is not only to fill open positions, but also to improve candidate engagement, and increase conversions. Designing a comprehensive sourcing strategy will help you cast a wider net and enhance the quality of hire.
While you may already have a sourcing strategy in place, we've put together a few best practices to help you optimize your process and hire better.
Define your candidate personas.
A candidate persona is a research-based representation of your ideal candidate. It describes their traits, skills, age, and experience. Defining a candidate persona helps you tweak and optimize your sourcing strategy to find a near-perfect match.
The best way to build a candidate persona is by using historical data to unravel the key traits of high-performing employees at your organization. Workforce analytics solutions and feedback tools are your best bet at gathering this data.
If you do not have access to these tools within your organization. Good old-fashioned interviews and surveys can also get the job done. You can further enrich your data by collecting manager feedback on qualities/skills they feel are most valuable for particular job roles.
Approach internal as well as external talent
The current economic conditions are perfect for recruiters to begin experimenting with sourcing. Like businesses, recruiters will also need to do more with less. Shrinking budgets mean that TA teams can no longer rely only on external talent to fill skills gaps.
Identifying and training existing employees to take over managerial roles is much cheaper. According to the Saratoga Institute, the cost of internal hiring is 7 times lower than external recruitment.
What's more? Your existing employees become productive far more quickly than new employees. They are already familiar with the organization. Managers also have a fair idea of their unique strengths.
As a recruiter, you cannot afford to ignore internal talent when designing your sourcing strategy.
Identify the right sourcing channels
Sourcing channels are the lifeblood of every successful pipeline strategy. They improve your chances of identifying good potential hires and building your A-team. Social media platforms, job boards, and online communities are all great places to connect with passive candidates.
You can use a combination of these channels to populate your talent pipeline. However, the key is knowing where to look. For instance, if you are looking to connect with product developers. You will have better luck on platforms such as AngelList, GitHub, or StackOverflow instead of Monster or LinkedIn.
However, for sales and marketing talent – job boards and LinkedIn will be a better fit.
Your candidate personas should tell you where your ideal candidates reside. How do they search for jobs? Do they use social media in their job search, or are they more likely to come via referrals? Answering these questions will inform your choice of sourcing channels.
Internships
Internship programs are certainly not a new strategy for talent pipelining. However, these programs are set to become more important than ever before. Especially for recruiters looking to build a diverse pipeline of candidates.
Recruiters can leverage internships strategically to deliver on diversity goals by making concerted efforts to engage with schools. As well as communities that work with underrepresented groups in the corporate landscape.
You are often likely to find communities that have their own programs to encourage growth, and teaming up with those initiatives is a great way to give back. While also benefiting from new and diverse talent.
Personalize your message
The next step is to match this information with your candidate persona to craft your message. Drip email campaigns and direct messages on social platforms can be useful for driving brand awareness and relationship-building.
Premium ATS systems and candidate relationship management (CRM) solutions feature dedicated messaging or campaign creation modules that can help you design drip and social messaging campaigns. Given the present situation, it is crucial to assess how your candidate communication strategy aligns with your pipeline goals. Like diversity.
If your organization has been struggling to find diverse prospects, launching targeted digital campaigns to engage with such candidates is a great way to build awareness and attract candidates who've slipped under your radar. Your messaging strategy should ideally be rooted in your careers page. And can be subsequently fleshed out across candidate touch points like social media and email.
Atlassian does a fantastic job of driving home the message with consistency: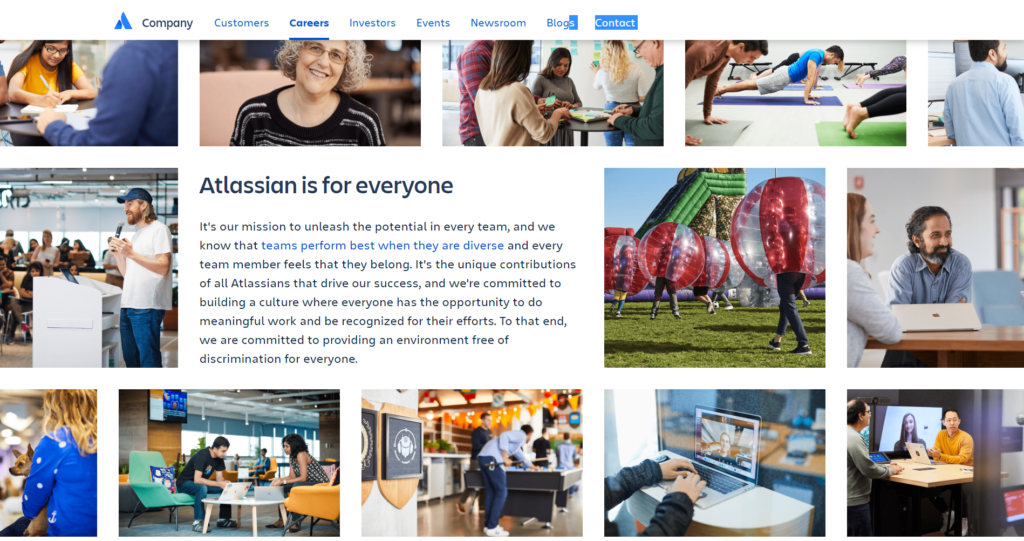 Example 3: Atlassian's LinkedIn post builds on its core message following from its careers site
Step #4: Engaging Your Pipeline
Once you've identified candidates for your pipeline, the next step is nurturing your relationship with them to build meaningful engagement. And engagement follows from a compelling candidate experience.
Every stage of the candidate experience journey needs to be seamlessly integrated. From the candidate perspective into an ongoing relationship. This is the foundation of a successful talent pipeline.
The candidate engagement journey defines how the value exchange between organizations and candidates develops over time. It ensures each touchpoint rewards the candidate by delivering experiences that are recognized as valuable by the candidate. Based on their interests, professional aspirations, and goals.
When adopting a candidate journey approach, recruiters often begin by mapping out all of the different touch points. And then define how the organization seeks to influence the candidate at each of these points.
However, this is a very employer-centric approach and doesn't necessarily reflect the needs, expectations, and aspirations of the candidate as to how they see the relationship developing. So, how should you proceed? Segmenting candidates based on the stage of their journey with your organization can help you provide relevant, in-time content. That results in more applications.
Your employer value proposition (EVP) should ideally be a common theme across segments. However, the way you present it and the content formats that you use will vary based on the stage of the candidate journey.
Let's take a quick look at the key stages in the candidate journey and the content you deliver at each of the touch points:
Image 2: Stages of the Candidate Journey
While the touch points listed above are certainly not exhaustive. They are some of the most significant factors influencing candidate decision. As we've mentioned repeatedly, talent pipelining is a long game and offers considerable room for experimentation.
Once you get the basics right for engagement, you can begin to tweak your approach. Or dabble with multiple content formats like webinars and virtual hiring events to improve recruiting outcomes.
Step #5: Choosing the Right Tools
This is the final step and, arguably, the most difficult decision for TA leaders. If you're wondering whether your current ATS system offers targeted modules for talent pipelining and engagement, you're not alone. Most ATS solutions offer excellent features for application management and career site integration.
So, you don't need to overhaul your entire recruiting tech stack when building a successful talent pipeline.
You can invest in specialized talent engagement or candidate relationship management (CRM) platforms and integrate these with your existing ATS system. That's the easiest fix. Solutions like Beamery, Symphony Talent, and TalentLyft offer a comprehensive suite of features and capabilities designed to engage with candidates at every step of their journey.
However, we're also aware that a lot of TA teams might have limited budgets to work with due to the prevailing macroeconomic conditions. If you're looking to do more with less, our suggestion is to use a combination of ATS, email, and social media tools to improve employer brand visibility. For employer profiles on platforms like Glassdoor, you will need to monitor them regularly yourself.
The two major potential problems with this approach are the lack of automation and managing multiple data streams from disparate systems. Nonetheless, this is also a terrific opportunity to get creative in the way you leverage content and each of these tools.
So, until business recovers, and it will, a bolt-on approach to talent technology can also serve you well.
Conclusion
Ultimately, building a successful talent pipeline boils down to how you plan, strategize, and leverage technology to support long-term business needs. As the demand for the best candidates is only set to increase, getting ahead of the curve will allow you to hire better talent.
This is an important time for recruiters. The landscape for candidates today is drastically different from the past years. Empathy, flexibility, and understanding will go a long way in building lasting relationships with candidates and successfully adapting to the realities of a post-covid world.
Business continuity is likely to be a top priority for you and your organization at the moment. Still, the relationships and the talent that you retain now will reward you with loyalty down the road.
---
Authors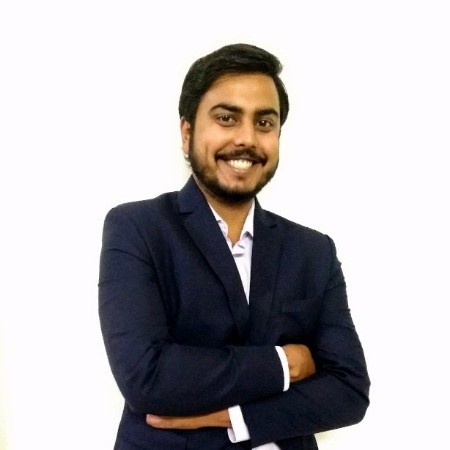 Sushman is a contributing editor at RecruitingDaily.com and writes about how organizations can succeed with recruiting technology. With a background in B2B tech publishing and events, Sushman strives to make dry, technical copy engaging. When not writing, Sushman enjoys craft beer and motorcycling holidays.
Recruit Smarter
Weekly news and industry insights delivered straight to your inbox.