The thing about talent trends posts is that if it were possible to predict the future of recruiting and HR, we'd probably have figured out some way to make it suck a little less. Of course, the glacial pace of change in these parts means that for the indeterminate present, 2017 Is shaping up to be same shit, different year.
I'm aware that trends posts are, well, trendy – and acknowledge that there's no real need for me (or anyone else) to contribute more content to this canon of crap. But with so many "thought leaders" (read: cat ladies who tweet all day, "futurists," #hashtagenthusiasts) and "influencers" (read: snarky bloggers, self-righteous douchebags, unemployed trolls) effusively adding to the effluence, I couldn't help but weigh in. Because it seems when predicting what's new and what's next, opinions, like shit, rolls uphill.
Sadly, I'm not a futurist. I'm not an expert. Hell, I'm not particularly well informed, and certainly not self-righteous enough to authoritatively suggest I have any better idea than anyone else what's coming around the corner in HR and recruiting.
This isn't an industry where consensus comes easy, and I'd be ignorant to presume that any recruiter needs to know anything (other than maybe calculating commission).
Also, since these are basically educated guesses, if you disagree with me, well, you're probably right. Since I'm unable to see the future – if I could, I'd make different choices to avoid having to write about recruiting and HR on the internet al day – these completely prosaic predictions are probably going to be proven wrong.
But if I'm right, this time next year, you better bet you'll be seeing this post again.
If not, the one prediction I promise will come true is that I'll be forced to write another one of these specious and spurious "talent trends to watch" posts this time next year. Sigh.
7 for 2017: Top Talent Trends To Watch.
7. The Death of HR Technology.
Well, not really – it's just that with mainstream consumer tech players like Microsoft, Adobe and Facebook dipping their toes in the HR Tech market, It seems likely that the current darling of the VC scene will be a victim of its own success, subsumed into the broader enterprise technology suite where HR is no longer an independent category, but rather an integrated feature set or end user functionality for broader business software and systems.
6. Recruiting and Retention Collide:
It's no secret that internal transfers and promotions have long constituted the single most successful source of hire, with existing employees representing over half of all successful candidates in 2016, online or otherwise.
Despite the average public job posting attracting a scant 3.7 internal applicants versus an average of over 200 external applicants (mostly from job boards or other online sources), those internal applicants constituted exactly 50% of all candidates selected for interviews – meaning that internal applicants are a staggering 131 times more likely to become final candidates than blind external applicants.
Voluntary turnover is obscenely expensive for employers, with 1 in 5 total compensation and salary dollars spent by an employer every year going to the costs of recruiting and onboarding backfills.
It's almost cliché to talk about your jobs as "opportunities," or talk about how you promote from within, develop your people or offer your employees room to develop and grow (personally and professionally). But while these are cornerstones of career site copy and employer brand collateral, if we fail to deliver on that promise, then we shouldn't be surprised at the revolving door that neglecting these areas – a poll found only 28% of Fortune 500  CHROs report having any sort of formal internal mobility plan – will inevitably create.
If we know why employees leave companies, then it should be easy to nip the problem at the bud. The number one reason job seekers reported looking for new opportunities in one 2016 poll? Lack of advancement and promotion opportunities.
Doesn't take a genius to build this business case. Recruiting is only required when retention fails – and making sure it succeeds is why in the coming year, retention will increasingly be a focal point for recruiters and talent organizations, instead of the exclusive purview of HR Generalists or business partners.
5. Referral Madness.
Here are some fun facts: referrals have outperformed all other external sources of hire for over a decade – in fact, ever since Career XRoads first started tracking this critical metric. Companies are increasingly incorporating formalized referral programs and initiatives in order to leverage this low risk, high reward source of hire.
In 2017, referrals will go a step further, moving from being perceived as an irregular, highly manual and one-off process into a critical success metric for employers and recruiters alike.  Referrals are 400 times more likely than applicants with no previous relationship with a company to get hired, and even the most lucrative payouts pale in comparison to the costs of contingent or executive search.
Referrals are, essentially, an employer net promoter score – effectively, it's that Glassdoor question of "would you recommend this as a place for your friends and family to work?" That score should provide a critical metric when measuring organizational health and employee engagement – it's basically the talent version of NPS.
Not convinced? Not only are referrals more likely to get hired, they stay around longer, too: fully 47% of referred candidates last at least four years, compared to a scant 2% of job board candidates. This next year, employers will finally discover it's not what you know, it's who you know, that really matters most in recruiting and hiring.
4. Robots Aren't Taking Our Jobs.
I've written about how artificial intelligence in recruiting and hiring is really dumb, but equally asinine is the idea that somehow, our industry's move towards algorithms and automation somehow represent a threat to the future viability of the HR and recruiting professions. This, of course, is complete bullshit (dedicated sourcers, on the other hand…)
The MIT Technology Review has created a four question survey to easily determine the ease with which a robot could replace a human worker. They are:
Do You Need To Come Up With Clever Solutions? Does Your Job Require You To Squeeze Into Tight Spaces? Are You Required to Personally Help Others? And, finally, "Does Your Job Require Negotiation?"
Those four fundamental litmus tests pretty much sounds like HR and recruiting – meaning that the talent profession won't be going anywhere any time soon. In fact, HR Directors ranked 266 out of 344 job families surveyed to determine the likelihood of redundancy via robots (or automation, if you like).
So while it's OK to get excited about AI and machine learning, remember: they can augment and enhance what you do, but the data suggests they're a long way away from ever replacing humans in human resources.
3. Data Privacy: The New Compliance Frontier.
 HR Generalists and people leaders have an almost obsessive fixation on compliance, embracing obscure acronyms like OFCCP, EOE, AA and GINA while often using these regulations as a way to justify the minimal risks and maximum stasis that has long defined the profession.
The times, they are a changing, though, and the next hot zone for compliance  – in 2018 and beyond – will have less to do with employment law and more to do with data governance and network security.
As data breaches and identity theft of business software continues to increase, HR should find itself in the unexpected role of managing, monitoring and enforcing data privacy. The reason? Fully 53% of all data breaches (malicious or otherwise) came not from external hackers or malicious threats, but rather, "internal actors"  – namely, negligent employees and company executives.
Contrary to popular belief, individual contributors (39%) and senior leaders (33%) were actually much more likely than contractors (12%) and team managers (14%) to routinely violate data policies, meaning that this is one issue that HR cannot afford to ignore.
With identity theft the fastest growing crime, the most breached data in 2016 included social security numbers, mailing addresses, checking accounts and drivers' licenses, making most HR systems of record an obvious target.
Protecting it is not just HR's responsibility, but it's also an opportunity – 70% of CIOs recently surveyed suggested lack of in house expertise was the biggest challenge to data security and privacy. Over the coming year, look for HR to step in and fill this critical role at the intersection of employee privacy, training and company policy – a niche the talent function seems uniquely positioned to help fill in the future.
2. Visualization Makes Big Data A Big Deal.
While it's probably a bit premature to assume that recruiters are going to be able to leverage the deluge of data and actionable analytics in any sort of meaningful way, that doesn't make "big data" any less of a big deal.
The problem is that most recruiters aren't all that good at math (which is a big reason a lot of us ended up here, frankly). Data is only worth the story it tells, and recruiters have a hard time, as a rule, making it all add up. Enter data visualization.
Data visualization is more than infographics or dash boarding; it helps us understand not only who's in our network, but how we're connected. Often called "social network analysis," a bevy of tools currently exist for providing rich, real time visualizations of employee networks, talent pools, professional colleagues and personal connections.
The resulting visualizations for the first time can help organizations gauge real influence for the first time, the kind that you just can't represent on an org chart or traditional hierarchy. This helps not only identify who the most effective brand ambassadors or potential referral sources might be, but also, who the connectors are in your organization.
Network analysis of these connectors reveal not only where the informal power in your organization is concentrated, but also how information flows from department to department or team to team, how to streamline information, processes and procedures and, most importantly, where institutional knowledge and actual influence reside.
Forget identifying "hi pos" or "culture fits." Instead, data visualization not only lets us easily see who it is who's actually driving that culture, and who not only represent your brand, but live its values each and every day.
If a picture is worth a thousand words, than data visualizfaiotn is worth an infinite amount of numbers. Or at least, it sure as hell beats Excel.
1. Don't Pay Attention To Trends.
If what you're doing is working, then keep making hires and ignore specious blog posts like this one. Seriously.
This concludes another gratuitous edition of fortune telling, prognostication and vacuum deducting for 2016. Let's just be glad that no matter which of these trends really matter most in 2017, it's an improvement on this dumpster fire of year. All we can say is, thank God it's over.
Now if we could only be so lucky with 'trends' like "candidate experience" or "millennial hiring." Because no matter what year it is, that shit's just stupid.
About the Author: Matt Charney is the Executive Editor of RecruitingDaily. Follow him on Twitter @MattCharney or connect with him on LinkedIn.
---
---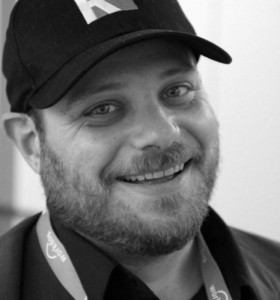 Matt serves as Chief Content Officer and Global Thought Leadership Head for Allegis Global Solutions and is a partner for RecruitingDaily the industry leading online publication for Recruiting and HR Tech. With a unique background that includes HR, blogging and social media, Matt Charney is a key influencer in recruiting and a self-described "kick-butt marketing and communications professional."
Recruit Smarter
Weekly news and industry insights delivered straight to your inbox.