It's no secret that applying for jobs sucks. The fact is, most candidates have pretty much consigned themselves to these processes that too often entail more work than the actual job to which they're applying.
Consider these job seeker tips from a post entitled "12 Tricks for Completing An Online Application," one of a litany of articles with advice that, from a recruiter's perspective, seems a bit specious – after all, if your online application process requires "tricks" to work, then you're pretty obviously screwed.
This representative career advice article promises by following tips like, "allow at least one hour per online application, but plan to spend up to 3 hours to complete the most tedious online forms "or "Prepare a past job history document … including your supervisor's name, title and contact information (or HR's contact information)" they can "apply for jobs effectively (and painlessly)."
Now, correct me if I'm wrong, but unless you're a masochist, having to allot three hours of your life to applying for a job that you're unlikely to ever hear back on is the antithesis of painless. The reason these applications take so long, of course, is that most applicant tracking systems require the same sorts of irrelevant information for simply expressing interest in an opening that necessitates creating a "job history document" in the first place. Last time I checked, that was pretty much what a resume was for.
But in addition to requiring a candidate to upload their resume, a huge majority of companies require manually duplicating this information into dozens of forms and fields, which even the best parsing technologies can't extract unnecessary bullshit like a candidate's social security number from a resume, because, well, you'd have to be an idiot to put that on there.
Just like you'd have to be an idiot to tell an employer you know nothing about what yours is just to get considered for a job that may or may not actually be open (and, according to NPR, up to 80% of open jobs aren't posted in the first place). But that doesn't stop an estimated 1 out of 5 employers from requiring that information to successfully submit an application – as well as checking a box that verifies they're eligible to work in the United States, just to be sure (spoiler alert: if you have an SSN, you're all good in this hood).
Other information that employers commonly – and unnecessarily – require on an initial application include a complete salary history (although, of course, the recruiter will never disclose their range in return), employment references (a bit premature in the process, probably) and information that you don't really need to know to know if a candidate is qualified or not.
But if they're spending 3 hours applying, there's a damn good chance that they're not really all that great at time management or prioritizing, which are two of the 10 "requirements" employers most frequently list on job descriptions. This means successfully applying for a job automatically screens out most candidates from consideration, statistically speaking.
Confirmation Bias and Candidates
According to a CareerBuilder study, 3 out of 5 job seekers reported to dropping out of an overly complex or complicated application process; 82% said the reason was simply too many steps.
And that's just the ones who successfully started, which often requires the additional step of registering for an account on your ATS – not to mention the majority of job seekers who couldn't even apply in the first place because your system doesn't support mobile.
It doesn't take a genius to realize that getting a competitive advantage in recruiting is as simple as streamlining and shortening your application process – most candidates report that 20 minutes is optimal, but c'mon – that's about 18 minutes more than is really required to get the information you actually need.
Think about how you read a resume in the 6 or so seconds the average recruiter spends determining whether or not to keep a candidate under consideration. The first thing you look for is their current company and title.
If they're in the same ballpark in terms of industry, career level and ostensible experience, then you see where the chronological resume begins (perpetually playing Goldilocks to find the candidate whose experience is just right) and whether they have the required degree or certifications. If they check every box, you set up a screen. It's pretty simple.
That means you don't need a whole lot of information up front – if applicants are coming to you in the first place, this means that you've moved past sourcing to screening, from lead gen to lead nurturing – and that requires a different approach than trying to get everything up front in an application process.
Which is where talent networks fit in.
Talent Networks Work. No, Really. 
The interesting thing about recruiting technology (cloud computing, being a good example) is that while they have the ability to profoundly impact our everyday lives, no one outside a few technophiles and early adopters really seem to understand why the average candidate should care – much less its impact on the front line recruiting.
This makes sense, considering that transparency is probably the ultimate test of any technology, with a positive user (and candidate) experience pretty much predicated on instinct and intuition.
85% of job seekers begin their job searches on a search engine, which means that they're already leveraging technology that's pretty good at enabling efficiencies in significant, yet silent, ways. Of course, then they hit your ATS, which, coming from a search engine or a job board (where another 69% of job searches begin), is a pretty jarring experience.
The more you have to think about a technology, the more a system calls attention to itself by sucking for the end user, the greater challenges it faces in mainstream adoption and consequently, actually driving successful outcomes. UX is the difference between a mainframe and a Mac, the same difference between splicing 8 MM film and uploading stuff to Vine and YouTube.
We think of "social recruiting" as being all about Facebook, or Twitter, or even LinkedIn (the latter being about as social as your average shut-in), but in truth, the whole concept of social technologies is to create transparency, visibility and ultimately, a compelling enough call to action to generate qualified applicants for both just-in-time and pipeline based hiring strategies.
We spend a butt load of cash on building employer brands and flashy career sites, all with the goal of getting top candidates to notice your company, it's culture and careers for the purposes of competitive differentiation. But while career site copy (which 83% of candidates report reading before making the decision to apply) talks about some variation on the "people are our greatest asset" theme, you're treating them like a liability by immediately pointing them to perhaps the crappiest category of technology in existence – your applicant tracking system.
Historically, the most meaningful metrics in recruiting have been largely tactical, transactional and based on sheer volume – with number of applicants being a KPI at most organizations and a way to benchmark stuff like source of hire and recruitment spend allocation. The problem is, in today's market, generating applicants isn't really a challenge – it's finding qualified candidates, who, for the manifold reasons already mentioned, tend to be relatively underrepresented among active applicants.
Plus, as we all know, the candidates you REALLY want aren't even looking to begin with, much less predisposed to spending three hours on your redundant application process. That's where talent networks come in. Because today, recruiting isn't about selling jobs, it's about building relationships. And the traditional application process just doesn't cut it.
Talent Network Analysis: The Bottom Line.
Talent networks have always existed – we've just traditionally called them "bucket reqs" or 'pipelines,' but those relationships are largely not scalable, extremely time intensive and require way more effort than most any recruiter has the bandwidth to put in.
"Just calling to check in and see how everything's going" is a great relationship building strategy, but these personalized, 1-1 interactions can be easily translated into meaningful interactions which give insight and add value not only to candidates who are "right now" but those who might be "right" for some req that doesn't even exist yet.
The easiest way to do this, simply, is to collect, segment and deliver compelling, targeted communications to leads at different stages in the hiring process, turning the standard application into a self-sustaining, value-added community of candidates who feel connected and engaged with your company, on top of open opportunities and know enough about what it's like to work at your company (and why they'd want to work there) to justify taking the time to actually fill out that hour long application. Both take time, but the payoff of talent networks is worth it.
80% of candidates – passive and active – report being receptive to joining a talent network, and of those, 70% also expressed a willingness to submit a resume for an actual job at some point during their search – which, as conversion rates go, performs a hell of a lot better than any other external source of hire.
Once you've got these leads captured, they're already engaged with your employer brand, driving affinity, loyalty and ultimately, increased application flow, improved candidate experience and higher rates of referrals and brand affinity. Talent network e-mails get 3 times the average open rate and 10 times the click through rate compared to other recruiting e-mails, which means that these are one call to action that candidates are actually answering. Unlike all those stupid required questions you're asking them simply for the privilege of applying.
By delivering targeted, relevant content to your talent networks, recruiters and candidates alike can get to learn more about each other and gain additional visibility into that most nebulous – but most important – consideration of all: culture fit.
And that's something no ATS out there can determine.
Learn more about eliminating the black holes in your application process and using HR technology to treat candidates well throughout the experience. 

Disclaimer: Recruiting Daily was compensated by CareerBuilder for this post. But their data and action items are actually pretty priceless, so in this case, the facts and opinions contained herein do, in fact, represent those of the publisher. Because we're all about making candidate experience better, too.
---
---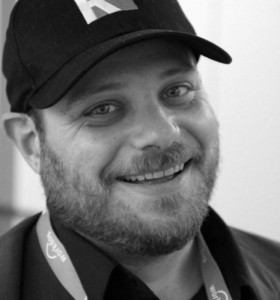 Matt serves as Chief Content Officer and Global Thought Leadership Head for Allegis Global Solutions and is a partner for RecruitingDaily the industry leading online publication for Recruiting and HR Tech. With a unique background that includes HR, blogging and social media, Matt Charney is a key influencer in recruiting and a self-described "kick-butt marketing and communications professional."
Recruit Smarter
Weekly news and industry insights delivered straight to your inbox.