Facebook has reportedly thrown the opening salvo in its long anticipated move into the recruiting and hiring vertical, with TechCrunch reporting yesterday that the ubiquitous social network has confirmed it is beginning to roll out a "Jobs" tab, which allows employers to post (and, of course, promote) job openings directly to company's followers and fans as an integrated part of the core Facebook experience.
For the first time, Facebook has rolled out an option for Page Admins within the status update composer to post job descriptions as a separate content class, similar to Events, Photos or Places. This new update option allows employers to augment these posts with position specific details such as compensation range, specific location, and job classification (e.g. full or part time, temporary or permanent).
By creating job postings as a differentiated content category, Facebook seems to be sending the signal that these postings would stand out from other status updates cluttering most users' News Feeds, with special formatting designed to delineate job postings from other company content (similar to how Life Events display differently on your personal timeline).
Here I Am: Why Recruiters Should Care About Job Postings On Facebook.
The job postings, TechCrunch reports (see image), will be displayed through a default "Jobs" tab that will ostensibly become a core component of a company's Pages presence; this jobs tab will link to a dedicated landing page where companies can drive job seekers.
Admins will receive real time updates whenever a new follower or existing fan engages with the job description as part of the broader moderation workflow, a critical capability missing from existing employer focused Facebook recruiting efforts, which are often limited to separate, dedicated destinations clearly differentiated from a company's consumer focused presence on Pages.
Additionally, current Facebook Careers pages largely require redirects to company career sites or external job postings; the new Facebook job postings will purportedly include an "Apply Now" button that works on both mobile and desktop instances of Facebook.
Using Facebook Connect to prepopulate application forms with user information (similar to the "Apply With LinkedIn" functionality) directly from Facebook itself. This, TechCrunch notes, "could help people quickly apply for multiple jobs without typing in redundant information."
In other words, when it comes to candidate experience, it looks like Facebook's newest offering might finally fix that whole notion of the "black hole" – recruiters receive any completed application directly through Facebook messenger, in an apparent attempt to increase utilization of this functionality among B2B users and advertisers.
Coupled with the increased rise in recruiting specific bots being developed for recruiters through the Facebook Bot Exchange, such as Mya and RAI by HiringSolved, which work natively with applicant tracking systems and messaging tools such as Facebook or Skype to ask questions to screen applicants for qualifications and automatically update candidates on their application status, Facebook looks positioned to quickly become among the most efficient and effective sources of hire available to employers.
While job postings will be free (for the time being), Facebook is leveraging its rich user data, unrivaled reach and highly sophisticated ad targeting capabilities to offer employers the ability to use Facebook Ads to increase the reach and impressions of specific job ads through programmatic campaigns priced on a PPA/PPC basis, with job openings appearing to targeted passive candidates' News Feeds based on their online behaviors, user profiles and demographic data.
You The Boss: Why Facebook for Recruiting Should Be A Sourcing Silver Bullet.
Of course, targeting job ads using Facebook's native ad exchange has recently come under fire; just last week, with a lawsuit filed in the US District Court for the Northern District of California (long a hot spot for potentially precedent setting tech test cases) charging that Facebook violated federal employment laws prohibiting job related discrimination by allowing companies to exclude specific audience segments (such as African and Asian Americans) from seeing selected advertisements.
The suit notes that the "multicultural marketing" practices not only allow employers to systematically exclude diverse job seekers from their recruitment related advertising, but conversely, does not allow companies to exclude "White or Caucasian Americans" from similar targeted campaigns, unique among ethnicities.
By creating a separate job posting product as well as a different content (and likely, ad type) from its core consumer offerings, Facebook seems to be anticipating similar legal challenges while creating the compliance capabilities required for additional investments or product offerings for recruiting and hiring.
Facebook has already publically confirmed that it's experimenting "with a slew of recruiting features," which should come as no surprise, given the billions of dollars a year employers spend on online recruitment marketing and advertising – only a small fraction of which, it seems, is being spent on Facebook.
For a company whose growth is predicated on ad revenue, the move into owning more of this lucrative (and growing) market should come as no surprise. After all, as Facebook adroitly admitted, it's already got a bunch of market research and historical data to inform its recruiting related initiatives.
As a Facebook spokesperson noted, the company is merely standardizing and optimizing an established, entrenched process of posting job openings on Facebook – as more than 4 in 5 companies currently do without a formal product offering as part of their social recruiting strategies – explaining:
"Based on behavior we've seen on Facebook, where many small businesses post about their job openings on their Page, we're running a test for Page admins to create job postings and receive applications from their candidates."
This should not only scare the shit out of traditional job boards and developers like Work4 or Jobscore, whose products are predicated on offering these sorts of native recruiting capabilities directly within the Facebook environment, but, most obviously, LinkedIn. And here's where it gets interesting.
The Devil Is A Lie: Facebook, LinkedIn and the Future of Recruiting.
With Microsoft reportedly announcing it would complete its close on the LinkedIn deal by the end of Q4, the company has made a $26 billion dollar bet on the professional networking market traditionally dominated by this "social network."
With the recent release of the new Microsoft Teams, a collaboration platform similar to Slack, as part of the core Office environment, as well as the integration of Skype for Business and redesign of Sharepoint, it appears as if Microsoft has the workplace squarely in its sights – and LinkedIn's user data is a key component of that strategy (not to mention its monetization plan for Bing, targeting capabilities for Dynamics CRM Online and core selling points of the new Enterprise Mobility Suite).
It should also be noted Microsoft for Business has also started touting its ability to "keep your employees securely connected to business critical apps wherever they are," specifically signing a "global strategic partnership" with Workday this past September to "connect HR data to the data underlying Microsoft Office," a philosophy that ostensibly extends to the future roadmap of LinkedIn (and their justification for such a hefty price tag, too – it'll be interesting to see if MSFT ends up making a play for Workday at some point, given their chummy channel sales relationship, and the fact that Oracle and Salesforce have a similar global product partnership and strategic sales alliance).
The battle lines are shaping up, and they extend as far as bot development, where Facebook and Microsoft, respectively, are the two dominant development platforms for these emerging technologies.
Of course, Workplace by Facebook (aka Facebook at Work), launched just a few weeks ago, challenges many of the collaboration and productivity capabilities Microsoft touts as a primary selling point of its platform – essentially offering a product that competes head to head with Yammer (Facebook Groups), Sharepoint (Pages) and Skype (Messenger). This already made them a player to watch in HR Technology – but their sudden move into the workplace seems to solidify the fact that Facebook is playing to win when it comes to HR Technology.
And all I can say is, game on.
Matt Charney is the Executive Editor of Recruiting Daily. Follow him on Twitter @MattCharney or connect with him on LinkedIn.
---
---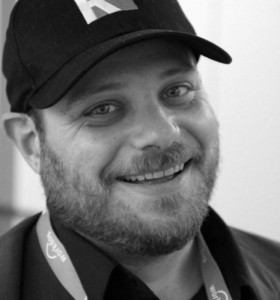 Matt serves as Chief Content Officer and Global Thought Leadership Head for Allegis Global Solutions and is a partner for RecruitingDaily the industry leading online publication for Recruiting and HR Tech. With a unique background that includes HR, blogging and social media, Matt Charney is a key influencer in recruiting and a self-described "kick-butt marketing and communications professional."
Recruit Smarter
Weekly news and industry insights delivered straight to your inbox.