The answer to the question "When will machine learning replace recruiters?" is highly subjective. For hiring managers and recruiters who are adept at relationships the answer is never. For others? Well, it's not going to be tomorrow, but …
Kevin Wheeler, founder and president of the Future of Talent Institute knows that artificial intelligence (AI) – the concept of using machines and algorithms to source and hire candidates – is here to stay. He is less than effusive in its praise, however.
"AI will get better, but right now, AI tools are really stupid," Wheeler told the audience at CareerBuilder's 2017 Empower conference. According to SHRM.org, he insisted that no recruiter will be replaced by machine learning in the next five years.
"Some low-level, repetitive jobs may be in danger, but we still need people to make decisions," Wheeler said.
What does AI do for recruiters?
Artificial Intelligence tools improve time to hire and reduce cost of hire by searching through the plethora of data that active and passive candidates share online. It can look at social profiles, resumes and portfolios, for example.  The cost element is quite possibly the most crucial of its benefits. As reported by SHRM, Link Humans CEO Jorgen Sundberg estimates that the cost of finding and onboarding each new employee can run as high at $240,000.

 

To an applicant tracking systems (ATS), AI can add intelligence, allowing recruiters to much more quickly move through hundreds or thousands of applications for an open position, and to more accurately gauge candidates' fit for the job. It does so by assessing current-employee performance and turnover rates and their on-the-job experiences, candidate qualifications and skills, and even by searching public sources of information about previous employers. It can, for example, weed out candidates whose salary requirements or personalities are not a good fit.

It can schedule interviews, taking into consideration time conflicts of interviewer as well as candidate.

While still somewhat in its infancy, AI can retain, organize and search a database of candidate information from prior job postings, to help find the right person for a new position.

AI can enable virtual-interview capabilities such as video and chat bots.
Where do humans fit in the process?
As the days of post and pray fade into the hiring sunset, smart employers build talent communities, network at conferences, offer free Webinars, and lure prospective hires for current and future jobs with entertaining, tantalizing, informative, and even amusing social contacts. These persuasive functions cannot be duplicated by artificial intelligence. While some of the technical aspects of attracting candidates can be automated, keeping passive candidates and other prospective employees engaged with your firm on an ongoing basis requires human touch.
Lysha Holmes, founding director of Qui Recruitment, believes that empathy and trust are critical elements of hiring that cannot be replaced by machine functions.
"AI can never hope for a candidate to get their best job; cannot express their opinion or expertise to a client about whether to hire a candidate," Holmes wrote in her Undercover Recruiter article, "5 Reasons Why AI Will Never EVER Replace Recruiters."

"If you think about your placements, how many of them come from just knowing that your client will love your candidate and very often they don't match on paper, but you rely on the history you have built up of both parties and the culture fit," she wrote. "AI cannot experience a culture or a personality."
Leela Srinivasan, CMO at SurveyMonkey, highly values AI as a hiring tool. Nevertheless, she is confident no machine learning will replace recruiters.
"AI will save recruiters a ton of time automating simple tasks, stack ranking resumes and more," she told Undercover Recruiter.
The time saved by AI can be put to excellent, and irreplaceable use, according to Srinivasan, in building rapport and relationships.
"The bots won't be taking over those aspects of their jobs any time soon," she said.
The ironic advantage of artificial intelligence and other human resource automation is the creation of new jobs for HR professionals. Robert Bolton, partner at global business network KPMG, on the Personnel Talent Webinar AI's Impact on Recruitment and Workplace, predicted several new positions. One mentioned was Robotics Capability Manager, to maintain an employer or employer client's recruitment bots and AI solutions.
"Technology does get rid of jobs -it's a simple fact of life," Indeed senior manager of employer insights Matt Burney told that same audience. On the plus side, Burney said, HR technology can act as an efficient matchmaker, eliminating unconscious bias in recruiting, and liberating employees to focus their efforts on the human side of hiring.  
Burney discussed a recent Indeed survey of applicants that made it clear why humans are still needed to lure candidates. While 58 percent of survey participants said that digital tools such as AI made it more convenient to apply and interview, 57 percent decried communication obstacles. Close to half of the respondents complained that automation made the application process too impersonal.  
"Time and time again, we hear of [candidates] disappearing into a black hole, and not hearing back from recruiters," Burney said. "We can be more accountable as recruiters. We can also be more transparent. We can actually let them know what's happening to them, and why."
These recommended tasks can only be accomplished by humans, he said.

Conclusion
Recruiters should welcome, rather than fear, artificial intelligence and other machine-learning products and tools for hiring. If, that is, they're doing well the most 'human' elements of their jobs – personal connections with prospective candidates. AI as an aid to filling job openings is about efficiency, which aids recruiters and hiring managers in their quest to not only find the best candidate but find her or him before competitive employers do so.
Where recruiters are essential, no matter the number and quality of their recruiting programs and tools, is in the personalization and ongoing engagement with prospective candidates. A recruiter who fails to engage can, indeed, be replaced by AI and other automated processes. A top-notch recruiter who maintains cordial, personable, and timely contact with applicants and prospective hires never will be.
---
Authors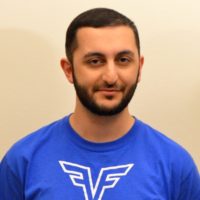 Tigran Sloyan is the founder and CEO of CodeSignal, formerly CodeFights Recruiter, a platform that uses machine learning to help companies source, assess, and interview the best technical talent for their open engineering roles. You can follow Tigran on Twitter or connect with him on LinkedIn.
Recruit Smarter
Weekly news and industry insights delivered straight to your inbox.