As the 2016 HR Technology Conference gets ready to kick off next week in Chicago, it should come as no surprise that the industry's biggest trade show expects to get even bigger, with the over 400 established players and emerging products alike crammed into McCormick Place, transforming the trade show floor (for a couple of days, anyway) into the epicenter of the entire ecosystem.
While the number of sponsors and exhibitors at this edition of #HRTechConf represents a 30% increase over last year's massive event, organizers remain unable to keep pace with the demands of a boom market, quickly selling out of the space necessary to accommodate the rapidly evolving and constantly expanding HR Technology landscape.
Bull Market BS: A Brief Look At HR Technology Today.
With 58% of employers planning to increase their spend on HR and recruiting technologies in the coming year, it seems that the already fierce competition for mind and market share is just heating up – and the stakes are significant in the battle for the $8.5 billion a year it's estimated employers spend on HR Technology every year.
So too is the potential payout, as VC deal and dollar flow hit record highs in 2015, with a staggering 2.4 billion dollars in new funding flowing into the category across nearly 400 deals. Despite a slowdown in Q1, the market has heated back up and is projected to shatter even last year's unprecedented frenzy of financing and M&A activity in 2016.
Selling into HR is a lot like robbing banks; turns out these days, that's where the money is.
Of course, these funding figures will inevitably be helped by the whopping $26 billion Microsoft shelled out to acquire LinkedIn in Q3 2016, a valuation that's about 4x the estimated annual spend for the entire HR Technology market. Of course, that it's even an HR Technology play in the first place has always been a point of contention.
This explains why instead of paying it forward to the industry responsible for getting them paid out, LinkedIn directly counter-programmed HR Tech with its Talent Connect user conference this year for the first time, meaning that the most valuable entity in the entire segment isn't only not exhibiting, but positioning itself at an arm's length away from the hand that feeds it.
Of course, LinkedIn isn't the only major enterprise technology provider with a competing user conference next week, as Dreamforce kicks off the same day in San Francisco – and while Salesforce isn't yet an HR Technology company, it's been kicking around the market for a while now and is widely expected to make some significant HR Tech product announcements at a user conference that makes HR Technology 2016 look a back office backwater by comparison.
Next week's crowded event calendar reflects the new reality of HR Technology – that the days of point solutions and standalone products is inevitably coming to a close. While we've been witnessing the convergence of HR tools and consumer technology for some time, 2016 looks to be shaping up as the tipping point for its inevitable slide to obsolescence.
Convergence Is Coming: Why All Technology Is HR Technology.
The convergence is here, and it's going to kill HR Tech. This isn't an indictment of this industry, but rather, an affirmation that it's become so ubiquitous that it's no longer HR Technology at all. It's just technology these days, and companies that can't offer a consumer grade solution will likely have a short shelf life.
Consider this week alone, in which Facebook confirmed the long anticipated launch of Facebook At Work would finally happen next month, Twitter launched Dashboard, a new app aimed at B2B marketers which also features what looks to be that platform's initial foray into adding employee recognition functionality and Slack announced a "deep product partnership" with Salesforce, enabling both tools to scale their respective solutions at an enterprise level while simultaneously augmenting and extending the utility of these product offerings through integration.
All of these market plays seem to be situated along a product roadmap driving inexorably towards a collision with the biggest brands and most established legacy or on premise providers serving the HR space. Many of these  have long been working on building "integrated talent management solutions" for years now, but most may be too late to save themselves from insolvency on the short slide to obsolescence it appears so many of the major players in the industry seem to be heading.
For now, though, these companies will still be partying like it's 1999 (the last time most legacy vendors actually released a product update) in Chicago, racing to outspend and outshine the other companies on the trade show floor while seemingly ignoring the much more imminent threat to their very existence.
Of course, that approach is mutual – which is why the biggest HR Technology announcements of next week might not even occur at the HR Technology Conference at all.
And all I can say is, it's about damn time this space realized that disruption is more than a buzzword or trending topic. For an industry that confuses innovation and imitation – "best practices" are just shit that's been done before, after all – and thinks mobile and social are feature sets instead of realities .
2016 may well be the high water mark before the dollars and deals disappear for most of this industry forever.
Boom or Bust: What the Future Holds for HR Technology.
The end of HR Technology as an independent category, fortunately, isn't necessarily an inevitability – just for the companies who have been around long enough to screw things up so badly in the first place. Hiring isn't broken, but most of the software and solutions required to do it well sure as hell are.
We still can't fix employee engagement and can't shut up about diversity, yet the billions we spend on solving these problems every year has somehow actually made both problems worse, with disengagement and workforce diversity both hitting record lows in 2016.
And don't even get me started on employer brand or candidate experience, which are really just inbound marketing and UI/UX disguised as distinct concepts for the point of selling solutions to categories that aren't really problems products can fix in the first place, although your current providers are likely responsible for breaking them to begin with.
That is why this year, we're look past the biggest booths and flashiest events in Chicago to the emerging companies and killer products that aren't just great HR Technologies, but great technologies, period.
The Top 10 HR Technologies and Recruiting Tools to Watch in 2016 (and Beyond).
We admit that this is completely subjective and arbitrary, but unlike traditional analyst firms, we own that fact – but the difference between these biz dev plays posing as some sort of legitimate award is that we'll try to explain our reasons why they're included.
In no case is the reason for their inclusion because these companies pay Recruiting Daily money for marketing services or equity for advisory work. Hell, in those cases, it's actually in spite of that fact, mostly.
Similarly, we're trying not to duplicate any of the companies we've previously recognized in years past, including Salesforce for HR, Glassdoor and Oculus, even though those entries remain very much worth watching, although their previous inclusion preempted their addition to this year's list. If you don't know, now you know. And apparently our lawyers are happy, too.
Next week, we'll close out our list of the top 10 Talent Technologies for 2016, which includes some of the most exciting emerging technologies and startup solutions poised to disrupt the HR Technology market and reinvent the HR status quo that aren't necessarily on every employer's radar – yet.
We've tried to balance these out with some of the bigger players making the biggest impact on HR Technology today, too – although please note that all companies listed are all closely held and VC backed as a baseline for inclusion (and to minimize our liability, naturally).
Please to enjoy.
10. Jobvite.
Jobvite
isn't the sexiest or most cutting edge ATS, but it's certainly one of the most reliable and flexible solutions out there capable of serving multinational enterprises and SMBs alike – the product's scalability, in fact, is one of its primary selling points.
Their executive team, led by CEO Dan Finnegan, is one of the best in the business, and the infusion of fresh blood they've brought in after shaking up their product organization represents a commitment to reinventing and reinvigorating a product that's already pretty good (compared to the competition).
This, unlike the "Frankensuites" being built by competitors, is being done pretty much all organically off of a native code base rather than through acquisitions, which bodes well for its long term sustainability and viability, considering it's not overly reliant on integrations or third party data to deliver on stuff like CRM and advanced analytics employers in its move up from the mid-market.
This also means that while it might face increased competition from emerging ATS providers like Greenhouse and Lever, it's proven that not only can it scale, but also that it's probably not going away anytime soon in an acquisition or other exit event. Not so for the startups (one hopes).
I was fortunate enough to have the chance to get a sneak peek at some of the new features and capabilities Jobvite plans on rolling out to users recently, and while you're probably surprised by their inclusion on this list, if you think you know Jobvite, think again. Jobvite is built to last, and I have no doubt that it'll be one of the last pure HR Technology players left standing after convergence with consumer technology finishes playing out.
Hell, they've survived downturns before, and that they're more focused on data privacy than on design and more concerned with data security than social media might not make them the slickest solution, but it probably makes one of the safest bets on the market that doesn't totally suck.
Which is about all any enterprise software buyer could ask these days, TBH.
9. SnagAJob.
While most sourcing and recruiting technologies out there are built around exempt roles requiring some sort of specific expertise, industry experience or niche skill-set, there remains a relative paucity of solutions for hourly, high volume and low skilled positions, despite these constituting the majority of hires made by direct employers every year.
This segment has been historically ignored by most emerging HR Technology plays, which is good news for SnagAJob, which has quietly maneuvered its way into the #5 job board in North America by traffic, and the biggest job board in the country in terms of proprietary listings (the top 4 slots are all held by aggregators – including Indeed and SimplyHired, which are now both owned by corporate parent Recruit Inc. at #1 and #4 last month, respectively).
SnagAJob, like the candidates who use it, probably isn't the most innovative or flashiest option out there, but it delivers as promised for the manifold multi-unit, multi-franchise type employers out there who at any given time have half a million active job postings on SnagAJob, a number that's trending upwards, contrary to most every other traditional job board out there on the market.
This growth has not only enabled SnagAJob to raise a staggering $100 million in their most recent round, a Series D, back in February, boosting total investment to $141 million, but also to expand its offerings into the HR Technology space by acquiring PeopleMatter, an ATS provider with a largely duplicative client base, in June.
While PeopleMatters is one of the clunkiest and most archaic options on the ATS market, it still beats the hell out of a help wanted sign and printed job applications, and will see significant improvements in features and functionality now that it shares funding and data on over 70 million hourly workers with one of the fastest growing online recruiting plays in the country.
It also enables SnagAJob to diversify their offerings as both an integrated and standalone solution, which helps create a unique value proposition for a very specific, very lucrative and largely ignored segment of the population.
The other good news for Snagajob is that due to its target demographic, an economic downturn or hiring slowdown would probably not represent an adverse impact on overall business. This makes them one of the most valuable properties in the marketplace, and in an enviable position of being poised to be the next Unicorn to emerge from the HR Technology segment (if their valuation hasn't already put them in this exclusive and elusive club.
8. Portfolium.
I first ran into Portfolium in April at Collision, a massive emerging technology in New Orleans, where they were chosen as one of three finalists among the 16,000 other startups in the event's signature competition, proof of my favorite part about this product: it's simple enough to understand where anyone can get the product and the problem it solves in a 3 minute pitch.
Simply, Portfolium is building an incredibly sophisticated proprietary, fully searchable candidate database with a matching algorithm designed explicitly for college recruiting, and reaches students directly on campus through exclusive partnerships with over 150 Universities.
Through these partnerships, the company offers best-in-class solutions for white-labeling professional networks, digitizing career services centers and automating alumni engagement as free add-ons to their core offering, an expedient way to populate a proprietary, fully searchable database of segmented talent.
These organic solutions are supplemented with integrations with LMS systems like Blackboard and Canvas, social profiles and ATS/HCM providers through an open API. The stack ranked results, of course, are supplemented by data that goes way beyond a resume to uncover candidates that campus recruiting efforts might otherwise have overlooked due to its emphasis on skills and work product instead of employment experience or educational pedigree.
Students can do a better job representing themselves to employers, and employers can start adding sourcing and data methodology to the graduate hiring madness. Talk about a win-win. With enterprise clients like Oracle, Marriott and Qualcomm already on board, and a database of 5 million users and counting, Portfolium seems to have momentum on their side, having completed a successful $5.3 million Series A round in mid-September.
With the market for college recruiting estimated at a whopping $10 billion a year, Portfolium is already stealing major enterprise customers away from the behemoth that is LinkedIn, which seems to have effectively abandoned this market (where it's been notoriously ineffective) in favor of producing their own career content, effectively leaving that significant source of recruiting spend open for the taking.
TechCrunch, whose coverage of the company referred to Portfolium described them as a "Github" for "employers across a range of industries – not just IT." While we may have a STEM shortage in college recruiting (which Piazza Careers, which made last year's list, is hard at work on fixing), for those 95% of us who majored in worthless stuff only to find ourselves deep in student loan debt and with few options, can certainly appreciate.
That's why most of us became recruiters, after all.
7. InterviewJet.
Almost every entrant in this space, like in so many other industries, aspires to become the "Uber of Talent," hoping to do for recruiting and retention what Uber did to the taxi industry.
This perpetually pithy product pitch remains more purple squirrel than unicorn largely because companies like Hired and Vettery are spewing venture capital in an attempt to own the entire staffing industry.
InterviewJet, however, seems to recognize the realities of a fragmented and oversaturated staffing and third party solutions space, and that talent acquisition, unlike most other industries, isn't a winner takes all kind of market.
While Hired, Vettery, RecruitiFi and a handful of other emerging players fight for market share scraps in an attempt to displace or disrupt the staffing industry, InterviewJet seems to be building a business based off of augmenting the existing ecosystem, with fully 40% of their booming client base coming from third party vendors. That represents a pretty damned good proof of concept that InterviewJet works at making placements, TBH.
InterviewJet has a relatively straight forward business model, billing itself as a "members only" platform that's built on the premise of selectivity over scalability. Instead of try to build up a multi-level marketing scheme disguised as a "recruiting marketplace," InterviewJet instead delivers a curated list of 10-15 handpicked, high quality candidate directly to members' inboxes once a week.
There's no cost to sign up or interview this super slate of highly targeted, highly skilled free agents; once employers are approved as members, all they have to do upon receiving the email is simply clicking on any of the candidates to request an interview. If a candidate accepts that request, InterviewJet then coordinates the calendaring and coordination of those interviews, so hiring managers don't have to.
Turns out, the key to a better candidate experience is by giving control to the candidates themselves. Employers only have 72 hours to connect with candidates before they're gone for good. Of course, there's no obligation to employers – and the good news is if it doesn't work out within that finite timeframe, there's always another curated A List waiting in members inboxes the next week.
With over 60% of interview requests by employers accepted, and a nearly perfect placement rate amongst its growing roster of blue chip brands using InterviewJet to drive what can only be described as passive sourcing of active candidates who don't suck, it's really like getting the best of both worlds – a retained search firm, but without any upfront costs.
Their pricing model, which eliminates the surprises and variable costs associated with the bullshit "bidding" the competition requires for placing candidates with a flat rate of 15k a placement gives InterviewJet a competitive differentiator that just might be the silver bullet necessary for this product to live up to its potential as a category killer in the future.
No matter what, InterviewJet is already a pretty killer product today.
6. RAI by Hiring Solved.
I'm breaking a couple of rules by including this product on here. The first is that we wouldn't have duplicate entries from last year's list of top HR Technology products of 2015 (sorry, Textio, Clinch, Rolepoint and Lever). The second is that I wouldn't feature any companies in whom I had any sort of financial or equity interest.
The thing is, I'd be remiss to put together a list of top technologies to watch without including RAI, Hiring Solved's most recent release, which the company describes as "the world's first artificial intelligence assistant for recruiting." Which kicks ass.
While in the interests of full disclosure, I do serve on their advisory board, the fact is it's only fitting to break a few rules for a product that's doing the same thing to the HR Technology space. Plus, if Fast Company felt it warranted coverage, I'm not going to argue.
RAI represents a dramatic departure from the core HiringSolved platform, as well as a sneak peek at what's new and what's next (and what's even possible) in recruiting and hiring. The end product speaks for itself more eloquently than I ever could. Which is the entire point of RAI, really.
It's only fitting that the new corporate overlords over at LinkedIn introduced Cortana integration a few weeks after their old nemeses at HiringSolved launched their own integrated AI solution as a sort of Siri for sourcing and selection. The difference is, HiringSolved's solution actually work on every operating system, not just Windows 10 (who still uses a PC?), the result of five years of machine learning, an infinite amount of data points and more than three billion resumes and social profiles that the technology uses to inform its AI engine and talent recommendations.
In other words, it's way too complicated for me to understand how RAI works (it involves "predictive models, neural networks" and similar science stuff), but it does. Assuming Watson delivers as promised, too, he's already probably a bit worried, even as IBM tries to launch Watson for recruiting. Something tells me it'll be hard for the company behind Brassring to somehow set the gold standard in this space, even if it can beat Ken Jennings on Jeopardy!
I'll take Ginny Rommetty's Golden Parachute for eight figures, Alec. What is shareholder value?
Every company out there is going to be talking about machine learning and AI at HR Tech this year, but the difference is that almost all of those companies will either be misappropriating those terms or else speaking to their future potential instead current product.
RAI is already available in beta, and having seen it in action, I know that they've got more than a minimally viable product. They've got one that kicks ass, and is only going to get better over the months to come (hence the whole machine learning thing).
Full disclosure: if RAI delivers on its early potential, then it's got the potential to completely define the direction for a market that mistakes innovation and imitation.
But right now, RAI looks a lot like the real deal. For reals. 
Join us next week as we finish our Top 10 Talent Tools for 2016 Countdown with 5 more Recruiting Tools and HR Technologies you might not have heard of, but every employer and recruiting professional should know when selecting, implementing and optimizing their talent software and systems. Y'all come back now, ya hear?
Editor's Note: RecruitingDaily was not compensated for this post, and the opinions expressed herein are solely those of the author.
Matt Charney is the Executive Editor for Recruiting Daily. Follow him on Twitter @MattCharney or connect with him on LinkedIn.
---
---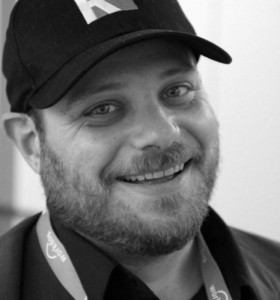 Matt serves as Chief Content Officer and Global Thought Leadership Head for Allegis Global Solutions and is a partner for RecruitingDaily the industry leading online publication for Recruiting and HR Tech. With a unique background that includes HR, blogging and social media, Matt Charney is a key influencer in recruiting and a self-described "kick-butt marketing and communications professional."
Recruit Smarter
Weekly news and industry insights delivered straight to your inbox.