You've been reading about it for weeks: as the pandemic eases, a tsunami of people will look for new jobs.
According to the recognition company, Achievers, more than half of employees will look for new jobs, way up over last year, mainly in search of better work/life balance and pay/benefits. A Microsoft study found that many workers are simply out of gas, tired, and looking to leave.
Hiring has quickly become much more difficult. Diginomica explains why: Inability to get vaccinated; health fears; concerns that co-workers will be lax about safety; government support; and the kids still schooling at home.
It's challenging to find nursing assistants, IT specialists, nuclear engineers, and more. McDonald's are understaffed. There's a tight market for digital jobs, solar jobs, and manufacturing jobs.
The head of talent acquisition for a Native American nation is seeing a "huge decline in applicant flow." 
It's time to think about whether long-standing talent traditions are contributing to these challenges. For example:
Come on Back. Oops!
One company we're familiar with has emailed its employees to tell them that while remote work was useful for a while, it's time to come back to the office in July.
Many employees have essentially told the company: "Make me!"
They're e-mailing HR and managers to say, "We're way more productive working virtually, whether at home, with customers, coworkers, at events, or wherever we need to be on a given day, instead of spending our time commuting."
Many employees are flat-out refusing to come back.
The company can pick the people it can live without, and who are refusing to return to the office, and can fire them. But:
1) That's not a good option; it's an invitation to a variety of lawsuits; for example, an employee might argue that the work environment or travel requirements are unsafe, using the "public nuisance doctrine" and other laws.
2) It's going to make it tough to recruit, as ex-employees spread the bad word.
3) There is an intense, growing competition for talent. Replacing people will be tough as the economy is heating up rapidly.
The company got itself into a pickle.
Now, I'm not against being in the workplace. We have customers who need to be in stores, at the bottom of mines, and in offices. At Eightfold, we're shopping for some new office space ourselves.  
My point is that rather than assume that people are replaceable, you need to think about your talent first, as they will make or break your business.
Who Has Done This Job?
The typical way to hire someone is to find a candidate who has done the job before. They are doing the job at another company. So, let's hire them to do that role at our company.
That doesn't always work anymore.
Take, for example, this quote from the recent 2021 HR tech market report from the analyst Josh Bersin:
I recently interviewed the head of talent acquisition for a large pharma company, and she told me that the science of genetics is advancing so fast that they can no longer recruit for specific positions or jobs. Rather, her teams now look for people with advanced scientific expertise and recruit them into jobs needing these skills. This is a big trend in AI, machine learning, and cyber, where the core disciplines are advancing so fast that companies can't hire for specific positions.
Increasingly, we need to hire for potential. Not based on whether we'd like to be stuck in an elevator or airport with someone. Or whether they wrote the best resume or faked it the best in the interview. Or, whether they have done the exact job before, at least as it exists today.
Artificial intelligence, combined with a massive amount of data, can show a company what's needed to succeed in a role, whether for a pharma company or a self-driving car company.
Let's say, for the latter, it's necessary to have expertise in trigonometry. The job candidate with this trig expertise may be a great fit, based on their potential, despite not working on self-driving vehicle technology before.
AI can help with hiring for potential and with "adjacent skills." You may not know x computer language, but what we really need is someone who can learn it. AI can tell us that if you know language y, you'd be enormously likely to be able to pick up language x.
Maybe the detail-oriented person with a background in accounts payable has all the potential for a user-experience role. Maybe the middle-school teacher would make a good product trainer.
This line of thinking gets away from "who has done the job before?"
Top Schools = Top Dollar
Let me give you a choice. You have two candidates. You can hire the person from your alma mater, or you can hire someone from … let's call it Lovely University.
Given the choice, I'm thinking you'd pick your alma mater.
Well, as it turns out, Lovely U is real! It's in India, so you may not have heard of it.
This is how we have hired for a long time. We hire what we know, or what college is supposed to be "best." But this can create a diversity problem: as we said before, "many high-potential students get accepted to higher-ranked universities but attend less-expensive schools because it is financially responsible for their situation."
If we're going to truly move the diversity needle, we need to calibrate every open job carefully, thinking about whether the educational requirement we are inclined to list is really necessary, or if it's actually the skills that are needed.
Could someone have all the right skills and potential, but we're ignoring them for no reason? Like we don't know what people do in the Air Force, where they've spent 20 years?
We now have the technology to stop doing that.
AI technology has progressed to the point where that Air Force veteran could have a bare-bones resume, and we still know a lot about them. The same goes for a customer service rep. Or a writer, designer, miner, accountant, or software developer.
We need to stop doing quite a few things, like hiring based on who's living in the best location for us, or who has the best resume, the best interview, our perception of the best school, and the best ex-employer. And start hiring for potential.
Those who start rethinking their hiring will have a leg up on fighting the tsunami.
---
Authors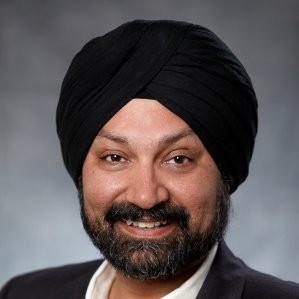 As President of Eightfold.ai, Kamal Ahluwalia brings extensive experience in creating software categories, scaling businesses and ensuring that customer and partner success drive business success. He's an active advocate for diversity in the workplace and leverages artificial intelligence to help companies retain top performers, upskill & reskill their workforce, recruit top talent efficiently, and reach diversity goals. Learn how Eightfold automates parts of recruiting to help save recruiters time, what the future of AI in talent management is, and more.
Recruit Smarter
Weekly news and industry insights delivered straight to your inbox.