High-volume hiring refers to the process of recruiting for many positions, usually more than 50, within a short timeframe. This is a challenge even for larger organizations, let alone a scaling startup trying to identify top talent that will support its growth.
There's no room for error under such circumstances because hiring strong candidates is what can make or break your business and determine its future.
Although high-volume hiring is similar to regular hiring, some specific strategies and best practices can help you handle an extraordinary number of applicants.
Hire for Culture Fit
Strong company culture is the bedrock of every successful business.
That's why hiring for culture fit should be your guiding principle, especially when you're about to bring a number of new people into your organization.
In other words, it's crucial to establish the structure of your ideal team and start with key roles and the must-have skills for people in each of these roles. If there are some secondary positions, deal with those later in the second wave of hiring.
By prioritizing the required, non-negotiable skills and identifying non-essential ones, you'll prevent driving off good candidates. Think about whether there's a minimum of years of experience that a certain position requires or holding particular degrees or certificates, as well as what criteria you are flexible on.
This way, you'll attract a number of potential hires to the initial screening, during which you'll be able to leave your job description aside for a moment and see how some of these people fit into your desired company culture.
And now comes the most important part – how would you describe your company culture? What are your main principles and core values? Are you looking for team-oriented people or individuals who prefer to work by themselves and are ready to handle pressure and tight deadlines?  
All these soft skills play an important role when it comes to team dynamics, so take them into consideration during the high-volume hiring process.
Leverage Referrals
Don't expect that posting a job on your company's website or job boards will be enough for high-volume hiring. The best way to fill a number of positions concurrently is by leveraging referrals. That way, you'll be able to ensure a steady stream of good and reliable candidates.
According to 55% of companies, referrals reduce hiring costs, while 49% report that employees who are hired through referrals stay longer. It's also worth mentioning that referred candidates can be vetted and hired after two weeks, while the entire process usually takes between 4-5 weeks.
It's only logical that your best and hardest-working employees know other similar people who would be great additions to your startup. Of course, this doesn't mean that a referral strategy is 100% flawless – there will be occasional misses. But, in general, the odds of finding top talent through employee referrals are high.
You can even incentivize not only your top performers but all your employees with monetary rewards to refer their friends and former co-workers.
Simplify Communication with Your Applicants
When it comes to the initial screening process, you should speed it up using a text campaign.
Instead of asking your applicants to fill out long forms, it's much better to screen and vet them using simple questions that reflect your needs and requirements.
For example, questions such as "Do you have a driver's license?" or "Do you have a Microsoft Office Specialist certificate?" can help you narrow down your pool of applicants and eliminate those who don't have the necessary qualifications.
This is a great way to accelerate the screening and hiring process significantly and allow your recruiters to focus on those who passed the first hurdle.
Automate the Process
New technologies can be of tremendous help to recruitment specialists, especially when they have to deal with high-volume hiring. Automating certain parts of the workflow can facilitate their job and assist them in finding the right candidates quickly and effortlessly.
Given that most people are on social media, it's only logical to look for your next hires on LinkedIn, Facebook, or Twitter. You can use automation tools to source candidates by scanning your existing employees' connections or creating a lookalike audience and targeting it with ads on Facebook or LinkedIn.
Besides social recruiting, you can use AI-powered tools for screening resumes and identifying the candidates that are fit to be interviewed.
Chatbots are another great addition to your recruitment team, as they can be used to collect relevant information from your candidates, notify them about the latest developments, answer the most common questions, and schedule interviews. These algorithms significantly improve the way companies engage with and nurture candidates.
Don't Neglect Retention
When you're expanding and increasing the staff size, it's crucial not to neglect retention.
First of all, you should make sure to keep your existing employees happy and satisfied. It's them who enabled your startup's growth, so it's important to show them your gratitude and debunk the dangerous "everyone's replaceable" cliché.
Offer them training programs, corporate consulting and coaching, and other perks that could additionally boost their motivation and help them adjust to the change in the workplace.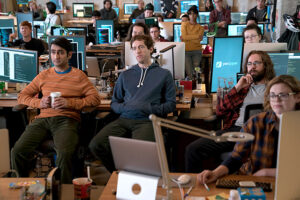 In other words, treat your existing employees with respect as they also contribute to your hiring efforts when they share their work experiences with others on social media and promote your corporate culture, which in turn attracts suitable candidates.
Similarly, the climate in your startup is a key factor in how your new hires will adjust, so it's important to obtain regular feedback from existing employees and find out what they think about company expansion as well as whether your company culture is changing for the worse.
Finally, properly onboard your new hires because that's how you'll reduce staff turnover, which is expensive both in terms of money and time.
High-volume hiring is tough, especially for startups, but besides sticking to the best practices for finding and attracting top talent, follow these tips to help you assess and vet your candidates more efficiently.
---
Authors
Michael has been working in marketing for almost a decade and has worked with a huge range of clients, which has made him knowledgeable on many different subjects. He has recently rediscovered a passion for writing and hopes to make it a daily habit. You can read more of Michael's work at Qeedle.
Recruit Smarter
Weekly news and industry insights delivered straight to your inbox.