After exploring recruiting needs at high-growth and small to mid-sized businesses, we're moving over to large and enterprise organizations. Now, on the surface, you might think that these companies have it made: resources, budget, technology, brand recognition…
But nothing is ever quite as it seems, is it?
That's because the bigger the organization, the more there is to account for, with layers building up over time.
The more factors in play, the more challenging talent acquisition becomes – for everyone. That is one of many reasons economists predict hiring bottlenecks in the coming months, with the Wall Street Journal pointing out that, "Even after an employer posts a job opening, the hiring process can take weeks or months. Meanwhile, the labor pool changed and shrank during the pandemic."
What worked in the past might not work today – or in the future – which is why large and enterprise organizations need to take a closer look at how they recruit sooner rather than later.  
Peeling back the layers
While these companies have a lot working in their favor, there are precluding factors also – and size can be one of them. Or rather, organizational structure. The higher the headcount, the more stakeholders are involved in even the most straightforward decisions, while disparate departments complicate budgeting and approvals.
Infrequent communication and inconsistent documentation don't help either. Then there's technology, a boon in most instances, a burden in others, with Aptitude Research reporting that 30 percent of companies say integrations remains a top frustration and only one in two companies measuring the ROI of these investments.
The underlying issue with all of this being, it's not enough to have the resources, budget, technology, and brand recognition. You have to use them too, and that requires understanding the entire talent ecosystem.  
The 2020 Deloitte Global Human Capital Trends survey found that "organizations are least likely to collect workforce metrics in areas critical to the future of work." That means, instead of taking a predictive approach to talent, companies are relying primarily on descriptive information, which in practice equates to more of the same rather than scaling to meet changing needs.
Deloitte further identified the areas where the majority of companies collect data: headcount, hiring, and turnover; salary costs; and workforce composition – all of which relate directly to talent acquisition (and talent management).
Staying one step ahead  
We spend a lot of time talking about using recruiting to carve out a competitive advantage, and there is inherent opportunity to do this in large and enterprise organizations – provided you're willing to do the work. Here's how:
Improve your intel
Taking the Deloitte findings to heart, most large organizations benefit from technology stacks with intelligence built in. This intelligence can – and should – serve as the basis for the understanding you're looking to achieve.
Again, it's that Four Agreements-style of thinking, that says "Without action upon an idea, there will be no manifestation, no results, and no reward." The more you look at the data, the more informed you become.
The more informed you are, the more leverage to operationalize information and turn it into strategy.
Increase your flexibility
Of course, flexibility continues to elude the enterprise. It requires being able to cut through the noise and get from problem to solution faster. But that doesn't necessarily mean ripping out your ERP, ATS, or CRM and starting over.
It means looking for ways to enhance talent acquisition and talent management using the intel mentioned above. The more your technology and tools map to improving outcomes, the more fluid your process.
The more fluid your process, the more agile recruiting becomes.
Extend the experience
You'll notice we mentioned talent management throughout this piece. That's because for large and enterprise organizations to improve intel and increase flexibility, they need to think about talent longer-term.
The Aptitude Research report referenced above indicates that only 22 percent of companies have gone through a digital transformation of their tech stack, but 58 percent are using or planning to use internal mobility capabilities this year.
The recruiting lifecycle doesn't end with the offer letter – consider where learning and development, performance management, retention, engagement, and the like fit your approach.
Change is hard for all businesses but especially in large and enterprise organizations. It causes friction and disrupts a well-orchestrated status quo, which is how we created the cringe-worthy "that's the way we've always done it" mentality.
Moving away from this is how we recruit at scale, in the moment, rounding out the modern talent journey instead of reinventing it.
---
Authors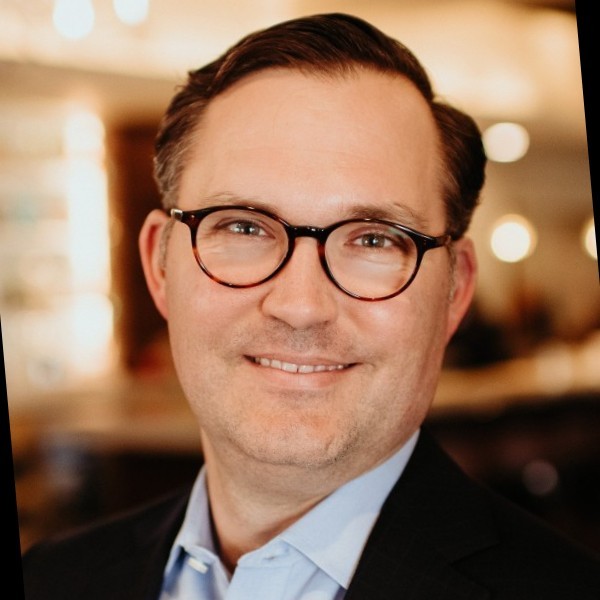 Patrick Hodge is a seasoned advisor in the human capital technology industry. Previously holding senior roles leading both sales and services teams along with partnerships and strategic alliances, Pat now serves as an Enterprise Account Executive at PeopleFluent. Here, he works closely with client partners to plan, develop, and execute strategy and laying the foundation for success via trusted partnerships. Skilled in sales strategies, market development, and product development, Pat leads with his experience in consultative selling and executing strategy for profitable and sustainable business outcomes. Through a solutions-centered approach, Pat partners with clients to implement best practices through the learning and development of individuals, teams and organizations with a primary focus on utilizing technology to drive growth through increased employee retention and engagement. Pat is a graduate of Nebraska Wesleyan University, with degrees in Information Systems and Business Administration, and holds a Master's in Business Administration from the University of Nebraska – Lincoln. He serves on the Board of Directors of Hillcrest Country Club and is an active community volunteer.
Recruit Smarter
Weekly news and industry insights delivered straight to your inbox.