Increasingly apparent to a growing number of recruiters and hiring managers is that traditional post-and-pray is no longer a workable plan for finding the right candidates. In fact, in its recent Future of HR Technology report, HRWINS found that employers now use, on average, 24 different technologies such as federated search and applicant tracking (ATS) to find the right candidates. Top recruitment technology trends, according to the Society for Human Resource Management (SHRM), additionally include AI, blockchain technology, and bots.
Integrating the latest HR technology doesn't necessarily equate to luring the best candidates, however. That's because most of these enlightened recruiters fail to use the tools well in three key areas: Engagement; mobile optimization; and branding according to what workers really want. Specific to the technology industry is a fourth issue, the failure to hire tech-savvy recruiters who can speak the language during the interview process.
Nor is failure to hire, or hire well, just a job vacancy problem. It's a company success and bottom line issue as well. This is especially true in the world of technical recruiting, where the Bureau of Labor Statistics expects hiring needs to jump 12 percent by 2024.  Unfortunately, Code.org projects that by 2024 IT job openings will exceed qualified applicants by one million.  
Add to this dismal candidate outlook CEB survey results that determined an average job vacancy cost of $500 per position per day, and it is abundantly apparent that inbound marketing tactics must be outstanding, timely and fruitful.
Yes, the use of new recruitment technologies such as federated search, which allows a recruiter to combine a search of multiple databases of prospective candidates, and sourcing analytics that assess candidates' fit for the job, decrease a hiring manager's time and effort spent in recruiting and hiring, and help defray an employer's cost per hire.
If, however, that recruiter has failed in her follow through of the latest recruiting techniques, such as talent networks, social-media and other branding, or the long-standing ad posting process; and if that recruiter has failed to convey a company culture and benefit package that appeals to candidates, the number of applicants may well fall below what's needed to find the perfect new worker.
While thousands of recruiters and hiring managers believe in and practice some elements of inbound marketing – that is, drawing customers to products and services via branding, content and social media marketing, as well as search engine optimization (SEO) – they fail to practice its most important element, engagement. Getting candidates to their talent network, career site, or job posting is the first half of the battle. Keeping them coming back and persuading them to apply – or encourage others to apply – is the other half.
Here, then, are five key strategies to make that happen.
1) Branding – Inbound Talent defines employer branding as "your reputation as an employer." According to Linda Davis, founder of Next Generation and Inbound Talent contributor, branding is "What makes your firm unique … what shows what it means to work here."
Fairly obvious branding elements include career sites, talent networks, and social media. Others specific to technology hiring by way of passive candidate sourcing are the employer's participation (perhaps sponsorship?) of Hackathons, technology workshops and conferences, and relevant Meetup groups.
Passive candidates are vital to an employer's productivity. According to Inbound Talent, the international recruiting firm Hays discovered that this year's severe candidate shortage in technology and other growing industries is negatively impacting both turnover and productivity.   According to the Hays survey, a huge factor impeding technical hiring is that 95 percent of the best candidates are simply not looking for the jobs.
2) Employee participation –  A crucial element to a firm's branding and hiring process is the front-and-center participation of its best employees. They're the folks who know best what keeps workers happy, and happy to stay. Let them tell that story to prospective candidates, by way of video, chat, online content, Webinars, teleconference, e-books, white papers, and social media. Bring them into the interview process, giving them a chance to talk face-to-face or by video conference, to the candidate. Let those long-standing employees be the ones to take the candidate on a tour of the facility.
But what do they talk about? What's important – and often unaddressed – that candidates should hear?
According to Gallup's 2017 State of the Workplace report, what job seekers want, beyond the obvious compensation packages and advancement opportunities, are work-life balance (important to 38% of Gallup respondents), collaborative environment, training and continued education, a firm with strong ethics, and work from home options. While 25 percent of the study's respondents emphasize the importance of a remote-work option, that figure jumps to 38 percent when singling out millennials.  Two of every three candidates seek flexibility in work hours. Nearly half of all surveyed job seekers want tuition or student loan reimbursement. Paid Paternity leave is sought by more than one-third of candidates, and 30 percent are looking for child care reimbursement. More than one in every five candidates consider the ease of commute as crucial, while 17 percent want to know if the company culture emphasizes fun. A sense of camaraderie is essential to 10 percent of surveyed candidates.  
Many, if not most, of these perks go unaddressed in job postings. Thus, they're the very things that current employees can and should highlight in their discussions with applicants. 
3) Mobile application process – As early as 2014, Glassdoor reported that 45 percent of job seekers used their mobile devices to search for jobs at least once a day. Yet, by 2016, the number of recruiters offering a mobile career website or apply process was a mere 19 percent. The ability to reach job seekers anytime anywhere, and allow them to quickly and easily apply, ask questions, or otherwise engage recruiters by way of a mobile device, is still a standout, even among companies hiring for technical positions.
4) Tech-savvy interviewers. Other than IT-specific companies, employer firms often fail to retain or hire tech-savvy interviewers to help fill technical positions. These luddite recruiters struggle through the interview process, often leaving the technical candidate with a failure to bond, and a less than attractive picture of the firm's suitability for their career dreams.
The bonding aspect of the interview process is crucial. According to Mattersight's Take this Job and Love it white paper, 80 percent of people would take one job over another based on personal relationships formed during the interview process. In a recent Jobvite study, 47 percent of the surveyed job candidates said that the interview made the greatest impact on their decision to accept or reject the job offer.  
5) Ongoing engagement. When a job candidate joins an employer's talent community, follows the firm on social media, applies for a job, or visits the company's website, the employer's inbound marketing has barely begun.
Digital followers are fickle, with short attention spans. The recruiter must engage and keep on engaging.
Nor is this just about putting the firm's best foot forward. While engagement should involve pushing company products and job opportunities, 90 percent of its online content should be helpful, informative, creative, amusing, and entertaining. In other words, not self-serving. In the world of recruitment, this involves not only keeping prospective candidates updated on the latest job openings, and their progress through the hiring process if they've applied, but as well industry outlooks, and the latest relevant tools, gadgets, subject matter experts, and ideas. A recruiter who has talked one-on-one with a candidate who loves to hike might periodically send the candidate the latest ideas on great hiking gear or treks, for example. The engagement should offer ease of two-way conversation, and the opportunity for that candidate to share openings with others or refer other candidates.
While recruitment technology evolves on a nearly-daily basis, these programs and tools enhance rather than replace a recruiter's inbound marketing efforts. When seeking the right job candidate for that hard-to-fill technical position, recruiter follow-through is still the key to hiring success.
---
Authors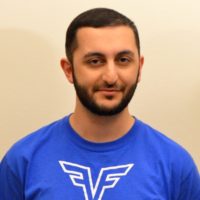 Tigran Sloyan is the founder and CEO of CodeSignal, formerly CodeFights Recruiter, a platform that uses machine learning to help companies source, assess, and interview the best technical talent for their open engineering roles. You can follow Tigran on Twitter or connect with him on LinkedIn.
Recruit Smarter
Weekly news and industry insights delivered straight to your inbox.