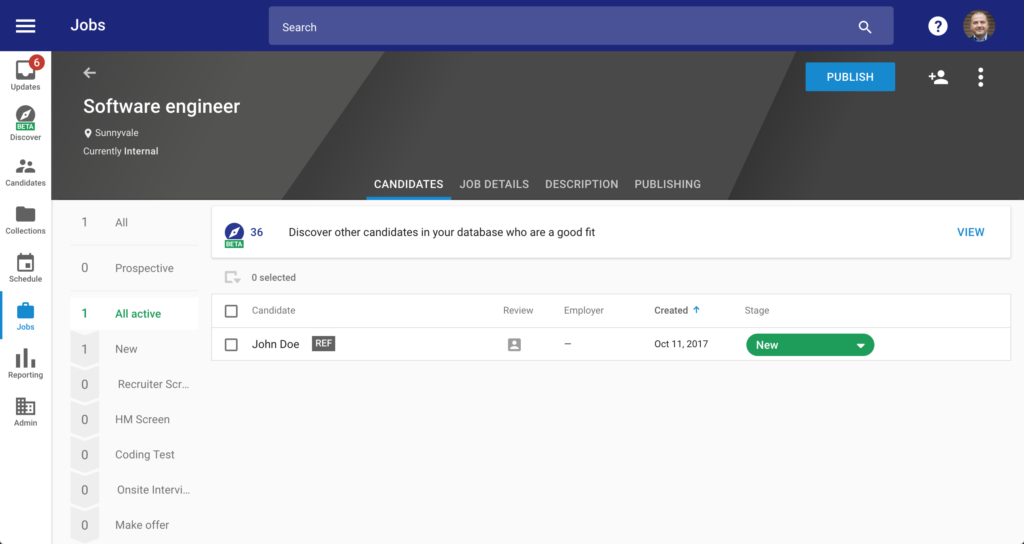 Where does Hire by Google fit in?
One of the foundational premises of talent sourcing lies in the fact that traditional search engines are notoriously bad at searching for individual people and profiles, particularly as they relate to jobs.
If you're looking for something, search engines are great. If you're looking for someone, obviously, there are a few inherent limitations to even the most sophisticated search algorithms.
Search results generally tend to reward "authority," which works for measuring the relative influence of websites based on a myriad of factors like external backlinks, keyword density and referral traffic. This is why Wikipedia almost inevitably comes up at the top of the organic results for almost every search involving a place or thing.
Not so a person, for whom the concept of relative authority is much more difficult to rank. Results favor a number of different platforms, such as Twitter streams embedded directly in results and the prevalence of LinkedIn profiles at the top of most organic vanity searches, or publishers.
Names return largely based on the prominence of the platform on which information is published rather than the relative social influence or authority of the person's name you're actually searching for.
Additionally, there's no deduplication for names (yet), meaning that unless you're in the minority of those of us online with distinct names (for example, I'm one of like 8 Matt Charneys in the US – which sucks for them), which obviously only exacerbates the issue of relevant results for talent-based searches.
There are obvious workarounds to these limitations, of course – which is why tactics, like building multiple modifier Boolean strings or performing X-Ray searches, continue to be a viable skillset in sourcing, albeit archaic pretty much everywhere else.
More recently, the rise of "profile aggregators" such as HiringSolved or Entelo, which help overcome some of these historical obstacles (and the lack of even rudimentary native search functionality in most core talent systems) by more or less using public results (read: pages indexed by search engines) and "Deep Web" open records to populate dynamic profiles of passive talent and provide results stack ranked by relevance.
The proliferation of point solutions purporting to offer a consolidated candidate view from internal systems, external social networks and overall online footprint (both professional and personal) and their success selling into talent functions only underscores the inherent inability of traditional search methodologies to return relevant recruiting results.
A few of these actually explicitly market themselves as being the "Google for Talent," which is both an appealing moniker as well as a stark reminder that while it's good at a great many things, Google has never been great at returning relevant results for actual people as opposed to places, things, locations or, really, any other field of human endeavor.
This capability gap has not only given rise to an entire category designed to effectively bridge its search limitations in terms of profile aggregation and federated search from a systems perspective, but also, to an increasingly expanding ecosystem of extensions for Chrome – a browser which is, one might argue, the sourcing tool with the biggest overall market share, given its near ubiquity in the sourcing function.
Recruiting related Chrome extensions, of course, have become a cottage industry in their own right, from "free" (if you think data is worthless, in which case, you're wrong) extensions like Lusha and Prophet to fully supported, firewalled Chrome extensions developed by enterprise ATS and HCM vendors. For evidence of Chrome's mainstream adoption in TA, look at the Chrome extensions offered not only by emerging, agile providers like SmartRecruiters, Lever or Greenhouse but also, by the likes of Workday, Oracle HCM, and ADP.
These same vendors, who are normally so cutthroat and competitive, have not only almost unilaterally built applications (and effectively, the data they generate) for Google via Chrome, but also tout their proprietary apps as proof that they're "mobile friendly" – even when many are not – apps that are engineered for Android, published on Google's platform and distributed exclusively via the Google Store.
This should serve as sufficient proof that these formerly cutting-edge capabilities have become pretty passe at this point – and more than enough evidence that Google is currently viewed as an ally, not adversary, in the proverbial "war for talent" (and sourcing spend) by the existing vendor ecosystem – even after its entrance into the ATS market with its Google Hire offering last year.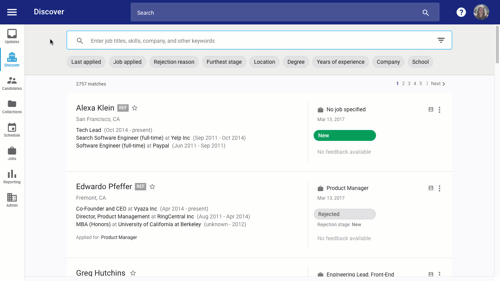 Google's Dedicated Sourcing Tool
Today's announcement that Google is effectively dipping its toes into building a dedicated sourcing tool may serve as the catalyst for changing that general attitude. In a blog post by Omar Eduardo Fernandez, product manager for Hire by Google, the company announced the launch of what they are calling "candidate discovery functionality," which, according to the company, will allow recruiters and hiring managers the ability to:
Find qualified candidates immediately upon opening a job. The first step in filling a role should be checking who you already know that fits the job criteria. Candidate discovery creates a prioritized list of past candidates based on how their profile matches to the title, job description and

location.

Use a search capability that understands what they are looking for. Candidate discovery understands the intent of what recruiters and hiring managers are looking for. It takes a search phrase like "sales manager Bay Area" and immediately understands the skills and experiences relevant to that job title, as well as which cities are part of the Bay Area. That means the search results will include candidates with sales management skills even if their past job titles are not an exact keyword match.  
Easily search by previous interactions with candidates. Hire lets recruiters search

and filter based on the previous interactions with the candidate—such as the type of interview feedback they received or whether you extended them an offer before. Candidates with positive feedback will rank higher in search results than those without, and candidates who received an offer in the past but declined it will rank higher than those who were previously rejected.
What Google Candidate Discovery Means
While the release is fairly short and self-explanatory, its implications are considerably more complex than the announcement would suggest. The first is that this feature means that, effectively, Google has created a native search functionality that's profile, not keyword, based –  and one that's specific to the talent acquisition function.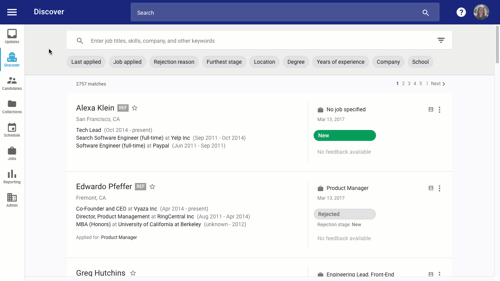 In fact, this product seems to be offering a set of capabilities – that is, the ability to natively search previous candidate interactions and to automatically suggest results from a company's existing candidate database when a job is opened to instantly uncover any low hanging fruit (a best practice too few companies have made a canonical part of sourcing) and the ability to stack rank those results by relative success in (fully searchable) recruiting related interactions – that traditional ATS and HCM providers have long neglected.
That is, as much as recruiters intuitively agree on the importance of keeping silver medalists engaged and embracing the mentality that a candidate can be right, even if it's not right now, there's really not a systematic way to do this that can be standardized across a talent organization or enterprise at scale.
On existing systems, that's mostly because of either Draconian end-user permissions and credentialing (why candidates have to create a username and password to apply for jobs), in which any notes on req related activity that might actually exist are effectively either archived when that req is filled, or because these systems of engagement weren't designed to recognize those proverbial previous 'silver medalists' from any other unsuccessful applicant in the system.
Which is a pretty big fail, when you think about it.
Furthermore, the utilizing machine learning, NLP (as evidenced by the semantic and keyword clustering capabilities outlined in the second bullet) and, most importantly, "intent" for recruiters and hiring managers when it comes to sourcing. This would indicate that Google is making a concerted effort to continue to iterate and refine its recruiting related products – and, likely, its consumer-facing Google for Jobs offering.
While Hire by Google was significant because its launch marked the first time Google was entering the recruiting market, this potential category killer has so far failed to make any real noise in the market. This is because it (wisely) limited its ATS offering to existing Google Cloud customers, a largely down-market customer base with little to no existing overlap with most HR Tech providers and their enterprise ambitions.
Furthermore, when Hire by Google launched, the company positioned it as a reconfiguration of its existing product line, essentially mirroring what many of its Google Cloud customers were already doing with Google products independently to help manage their recruiting function.
"If you think about the activities happening in Google apps – from emailing candidates in Gmail to scheduling interviews in Google Calendar to using Google Hangouts for video interviewing – you see every part of the recruiting process except for an optimized ATS experience. Today, people have to jump between tools and apps, and have no real way to capture the recruiting process in a centralized or cohesive manner," Google told RecruitingDaily at the time.
The existence of this machine learning instance, or, in their words, "search capability to understand what you're looking for," suggests that this functionality was, in fact, developed independently and by a dedicated team of programmers, since this semantic skills searching capability exists nowhere else within the Google Cloud offering and isn't the easiest feature to develop, from a product perspective. The ability to search for individual people or professional profiles wouldn't just benefit Google Cloud, obviously, but the entire company.
By training an algorithm to recognize how sourcers and employers search for candidates and correlating that data with a ton of historical insight into recruiter screening and selection behaviors, Google has a pretty ideal scenario to make their core search experience more "people friendly," in terms of results.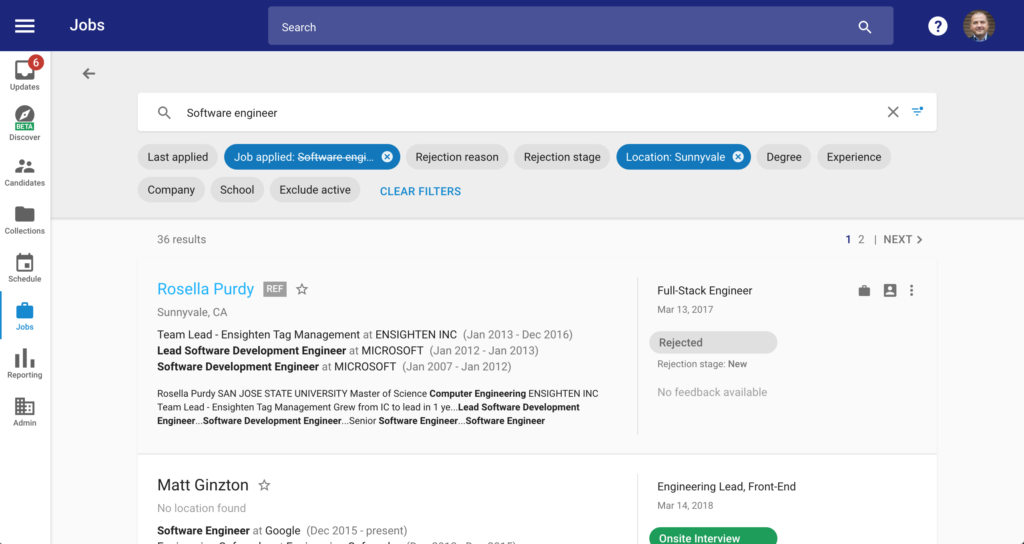 The Hire by Google Product Team
In a previous briefing with RecruitingDaily, Hire by Google internal leaders confirmed that Google in fact not only had created an internal product team (with, apparently, a more robust roadmap than most imagined) specifically dedicated to building out the Hire by Google offering, but that they were increasing those resources (or, "internal investment," to use their preferred phrase).
While Hire by Google will continue only to be available to Google Cloud customers – which constitute, as a Google rep points out, a pretty significant market with around 4 million captive potential clients – but indicated that could change at some point in future. The company refuses to speculate on when, if ever, that future may happen, which means traditional HR Tech vendors can rest easy, for now.
But if (and when) Google makes a full-on play in recruiting – and building internal capabilities in terms of creating an independent LOB complete with its own sales support, dedicated developers and fully aligned leadership would indicate that day may be neigh – the way we source candidates may never look quite the same.
Of course, with Google's acquisition of Tempo, our go-to repository for GIFs, yesterday, the future of recruitment marketing may never look the same, either (one can only hope). One day later, product demos already don't – so make sure to check out the .GIFs Google provided of their new candidate discovery product, or click here to read the company's official announcement.
---
Authors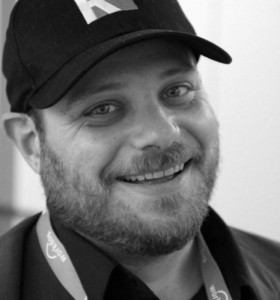 Matt serves as Chief Content Officer and Global Thought Leadership Head for Allegis Global Solutions and is a partner for RecruitingDaily the industry leading online publication for Recruiting and HR Tech. With a unique background that includes HR, blogging and social media, Matt Charney is a key influencer in recruiting and a self-described "kick-butt marketing and communications professional."
Recruit Smarter
Weekly news and industry insights delivered straight to your inbox.