Best Practices for Virtual Career Fairs
It took a global pandemic to motivate many employers to adopt virtual recruiting strategies and now virtual career fairs are more common than ever. Hosting online recruiting events doesn't just help keep your recruiters and candidates safe. Virtual career fairs also allow organizations to save tons of time and resources since they are easy to set up, don't require travel, and can be hosted by just a few team members.
Online recruiting events also tend to attract more serious candidates, giving employers a long list of good reasons to keep using virtual career fairs long into the future.
By following a few best practices, talent acquisition leaders can maximize the many benefits virtual career fairs have to offer, while simultaneously attracting and connecting with more (and better) candidates.
Prepare in advance
Preparing for a virtual career fair is quite different than getting ready for an in-person recruiting event, but there are some similarities. What we know about the most successful online recruiting events is that they are the result of careful planning.
Because virtual career fairs are by nature a fast-moving event, it's ideal for recruiters to prepare answers to the most frequently asked questions from candidates. Many recruiters actually type out responses ahead of time, making it easier to copy and paste replies during chats with curious candidates.
This time-saving strategy helps virtual career fairs move quickly, and shows candidates you're just as serious about the recruiting process as they are. What kinds of questions should you be prepared to answer? Candidates often want to know about benefits and company culture when they are deciding which potential employers to pursue, so be sure to prepare responses on those topics in addition to questions about the specific job requirements.
Another consideration for prepared responses: keep them as succinct as possible. Many candidates will be joining your virtual career fairs from mobile devices, on which shorter messages are easier to read and respond to. Anything you can do to keep the candidate's experience a top priority will help your event be more successful.
Invite the right candidates
Hosting a virtual career fair for one job title or a group of related job titles is another effective strategy. Build an event that is specific to a unique candidate persona, and use that persona to create custom invitation lists from your candidate database. When you invite candidates, be sure to include enough information for them to come prepared.
Personalize your invitation emails with their name whenever possible, and include information about the format of the event as well as specific tips for preparing. You don't need to share interview questions in advance, but the more context you give candidates for the conversations they'll have during a virtual career fair, the better those conversations will be.
Use video wherever it makes sense
Job seekers love video, and video is a perfect match for virtual career fairs so be sure to use this valuable medium at appropriate times throughout your virtual career fair process. From the invitation email to welcome videos to one-on-one video interviews, video is the next best thing to meeting in person when it comes to fostering genuine conversations and connections between recruiters and candidates.
As you plan your virtual career fairs, put yourself in the candidate's seat, and think about how video can help bring the experience to life. And remember, you don't have to invest in professionally produced videos if that's not in your budget. Even simple self-recorded videos made with a smartphone can be very effective if the content addresses candidates' concerns and preferences.
Engage in genuine conversations
Just like in-person interviews, candidates who participate in virtual career fairs want to feel valued as individuals. Of course, recruiters should start with standardized questions for consistent candidate experience and to reduce the influence of implicit bias. But it's also important to be yourself and allow yourself to be curious about candidates.
You want them to feel important and interesting but there are no tricks or shortcuts for getting there. During a virtual career fair, most conversations will begin as a text-based chat so it can be challenging to convey authenticity and genuine interest. However, you'll have a clear idea after a few messages whether you want to continue the conversation and, if you do, you can invite the candidate to progress to a one-on-one video interview, where you'll have the benefit of facial expressions and body language to enhance the quality of your conversation and, if all goes well, your relationship too.
Communicate after the event
When a virtual career fair ends, candidates should already have a sense of where they stand and what will happen next. Perhaps you already scheduled a phone or video interview with them. Or you've let them know you'll reach out within 7 days if they are selected to advance.
Regardless of what you communicated during an online recruiting event, it's important to stay in touch after the event has ended. Follow up via email or text (based on candidate preferences) with the next steps. Especially if you've scheduled an interview or would like the candidate to take a certain action.
Asking for feedback is another crucial post-event step that many employers overlook. Ideally, you'll host your virtual career fairs on a platform that automatically sends a feedback questionnaire to participants after each event. Allowing you to collect valuable insights that will help you plan future events.
Don't forget to communicate with rejected candidates as well. Being 'ghosted' is often worse than hearing 'thanks but no thanks.' Plus, if you want to keep in touch with a rejected candidate for future job opportunities, sending a quick note after a virtual career fair is an easy way to let them know where they stand.
The perfect virtual career fair
In the world of virtual recruiting, there's no such thing as perfect. You should be continuously improving your strategies and honing your approaches based on what works and what doesn't. But you can work toward the idea of a perfect virtual career fair by taking all the necessary steps to improve your events. And by prioritizing the candidate experience and making sure that virtual events encourage a real relationship between candidates and recruiters.
We all know that trust is a huge component of each candidate's decision about their next employer. These best practices help organizations create virtual career fair environments conducive to building trust. Through these strategies, employers can host virtual career fairs that are just as effective (if not more so) than the in-person recruiting events you used to rely on.
The Checklist: 6 Ways to Prepare for a Virtual Hiring Event
Prep for the event

VCFs are fast-moving. Have FAQs and questions prepared in advance.

What is your culture like?

Invite the right candidates

Host virtual career fairs that are specific to a unique candidate persona — one job title or group of related job titles, etc. Build custom invitation lists from your candidate database. Tips on what to include in invitation emails (personalization, tips for preparing, the format of the event, etc)

Use video as much as possible [at appropriate times]

Why video is important and what types of video to include (recorded video vs live video)

Engage in genuine conversations

Start with standardized questions for a consistent candidate experience; also be yourself and allow yourself to be curious about candidates. You want them to feel important and interesting but there are no tricks or shortcuts for getting there. Mention how conversations can move from chat to video.

Ensure virtual career fairs are mobile-friendly

Keep chat messages succinct so mobile users can engage easier

Communicate after the event

Follow up with the next steps

Ask for feedback (use a VCF platform that automatically sends a feedback questionnaire)

Don't forget to communicate with rejected candidates as well
---
Authors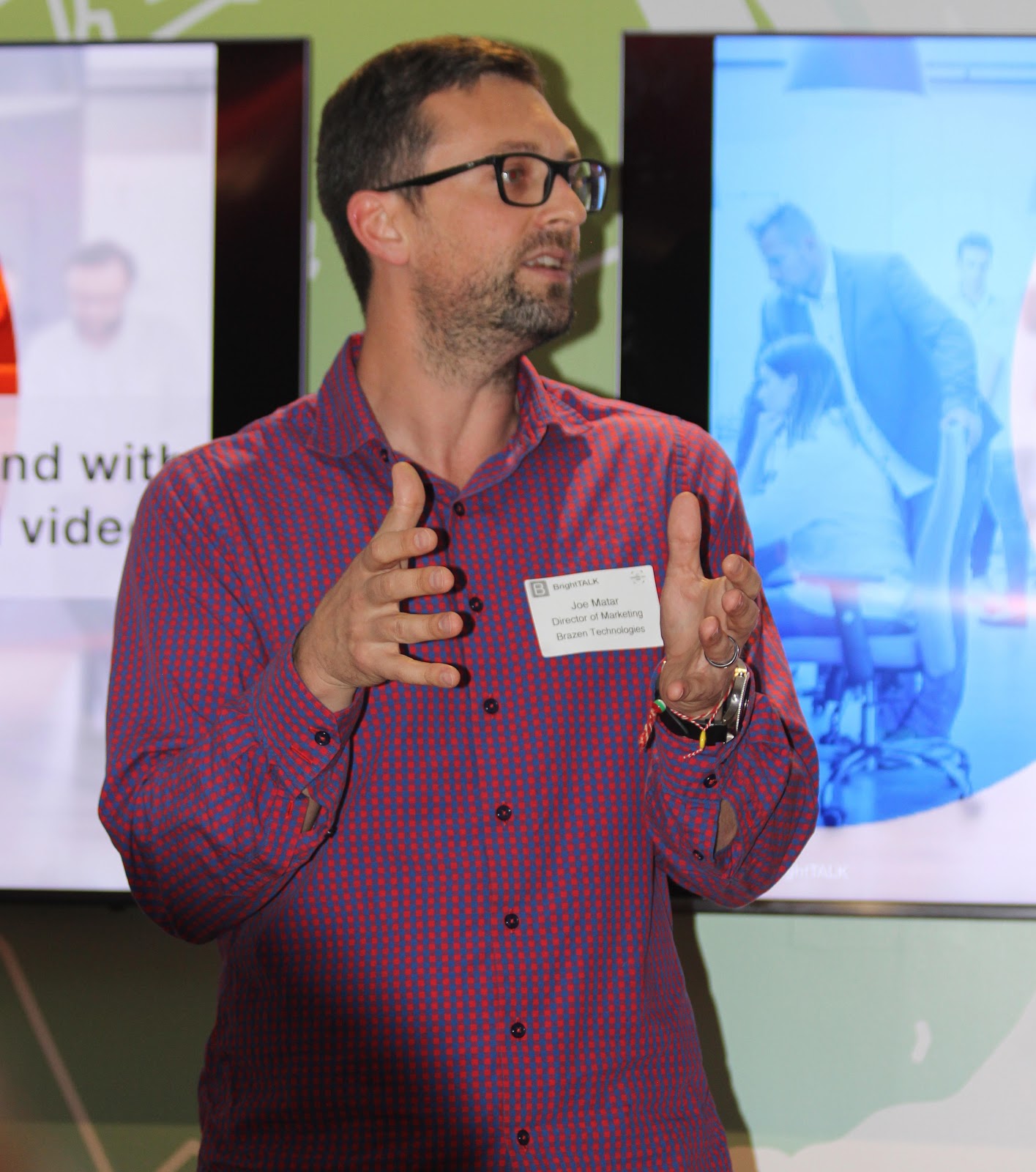 Joe Matar is the VP of Marketing at Brazen and the host of the popular video series, Talent Acquisition Talks, and co-host of the popular podcast, Talent on the Rise, where he interviews some of the top minds in the TA and HR industry. With over ten years of marketing experience including an MBA in Marketing from the University of Iowa, Joe Matar made the switch to the HR technology space a few years ago and very quickly noticed the parallels between recruiting and marketing. At times, he feels like he is back from the future. Follow Joe on LinkedIn or Twitter where he posts a weekly video interview with TA leaders.
Recruit Smarter
Weekly news and industry insights delivered straight to your inbox.