While there are a lot of great software products out there for the HR and recruiting market, let's face it. You've got a limited budget, and even more limited time.
Which, of course, makes you the ideal mark for a bunch of B2B blog posts, social media updates and content marketing talking about how much time and effort their products save you, so you can do important things like read more B2B blog posts about HR and recruiting software you don't really need.
Don't worry, though. Even if you're not on the market, these tools often save you so much time that you have the time to respond to the million phone calls and e-mails you get from some recent college grad in "marketing" trying to set up a demo so they can close you this quarter and hit quota.
For more information on how content marketing can supercharge your recruiting business, click here for the full whitepaper from our friends at The Ladders.
Now, I know what you're thinking. You're no HR Technology company, so there's no way you'd ever have the time or ability to write disposable listacles, pimp out infographics clearly made in MS Paint or have a college intern tweeting out Fast Company articles from your company Twitter handle.
The fact that all they talk about the importance of marketing all day is all the proof you need these companies get this concept. But you're a recruiter, so it's likely you'll never be able to have a voice, perspective or the ability to challenge obviously misleading or silly, specious claims using common sense.
No, my friend. You need marketing.
How To Build A Smarter Workforce (TM) Through Recruiting Content.
Did you know that organizations who do content marketing as part of their recruiting process are 80% more effective at wasting time on bullshit than those at the lagging edge of the "paying obscene amounts of money for access to mediocre Bersin reports" maturity model? It's true.
According to a report by a Polish workforce management solution written in 2012 and found on the second page of Google results by some junior level account executive pretending to know what the hell is going on, 99% of companies who don't do content marketing as part of their recruiting strategy report not seeing any results from their content marketing efforts.
Furthermore, another 68% of HR Leaders say they're either thinking about or plan to initiate some sort of content marketing initiative "sometime in the future," according to the Society for Human Resources Management's occasional .pdf newsletter. This is what marketers refer to as "intent," which means that if someone might be making a purchasing decision sometime in the next decade, it's important to serve them up with a ton of touch points to stay top of mind if they ever decide to shit and get off the pot.
This is where content comes in.
Don't worry. If you're a recruiter, there's good news.  You too can become a content marketer, even without any formal training, writing skills or even an understanding of the concept of return on investment. Hell, you've been paying for job board subscriptions for years and have made like three hires, so it's not like anyone's going to know your content campaigns aren't working.
All that they need to know is it's there, and it's a best practice. Just ask the content marketing consultants and agencies who are writing the content telling you how important content is. I'm sorry. You probably know them as the thought leaders and influencers you need to follow on Twitter. And let's face it, you need to follow a bunch of "employer brand gurus" on Twitter, or else catastrophe may well ensue for you and everyone you know. Think of it like a chain letter – I mean, it doesn't hurt to send those along just in case those stories are true, right?
Well, meet content marketing for recruiting – it's the chain letter of the new generation. Here are 5 things you need to write great content about recruiting while thinking like a marketer, earning a seat at the table and becoming a data driven recruiter who thinks buzzwords and best practices are more or less interchangeable.
5. Use Exclamation Points!
If you're not passionate about something or don't know what to say, don't worry. That is why the exclamation point was invented – it feigns excitement so you don't have to. There's nothing that says, "wow, we totally get your pain points" more than emphasizing every single declarative sentence with the proper punctuation!
It never gets old! If you want proof of how convincing this convention is, try using them in an offer letter!
4. Have You Thought About Asking Rhetorical Questions?
Recruiters know what most other business functions obviously don't – that human beings are too stupid to start their own conversations on topics that interest them on social networks or any other communications channel for that matter. Just kidding. Twitter is obviously the only communication channel people pay attention to. But did you know asking rhetorical questions is the only way you can get people to join the conversation? Why didn't you think of that? How is this not the key to building engagement?
#InnovationAtWork: How did we win the 2015 Environmental Leadership Award in LA? By cutting 50% of nitrate emissions https://t.co/OHUl8i6PPK

— ExxonMobil (@exxonmobil) March 29, 2016
Here are some great questions to try if you're stumped.
"Did you know we're hiring?" "Did you know we were just named a Best Place to Work by the Boondock Business Journal?" "Did you know that metrics like reach or impressions are worthless?" "Did you know your social media analytics that you get weekly from your agency are a screenshot of Sprout Social's dashboard and you could get the same exact thing for like a tenth of the price?"
Are you ready?
3. #HashtagsAreEverything #Recruiting #WorkTrends
So, you want to look like the cool kids on the social media block, but you aren't a cool kid and you don't know a thing about social media, right? No problem! That's what hashtags are for – the more of them you add in an average update, the more people will be able to find you – and likely, see how awesome you are at social media. This will inevitably lead to them following you or clicking the link to your product site and making a purchasing decision, so don't worry if your bosses ask what you've actually accomplished pimping out your brand name on a hashtag, because you'll have millions of impressions! Suckers!
Just tell them that your company account has a Klout score of 42, and they will be so impressed by your grasp of big data and marketing that you will not only have a seat at the table, but you'll buy the thing at Ikea and assemble the particle board yourself. Here are some reasons why branded hashtags are a good idea.
We might not all recruit for sexy brands with big budgets like Google, Exxon Mobil or the law offices of Larry H. Parker, but hashtags are free – and a great way to prove how much your five employees in the recruiting function love working at your company (until they get a new job and say the same stuff from another company's account).
If you need to create a really unique, memorable and effective branded hashtag, all y9u have to do is simply take the name of your company and append the word #Life to the end (or #LifeAt before the company name if it sounds cooler). Thus Boring Business Systems, for example, becomes #BoringLife.
The occasional pictures you'll get from a company BBQ or weird all hands team building offsite are just the thing that will convince top talent to work for you – and they're too busy following branded hashtags to find out about your company otherwise.
2. Don't Worry About Facts.
Because you work in recruiting, no one expects you to actually tell the truth, do any modicum of research or correctly cite data or fact check sources. You can make any claim you want, really. "Our people are our greatest asset" is used by almost every Wall Street Investment Bank, which shows that even the SEC doesn't actually care about employer branding enough to actually investigate these kinds of claims.
Candidates, as we have established, are idiots, which is why obviously the reason they want to work for your company has nothing to do with money, but everything to do with that foosball table and free bagel Friday. Also, if you put out any content on salary data, this obviously means you can pay whatever the hell you want, you market maker you.
This means you can say you're the greatest company in the world, or that you're one of the most respected companies in your industry, or hold more patents than AT&T and GE combined, and the good news is – no one will ever, ever know. If you have trouble fabricating or misrepresenting information for the purposes of lead acquisition or to win a numbers game, try talking to your HR Technology service provider. They often have deep expertise in this critical core competency, particularly during the contract renewal process.
While 87% of unsubstantiated claims and unverifiable facts are never questioned or called out, try building a landing page that reads "404" on the top and use this as an anchor link to any citation that might involve a little old fib. This way, if you're ever called out (this never happens) you'll be able to say, "but I swear I read it there. I don't know what happened."
Make sure to schedule these regularly in a social media management tool like Buffer – doing so on Tuesdays at 11:37 AM can cut your cost per hire by close to 25%, according to Buffer's official blog for employers.
1. Recruiting Is Like Dating.
If you know this metaphor, you now have a decade's worth of "thought leadership" content sure to get your Klout score and valuation soaring through the roof. You'll build followers, fans and keep current employees engaged, satisfied, and smoking a post coital cigarette before they're spent. According to Zenefits, retention is like dating, too – the sex better be good or else, there's no way workers are going to stick around when there's an issue performing.
Remember. Your job should be your happy place. But if it's not and you have to write content, you can always at least fake it!
---
---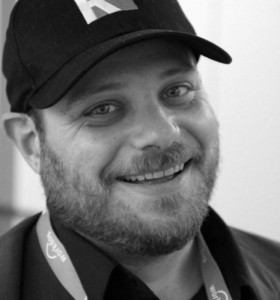 Matt serves as Chief Content Officer and Global Thought Leadership Head for Allegis Global Solutions and is a partner for RecruitingDaily the industry leading online publication for Recruiting and HR Tech. With a unique background that includes HR, blogging and social media, Matt Charney is a key influencer in recruiting and a self-described "kick-butt marketing and communications professional."
Recruit Smarter
Weekly news and industry insights delivered straight to your inbox.