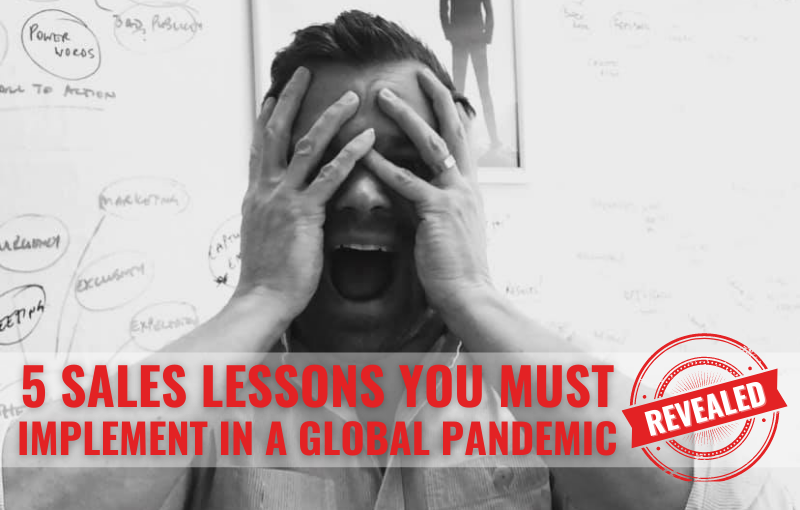 The 5 Key SALES Lessons YOU MUST Implement in a Global Pandemic: Part 4
This is Part four of a series of five by Steve Guest. Read Part one: "If you don't get your head straight, you've already LOST" and Part two: "If you always do what you've always done, you'll always get what you've always got." Part three: "Go above and beyond, no time to REST."
"You can't SELL anything, if you can't TELL anything"
Marketing should be at the forefront of what you do during times of downturn. If you aren't focusing on building your personal brand inline with your company values then you need to get started. But you must get your message across in the right way.
Having your marketing and sales team collaborate in the current climate is vital. Your personal brand and marketing should be a priority, as you can promote yourself before you make the sales call. Your client will be aware of you before you even pick up the phone.
This makes the conversation easier, and if you've pitched your marketing efforts, the ice breaker is in place to help the initial discussion.
If your marketing plan does not help the sales staff in times of downturn, I firmly believe this will jeopardise the future potential of your business.
CONTENT IS KEY
.
If you are sending across sales emails and marketing material you must ensure it's clear and concise. Communication is key. What can you do? How can you help? What value do you bring?
Leverage the tools you have at your disposal; chat, virtual meetings, email, social media, blogs, vlogs, mailers, and phone.
How are you communicating your sales message? Who are you? What do you do? What makes you different?

USE VIDEO.
Use this wherever possible and appropriate. Begin promoting video calls instead of phone calls. Research shows a video has a much higher attention rate than a phone call. The social media platforms – LinkedIn, Facebook, and Instagram are all promoting video, live video.
TikTok is the fastest growing social media platform and it's purely focused on video. This should indicate where your marketing efforts should be headed. 
A good quality, consistent message of you and your brand will cut down the number of calls and meetings that you need to conduct massively. The ability to build a relationship with your market and client base before even having a conversation is hugely improved by utilising video into your daily and weekly set up.
The power and exposure of video should not be underestimated. Offering the right message, with well-managed personal branding will help you during an economic downturn. Especially now, where most companies and staffing are at home, online, on furlough and thus consistently interacting via social media and digital technology.
I sincerely believe that if you aren't using video as part of your set up you will miss out on a huge shift in marketing and sales. In the last few months alone I have increased my levels of video online and the levels of inbound messages and contact from clients, candidates, and my overall market has seen unprecedented levels.
I am constantly appearing on my network's timelines. My market feels like they know me even before an initial conversation. In times of market slowdown, you need inbound interaction as much as you need to concentrate on outbound sales. Having a combination of the two is incredibly powerful.
SOCIAL MEDIA.
Building a network and strong following on social media is where I made the biggest strides through the last recession and I see this downturn as no different. Become a community builder, a thought leader, and a key person of influence in your market.
Show true value and invest time in building bridges between your supply chain, make things happen, and bring people together. 
Connect and communicate.
Be the visible party within your network. Set up monthly meetings, discuss the hard times, discuss what you are facing as a business and as a market, and start sharing ideas and thoughts, best practice. and collaborations.
I used to grab a beer on a Friday night, stick a film on the TV, and build lists of specialist people within my market on LinkedIn.
Then I would simply go on a connection spree – inviting and introducing myself. No one could hide, no one was safe.
It was about building a network that was far-reaching. I didn't know who I could help, or who I could assist but I knew at some point in my journey and theirs, I would be able to add value.
Between 2008 and 2012 my LinkedIn grew by about 10,000 connections, which was down to my insatiable desire to have a strong network of people that I could help, add value and place. Simple as that. 
Seven touchpoints.
Facebook and LinkedIn have made it easy for any salesperson to create a global, strong personal brand, by reaching new prospects, reinforcing existing relationships and adding value.
The aim of your social network and social media marketing is to get businesses and clients to become involved with you. That way, they feel like they know you as they live through your wins, troubles, pains, and desires.
They become a part of the journey. However, don't ever pitch through social media. These platforms are to build social networks, build relationships, communities, and areas of value. Being on view to most of your market allows you to best understand what is happening with a particular business and find ways you can assist and add value.
It takes seven touchpoints to build a new working relationship (and five phone calls). If you are also adding good content, quality marketing, and value-added videos three to five times per week to your network and market, it makes it 20 times easier to make the call.
Your clients might even interact with your content – it's easy. Conversations start to become predominantly inbound as opposed to outbound! You become someone of significance – you are elevated to higher levels, and you become the 'go-to' person in your network.
Now, they will naturally think of you when they are looking for a new role or need to recruit.
Where can you add the most value?
The workforce gap in construction from 2008 – 2012 and the subsequent skill-shortage equated to the creation of a candidate-led market. This created a scarce resource which meant that every contractor was short of staff and there wasn't enough to go round.
Premium prices and 'difficult to fill' roles meant that the market was, for me, the best place to add the most value. 
I had a captive client audience in a market that screamed out for more Quantity Surveyors, Estimators, and Planners. And I simply couldn't find enough individuals to fill the roles available. I could work exclusively, market, and build effective relationships with both clients and candidates.
I grew with my market and I stress the importance of communication. Working proactively with the individuals and companies you represent, you become the extension of the brand; the proactive recruiter that adds real value to your client's business.
Isn't this the very reason you got into recruitment (besides the money of course!)?
How do you use social media to contact your market? I have a simple solution – it's about helping others and delivering on service – that's it. Simple.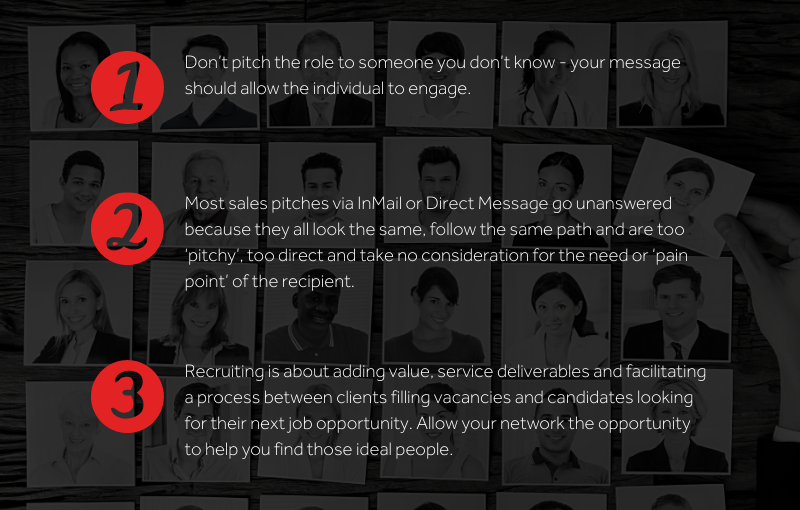 Do not Direct Message or InMail people to pitch a new vacancy or the best candidate you have ever represented. Simply ask for help. 
Offer your help and service to benefit the market. Don't pitch the role to someone you don't know – your message should allow the individual to engage.  
Most sales pitches via InMail or Direct Message go unanswered because they all look the same, follow the same path and are too 'pitchy', too direct, and take no consideration for the need or 'pain point' of the recipient.
Above all else, recruiting is about adding value, service deliverables, and facilitating a process between clients filling vacancies and candidates looking for their next job opportunity.
Allow your network the opportunity to help you find those ideal people.
Stay tuned for tomorrow's post with Part Five: "Be so good, THEY can't ignore YOU"
---
Authors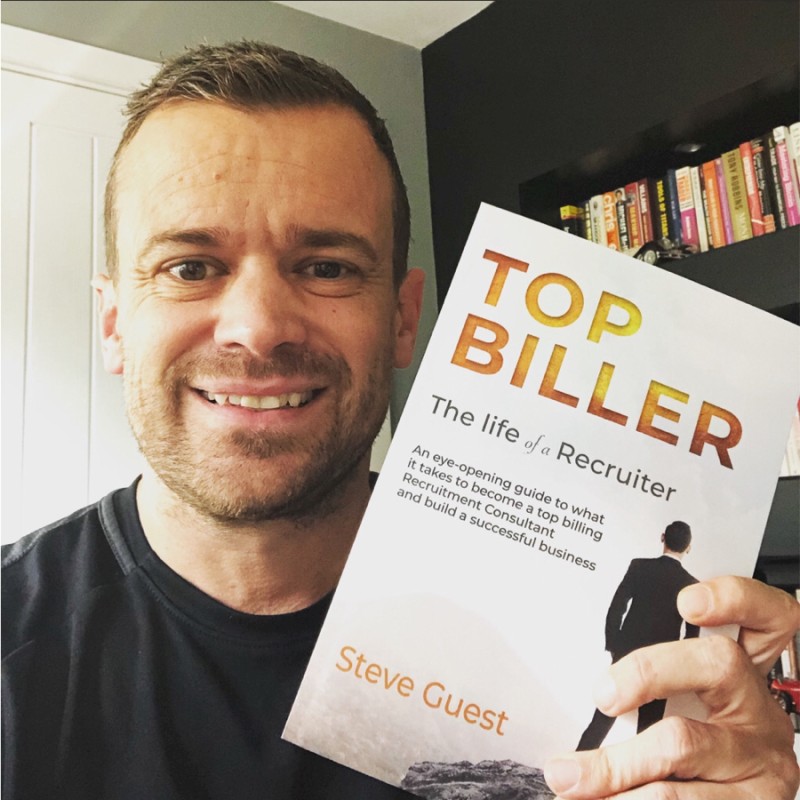 Steve Guest has spent the last 15 years as a recruitment specialist, opening & building new regions, brands & businesses in the UK whilst actively specializing in recruiting commercial permanent placements within the construction sector. Steve has built a strong reputation globally based upon process, procedure and having the right structure to achieve high levels of performance. He recently published his first book Top Biller – The Life of a Recruiter. The Amazon No.1 Best Seller, "Top Biller" has now sold in over 39 countries and is the highest-rated recruitment book on Amazon. In addition, Steve trains and mentors on a global scale via his 12 Week Recruitment Mastery Programme through webinars, strategy calls, articles, and sharing value. Join his Free Recruitment Mastery Facebook Group - all are welcome.
Recruit Smarter
Weekly news and industry insights delivered straight to your inbox.