The recent years have shown scarcity and a lack of talented full-stack web development experts around the world. There are a number of reasons that led to this issue, including but not limited to the continuous growth of the demand for IT experts in various industries, the competition for seasoned programmers, as well as the lack of formal education that delivers the needed tech skills to the graduates.
In this article, we will discuss what has caused and continues to cause the IT developers shortage, as well as how to manage to entice the best talents in your company despite the recruitment challenges.
How Many Developers Are There in the World?
According to the Statista report, the IT expert population has grown from 23.0 million in 2018 to 23.9 million in 2019, and it is expected to hit up to 29 million of IT professionals by 2024.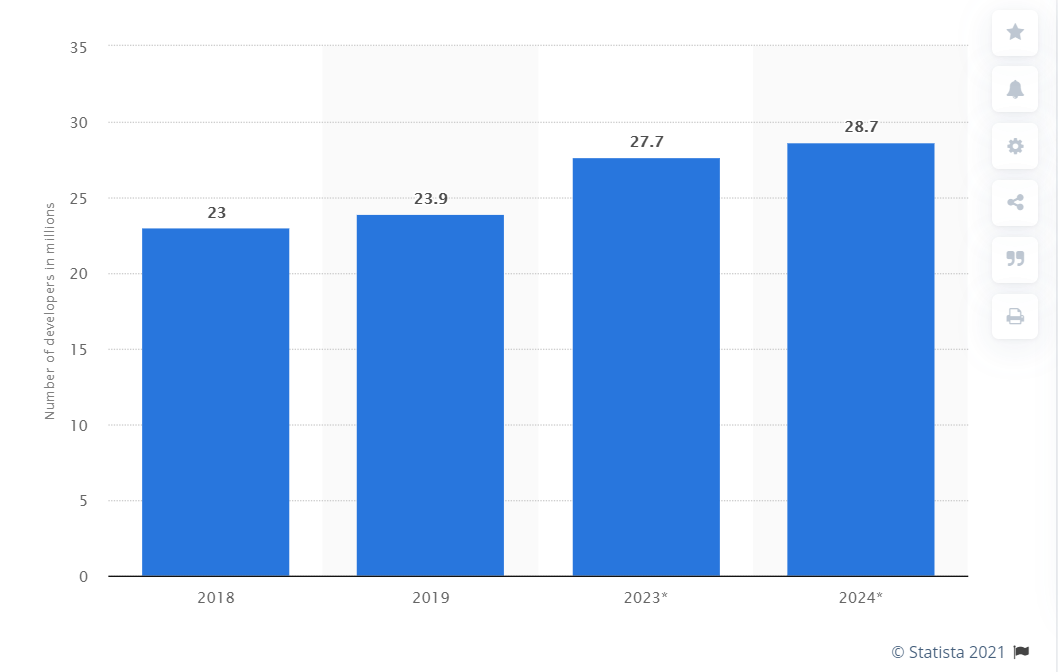 According to the State of European Tech 2020 report, there's a large share of tech jobs that are hard to fill by European country per year, with Belgium and Germany having an even bigger percentage of tech vacancies to fill by October 2020 compared to October 2019. Notably that last year, the Netherlands reached a drastic 60% of the tech jobs with no IT expert to take on. This proves that in Europe, the IT talent shortage also poses a huge challenge.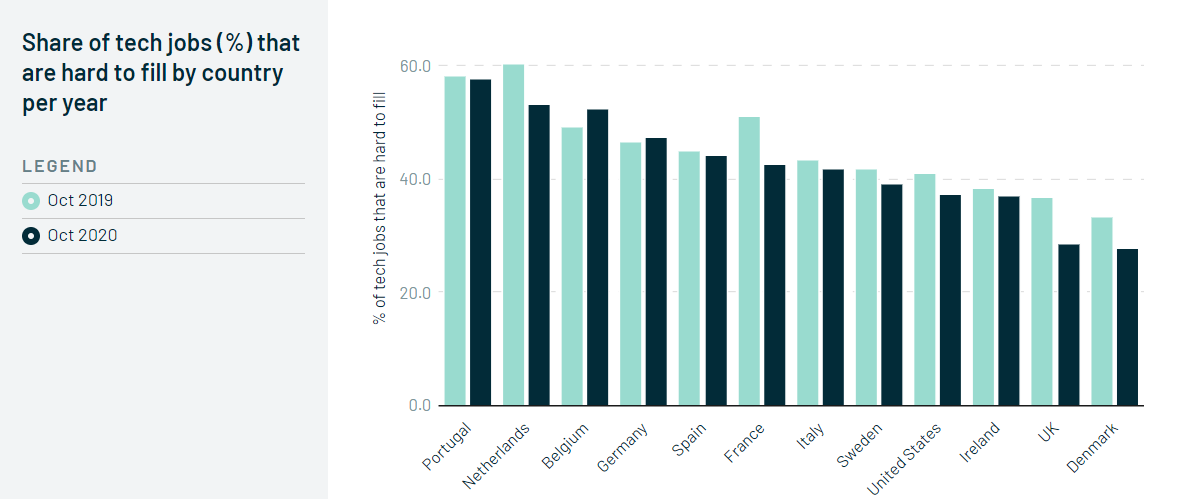 Here's also an interesting chart that shows the share of programmers with different years of experience per country: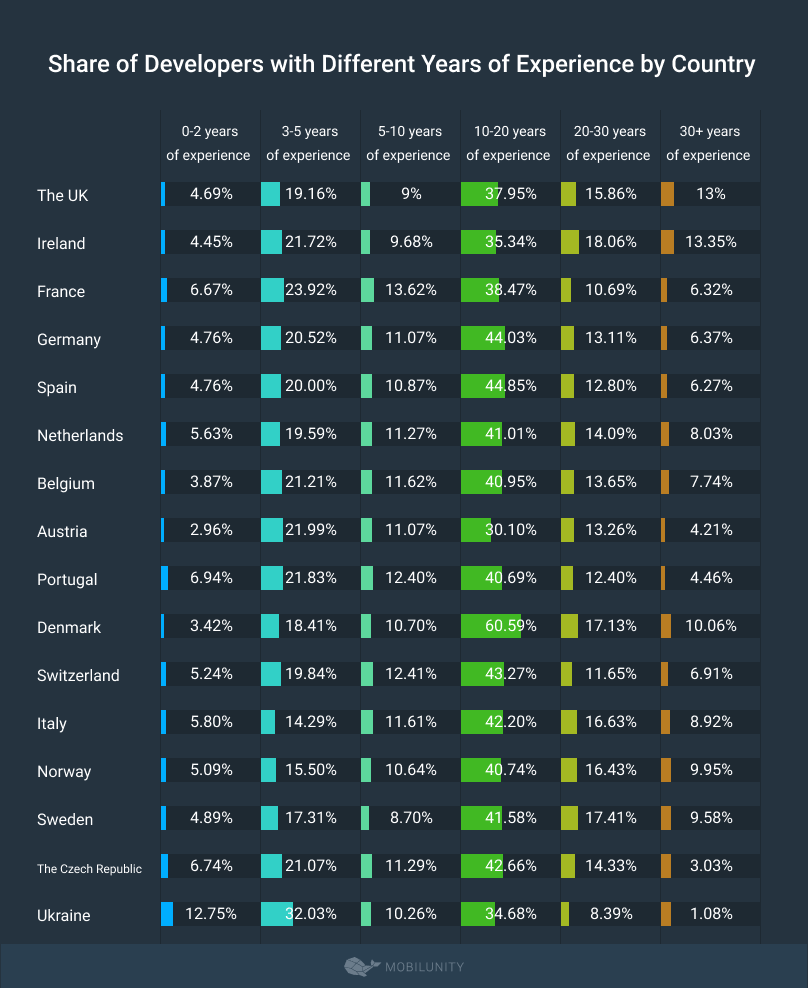 Why the IT Talent Shortage Remains a Problem?
While it may seem that despite the immense number of IT specialists, the demand for tech specialists is also increasing day by day? In fact, the need for highly skilled coders, especially full-stack developers, is skyrocketing. So, why with such a large number of developers, companies face the problem to fill the tech roles?
The demand for local programmers creates high competition in local IT markets. Nowadays, businesses in any industry need a website and most likely an app as well, so the need for specialists with relevant tech skills is not decreasing over time. However, the local IT market is limited, and not all companies are ready to consider beneficial outsourcing and staff augmentation option.
The lifespan of the technology used and the software developed is limited, while projects are getting more complex. Programming is not a task-based job anymore. The project does not get finished as soon as software is created, as there is a constant need for maintenance, monitoring, optimizing, upgrading, and improving. This, in turn, involves a larger number of IT experts needed.
COVID-19 only sped up the digitalization and forced all companies to go digital, which created an even higher demand for IT specialists that can create customized IT solutions.
There is a huge gap between experienced and entry-level specialists. It's getting harder to hire an experienced full-stack engineer, and fewer companies want to invest in educating junior IT specialists, which leads to the growing IT talent shortage.
What Talent Companies Are Looking for When Hiring IT Experts?
This Indeed survey showed that for more than 80% of recruiters, it's a daunting task to hire Senior programmers and full-stack engineers. Here's why talent companies are struggling with filling tech vacancies:
Limited local IT talent pool (no relevant tech skills, industry knowledge, experience, etc.);
A demand for Senior-level programmers (with the IT market full of entry-level IT experts);
A demand for specific technologies and programming languages (which may not be widespread in a particular city/country);
No relevant educational background (some companies are looking for IT specialists with at least a Bachelor's degree in Computer Science or similar field, not just 2-month IT course graduates);
Tight competition on the market (it gets harder and harder to recruit an experienced coder who's job offer requirements grow with each received offer).
IT Talent Shortage Is Visible in All Tech Companies Around The Globe
To sum up, the IT talent shortage is not a one-country or one-industry problem, but a global issue that remains unaddressed. Businesses all over the world are still facing the same problem with finding highly skilled IT experts with the relevant tech knowledge, sufficient experience in the field, and salary rates that will fit the company's budget.
At the same time, even the current growing number of IT specialists can't keep up with the skyrocketing demand for highly experienced programmers, especially full-stack developers, as many experts don't have the opportunity to gain the experience needed to meet the growing requirements.
Conclusion
Hiring seasoned IT experts and building dedicated full-stack development teams became a real challenge for most recruiters around the world. Finding the IT specialist that can fill the position perfectly is now requiring a vast amount of time, resources, and maybe even some luck.
That is why for companies in need of top-tier IT experts, it may be beneficial to consider outsourcing and staff augmentation as a solution to the local IT shortage issue and work with a reputable IT services provider that can assist in building a dedicated full stack development team shortly.
---
Authors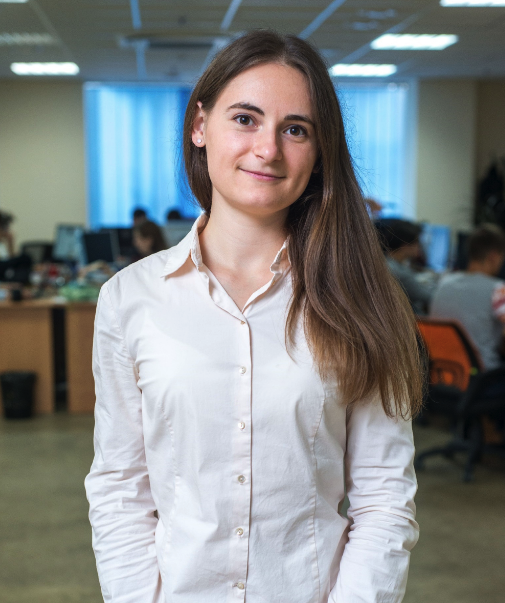 Kateryna Boiko is a Marketing Director at Mobilunity, Provider of Dedicated Development Teams with 9 years of hands-on experience in digital marketing. Kateryna managed to work with diverse industries and markets and now is keen on sharing unique cases with the world and coach on topics relevant to Web Analytics and Search Engine Optimization.
Recruit Smarter
Weekly news and industry insights delivered straight to your inbox.