The headlines and soundbites about corporate relocation have become something of a leitmotif of our new post-truth world, particularly when it comes to moving jobs overseas – a hot button issue, to be sure.
But somehow, missed in the politics, punditry and policy discussions is the fact that while American companies are indeed moving jobs away from local economies at a record clip, only a fractional amount of them are actually offshoring or moving outside of the United States.
In fact, despite a growing environment of protectionism, threats of increased tariffs and the increasingly perilous position of global trade agreements – almost all predicated on the assumption that these measures will keep American jobs in America – which, in fact, is already happening.
The headlines may scream of the collateral damage created by a shrinking manufacturing sector and an imperiled blue collar workforce, but the truth of the matter is that when a plant or warehouse shuts down in, say, Buffalo, it's much more likely that those jobs are moving to Boise than to Bangalore, statistically speaking.
In fact, there's even a name for this trend: "reshoring," reassuringly. And the record low unemployment numbers in the US at the moment speak to the fact that while underemployment or those not officially accounted for in the workforce may be growing, we're actually in a pretty good place when it comes to job growth.
A big part of that, in aggregate, is due to the same phenomenon we erroneously attribute to job loss – company relocation. That we fear this phenomenon almost as dumb as ignoring 400 years of economic history and actually believing that increased protectionism is linked to job growth (but that's another story altogether).
Here, But I'm Gone: The Truth About Corporate Relocation.
That's because while it's estimated that American companies shell out around $2 billion a year to relocate jobs or facilities offshore in terms of direct capital investment, a significant number to be sure, that foreign figure is trumped (pun partially intended) by the whopping $25 billion US companies invest every year towards domestic relocation, according to new survey data from UrbanBound. That works out to an average cost of around $16.2 million per company, reflecting that cost savings are rarely the primary driver of these increasingly common moves.
The reasons behind the trend towards domestic relocation are, on closer inspection, similar to the rationale behind the much more highly publicized motivations behind offshoring and foreign relocation for companies: minimizing taxes or capitalizing on incentives; the relative costs and ease of doing business; and, most prominently, proximity to an available and affordable pool of enough skilled labor or specialized talent.
When a company moves from city to city or state to state, in fact, the net result is actually job creation, with the average company relocation creating an average of 38 job openings within the first 12 months of making the move in new headcount. But the recruiting costs associated with corporate relocation, contrary to popular belief, are overwhelmingly dedicated to relocating existing workers, rather than hiring new ones – even though doing so is much more expensive, particularly if that employee is a homeowner.
According to UrbanBound data, it costs around $97k to relocate a current employee who owns a home – which constitutes around 3 in 5 employee relocations – and around $24k to relocate a current employee who rents. Comparatively, the costs for acquiring new hires for backfilling these roles instead of relocating existing employees is significantly less expensive, costing only $72.6k for home owners and around $19k for renters.
Still, 65% of all exempt roles in scope in a corporate relocation are filled with existing employees – a number that would be higher if not for the 1 in 4 employees who, it's estimated, decline offers for relocation and voluntarily turn over during an average company move. The significant pricing premium demanded by relocating existing employees requires minimizing recruiting costs associated with new hires, meaning talent acquisition is a critical component of any cost effective business relocation plan.
If you're one of the one and a half million American businesses estimated to be making a move to a new market within the United States over the coming year, you'd better be planning your relocation recruiting strategy, too.
Superfly: Why Having A Comprehensive Mobility Program Matters For Recruiting.
The past decade has seen a decided spike in employee relocation, with a recent survey finding a 49% increase in job relocations in 2015 alone, continuing an upward trend; over the last decade, these initiatives have increased an average of 25% year over year, and that growth is projected to continue at a similar (if not greater) clip.
It's not just existing employees relocating for new opportunities, either – in fact, an estimated 13% of all new hires last year accepted offers requiring some form of relocation, although of those, less than one quarter of these reported receiving any formal assistance from their new employers.
Of these new hires paying out of pocket for job relocation related costs, a disproportionate amount were single renters, suggesting this trend is particularly prevalent among Gen Y workers.
In the new world of work, there seems to be no real correlation between "place" and "workplace," and it seems employees are at least implicitly beginning to accept this reality. The opportunity cost for job opportunities, it seems, is one most workers of today (and tomorrow) are willing to pay in order to advance their careers and (ostensibly) improve their quality of life.
Whether relocating existing employees as part of a former initiative or expecting new hires to make the move out of pocket, the increasing prevalence and growing acceptance of this new talent trend mean that developing formal mobility programs are critical for attracting, engaging and retaining top talent.
According to a PWC study, less than half of all enterprise employers had any sort of talent mobility programs or formalized policies in place around permanent job transfers or job localization, representing a significant opportunities for competitive differentiation in a cutthroat talent market.
Only 23% of global employers, meanwhile, had any sort of alignment between employee relocation and career paths, despite the fact that 86% of current workers who say that the existence of such programs is a "very attractive" and compelling driver when considering career opportunities.
Recruiters would be wise to take note when crafting or communicating an "EVP" – people not only don't mind moving for work, but actually want to do so – a phenomenon that could create a compelling competitive advantage in talent acquisition – whether that talent happens to work inside or outside of your organization.
Pusherman: How To Make Relocation Related Communication Count.
A simple first step is to ensure that you're able to articulate to your current and future employees what, exactly, your mobility program offers, particularly as it relates to opportunities for candidates to take advantage of new roles created by job relocation or emerging opportunities in distant, disparate markets. 
Candidates value talent mobility programs, and conversely, to potential and new hires alike, the existence of these programs also demonstrates how much you value your employees.
In addition to designing programs for existing hires, make sure your mobility program also includes specific processes and procedures for candidates who are in the process of relocating for work – in fact, it's imperative to build these specific considerations into both the offer and on-boarding process.
New employees have enough to worry about without having to worry about relocation, and by offering such simple, short-term assistance through incentives like short term housing, assistance with finding a new home or lump sum disbursements to offset the cost of relocation, a handful of studies suggest companies will see significant long term benefits such as more engaged, more productive and more satisfied employees who stay longer and advance faster than those new hires who did not receive relocation assistance.
In this case, the evidence is pretty clear that a little help goes a long way when it comes to the critical intersection of recruiting, relocation and retention.
Back To Living Again: Building A Successful Sourcing Strategy for Relocation Recruiting.
This seems like a no brainer, but one easy way to maximize the ROI on any mobility program is by identifying and developing a qualified base of skilled talent you're going to need in a local area prior to making a move. Of course, there are a plethora of different technologies that allow you to focus your search on a specific geography and quickly build an engaged pipeline – and increase employer brand awareness within your new market – even before you make a move.
Most job boards and sourcing tools, from LinkedIn Recruiter to Google AdWords or targeted social ads, allow recruiters to set location specific filters for candidates; most utilize a defined radius of a particular zip code or a predefined geographic market, limiting results to local candidates.
Similarly, these tools often offer additional dynamic search capabilities to narrow down your search and find the right candidates in the right location at the right time, all the time – particularly because these offer mobile capabilities so candidates and companies on the go can find each other no matter where they happen to be.
Of course, such tools offer the added functionality of allowing you to broaden the search beyond a defined geographic area as well as specifically view and target candidates who might be out of market, but are open to relocation or have indicated they're open to considering opportunities within a few targeted locations.
Additionally, holding onsite events such as job fairs in your future location is a great idea; even if you don't yet have a significant presence (or recruiting related "boots on the ground, so to speak), it's a great idea to make this process as efficient (and effective) as possible by simply sending some sort of presence to other job fairs that are already in the area, avoiding many of the associated expenses and logistical challenges in holding a proprietary event, like an open house (since, ostensibly, your house won't yet be truly 'open' in the first place).
Depending on the function and experience level you're looking to target, most area colleges, trade schools, employment centers and even local chambers of commerce will often have some opportunity to allow you to leverage their networks and let them do the legwork by getting involved in local job fairs and hiring events.
This is a low cost solution that often generates a lot of goodwill – and awareness that you're not only setting up shop, but are looking to hire. A little buzz goes a long way, particularly in markets where employment opportunities may be limited or there are more active candidates than viable job opportunities. If there aren't many options for career fairs or hiring events in your new market, you might think about setting up a virtual job fair as another low cost, high reward alternative, too.
Because no matter where in the world of work you happen to work, geo-targeting works when it comes to sourcing candidates for location-specific roles. This should be among the first criteria considered when developing any relocation related sourcing strategy, because for candidates, like companies, it's all about location.
Because fact of the matter is, when it comes to recruiting and relocation, remember: you can't have "placement" without a "place," first.
Matt Charney is the Executive Editor of Recruiting Daily. Follow him on Twitter @MattCharney or connect with him on LinkedIn.
---
---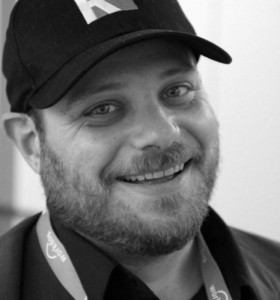 Matt serves as Chief Content Officer and Global Thought Leadership Head for Allegis Global Solutions and is a partner for RecruitingDaily the industry leading online publication for Recruiting and HR Tech. With a unique background that includes HR, blogging and social media, Matt Charney is a key influencer in recruiting and a self-described "kick-butt marketing and communications professional."
Recruit Smarter
Weekly news and industry insights delivered straight to your inbox.