At its core, recruiting is more or less an exercise in making a good first impression; from the 6-8 seconds the average recruiter (if such a thing exists) spends reviewing a resume to the reported 35 seconds job seekers spend, on average, reading an online job description, making an immediate impact is imperative for both employers and job seekers.
Even as applicants become actual candidates during the hiring process, next steps continue to emphasize the importance of making a good first impression.
Every recruiter can tell you that it takes about a minute to figure out whether or not a potential candidate is going to pass a pre-screen, with phone presence as much of a prerequisite to moving on as their actual answers.
No matter how impressive a resume might be, it doesn't take long to figure out that a candidate has the communication acumen of your average Chia Pet, or just doesn't seem to have the amorphous and intangible soft skills that serve as screening's subtle subtext.
This requires candidates creating an immediate connection with the recruiter, presenting a professional, polished presence within a pretty tight time frame.
The few that succeed in getting past the gate-keeper and invited for in-person interviews, of course, must make meaningful first impressions to a whole new set of decision makers, who conversely have to make a decision on a potential co-worker based solely off a first encounter that's rarely longer than an hour.
Face-to-Face Interviews: Putting Your Best Face Forward
There are a million potential minefields between an interview and an offer. From showing up late (all excuses aside) to an in-person, to not having a list of pertinent follow-up questions ready to go to not having done their due diligence on the company or job they're there to talk about, there are manifold ways for first impressions to leave lingering doubts during the interview process.
The power of first impressions in interviews, however, aren't limited to candidates; instead, since they're normally one of the last steps in the hiring process, they also serve as the best opportunity for employers to put their best foot forward to top talent and effectively pre-close their first choices while meeting them in person.
For candidates, interviews are the first time they'll probably see your physical workspace, interact with possible colleagues and coworkers or have meaningful interactions with a potential boss or organizational leader.
These initial interactions and the immediate impressions interviews inherently impart during an initial in person often serve as the ultimate arbiters of a candidate's final decision whether or not to accept an extended offer.
That's why it's important for recruiters and employers to put their best foot forward the first time for face time with a potential new hire.
Your Greatest Strength: Top 3 Interview Hacks for Impressing Candidaets
Here are some interview hacks to make sure you're making the most out of your last chance to make a first meaningful first impression when it comes to candidates:
Interview Hack #1: Reduce Clutter
If you've got an open headcount, chances are work is probably even more hectic than normal. But no matter how many projects and paperwork your team's dealing with, it's imperative to bring a little organization to the office and control – or at least curb – the chaos.
Make sure you give your employees plenty of heads up when you're bringing in candidates for an interview, clearly communicating expectations on what they need to do to keep the place presentable – and providing the necessary resources like supply folders, storage bins and file cabinets to de-clutter desks and make workspaces work better.
Create a quick checklist to make sure that last minute cleanups and house keeping items can be addressed immediately before a candidate arrives. Almost every in-person involves some sort of workspace walk around or office tour, and it's important for a candidate to come away feeling that your office environment comes across as calm, clean and organized.
Similarly, there's no bigger turn off to a candidate than when they're interviewing in a war zone piled high with mountains of paperwork, discarded coffee cups and piles of Post-Its.
Not only is this distracting, but can be a serious deterrent for many candidates, which is why it's so important to remove debris – and distractions – continuously ensuring that interviewing spaces remain as pristine and professional as possible.
Interview Hack #2: Ditch the Dated Decor
The copy on your career site probably tries to come across as progressive and cutting edge, stressing intangibles like innovation and empowerment to potential candidates.
That's why it's imperative your office, which is the ultimate breeding ground for company culture, reinforces the values stated in your career copy and recruitment marketing collateral.
If you're trying to recruit, say, top tech talent, and they walk into an antiquated office space with mainframes and dot matrix printers, chances are your first impressions will lead to a lot of second-guessing.
Similarly, if you're competing for creative talent, only to have them show up in a high rise full of suits and secretaries stationed outside closed doors, than you're probably going to be fighting an uphill battle if an offer is extended.
This is why your physical space must create a warm, welcoming and open environment for candidates that align with the employment brand that initially attracted them to the organization.
While it might seem like just window dressing, one of the easiest ways to breathe new life into a stale office environment is actually by letting the light shine in and ditching those dusty drapes and blinds in your waiting room.
Using natural light, and creating a waiting area whose color and style subtly reinforce your brand and culture can transform even the most generic of environments into something inviting and potentially even fun, with the right accouterments.
It's no secret that it's likely a successful candidate is going to be spending as much time at the office as they are at home, so it's important to impart that feeling of being a place where work, like home, is a place where the heart is.
Think about the color of your walls and floor coverings – nothing will make someone want to run from a cube farm faster than buzzing fluorescents bouncing off stained shag carpets.
Adding a few flourishes like putting in plants, hanging some inviting artwork on the walls or allowing employees to personalize their workspaces to reflect their personalities are subtle ways to impart the feeling that when it comes to their career, potential candidates have finally found a place they can call home.
Which is what everyone wants out of work, really.
3. Interview Hack #3: It's Never Too Early for Onboarding
It's likely that at some point during an in-person interview, a candidate is going to get the chance to see where they're actually going to be working, if they're offered a position.
Whether that's behind the counter of a retail store or the corner offices of the C-Suite, many candidates – and employers – put a significant premium on place as a driver for deciding whether or not to consider a career opportunity.
It's always tempting to turn vacant office space into a spontaneous storage shed, but before piling up every square inch of space with clutter, remember that this is going to be the first time a candidate is going to see where they're going to actually be working.
While employer brand initiatives like a careers site or culture-based collateral probably set expectations about what candidates can expect from the overall environment, but this first impression of a future work space is often the moment where career copy transforms into tangible reality. "This could be my desk."
It's a powerful moment, and one that's easily ruined if that desk becomes the communal departmental dumping grounds. "…if only I could actually see it" just won't cut it.
If you know where the successful candidate will actually be sitting, then the work area can actually be a powerful recruiting device by borrowing one of the oldest tricks in the realtor's book: staging an open house.
Add the equipment that you're ultimately going to issue to a new hire, from high tech stuff like the sleek new laptop, brand new tablet, oversized monitors or state of the art smart phone the company provides new workers to subtly underscore that you embrace technology, and you're one employer for whom innovation is more than a buzzword.
Combine these high tech inducements with high touch elements like a blank nameplate, empty file cabinets and organizers and other personal items that look like all they're missing is the candidate in question.
Nothing says, "we want you to work here" quite as powerfully as showing where, exactly, they're going to work – and that everything's going to be ready for them when they onboard so they can stop figuring out policies or procedures and start ramping up productivity.
Making First Impressions Count for Candidates
Interviewing is a two-way street, and serves as the first, and often final, chance for most employers and candidates to finally meet face to face.
That's why first impressions are so important – and why the actual site of an offsite matters so much in talent attraction.
No employer should miss out on top talent by sending the silent, yet strong, message about your company and culture a crazy, chaotic or cluttered work environment covertly conveys.
If this is your greatest weakness, it's unlikely you'll get a second chance – or a second thought – from many candidates you're considering. When preparing for interviews, it's important for hiring managers and recruiters alike to remember that preparing the office is almost as essential to a successful interviewing outcome as preparing the actual questions themselves.
---
---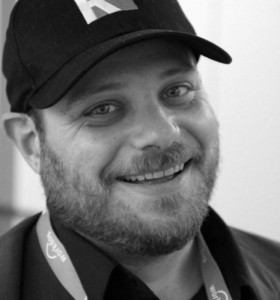 Matt serves as Chief Content Officer and Global Thought Leadership Head for Allegis Global Solutions and is a partner for RecruitingDaily the industry leading online publication for Recruiting and HR Tech. With a unique background that includes HR, blogging and social media, Matt Charney is a key influencer in recruiting and a self-described "kick-butt marketing and communications professional."
Recruit Smarter
Weekly news and industry insights delivered straight to your inbox.