Once upon a time (1991, to be exact, the same year Bryan Adams assured us Everything I Do, I Do It For You, Anthony Hopkins ordered up some fava beans with a nice Chanti and The Dude found out that nihilists believed in nothing), Jan the HR Manager issued a memo detailing the company's new policy for vacation scheduling.
Naturally, as this was the same year where the internet first came online, this memo was printed out on a piece of paper and sent out via interoffice mail, lovingly delivered by the Mailroom Guy who used to be a staple of almost every workplace in those halcyon days before the World Wide Web went world wide.
The policy, naturally, was written in that dense legalese still en vogue in HR today, meaning that no one could decipher what the hell it actually meant.
Even when employee handbooks were still actual books, the ubiquitous "wherefores" and liability limiting use of the word 'may' were liberally sprinkled throughout these documents, because that's how HR folks are taught to write stuff.
Despite Jan's carefully worded memo admonishing employees to address any related issues or specific situations with their managers, she not only received numerous phone calls from confused employees, but was also "rudely questioned" (as she later recounted to her gal pals over wine coolers at Bennigan's Happy Hour) by an employee who actually had the nerve to stop her in the hallway and ask her for some clarity on this confusing new directive. Without making an appointment, even.
Who the hell did they think they were, having the gall to even question the wisdom of their HR professional, much less straight to their face?
That sort of insolence, of course, is why performance improvement programs were created, thank goodness, but even with decades of distance, Jan still hasn't fully forgotten the nerve frazzling trauma that memo caused all those years ago when she was just starting out as a 25 year old HR manager, challenging her steely resolve and everything she'd learned while studying for her SPHR (back when that acronym actually meant something).
Oh, Jan.
Flash forward to today, and Jan has climbed the ladder and is now the head of HR at the same corporation, leading the minions toiling away in her organization's talent management function.
A lot has changed, of course, but her hairstyle, wardrobe and worldview really hasn't since she first started in this business back in the early 90s – and she continues to hold fast to her firm belief that any news or directive HR now disseminates will inevitably inform or influence a behavioral change among workers, since what HR says goes (like it or not).
In her nod to technology, she's finally been persuaded to disseminate these directives via e-mail, but ultimately, the expected outcome remains the same.
There is no need for discussion – if she deems a policy worthy of implementation, it's a done deal. She is the corporate version of Judge Dredd – she not only creates the law, but is the sole arbiter and enforcer, too. This, of course, is the kind of control that HR takes for granted, policing policy with absolute impunity, just like they've done for decades.
Jan has a personal philosophy, like so many of her colleagues, that has been honed to perfection in her quarter century career as an HR professional: "Employees need to shut up and suck it up."
If only it were still so simple.
And Along Came Social…
Back around the time Barack Obama was running for his first term on a platform of change we could believe in, and we actually believed him, HR professionals the world over began to receive an ever increasing deluge of invitations to webinars, seminars, SHRM chapter meetings and CPE classes that caused their little hearts to flutter.
Employment attorneys, knowing their audience all too well, took to the road and began spreading an apocalyptic message that, for HR, the end was nigh, presenting sessions with sensational titles like, "The Dangers of Social Media: What You Need to Know NOW!" or "Monitoring Your Employees: How To Protect Your Company From Social Media." 
With absolutely no experience or interest in actually learning about any of these said social channels, HR gals (and guys) took swift action to preempt this worrying new development.
They feverishly crafting policies, frantically started blocking employee access to specific social sites ("no YouTube for you!") and actually met with their IT Departments for the first time to find out how they could beef up their policing of employees' online activities.
These efforts were akin to writing and enforcing a policy about Workplace Harassment with absolutely no conception or understanding of what quid pro quo actually means.
And Jan? Our fearless corporate HR leader, who we've already met, made a decision and drew a line in the sand. She was never, no way, no how, ever going to allow employees the ability to access any tool, channel or technology where they could have an opportunity to actually state an opinion or ask questions or communicate with each other without having to use HR as an intermediary.
Shut up and suck it up, remember?
A Few Brave Souls
At about that same time, a handful of brave and intrepid HR professionals decided to buck conventional wisdom and actually become pioneers, trying to settle the vast wasteland of "social HR" by tackling the daunting task of figuring out how to actually leverage these new technologies for the greater good instead of an unnecessary evil.
And those early adopters started actually trying to educate other HR practitioners about social media – no easy task in a business where the status quo is so seemingly static.
For the next five years or so, every SHRM conference or HR themed event offered some sort of session on "Social Media 101″ geared to helping provide talent practitioners and leaders actually understand the strange world of social beyond simply preempting it with policies and procedures.
I, for one, was one of the early outliers who took the social show on the road and tried telling numerous audiences about the positive benefits and potential applications of social media in HR and recruiting.
It was, frankly, exhausting.
The Struggle Is Real.
The end result of all these thousands of hours myself and others spent teaching HR practitioners about social media was a mixed bag, at best.
Once social became seen as an inevitability instead of simply a liability, HR made a frenzied rush at online brand building, mostly choosing Twitter for its ease of communication and integration into their HCM systems, with these new features from familiar vendors offering some sort of validation – and a feeding frenzy to catch up with the very same platforms they previously poo-poohed.
Most of these eager HR ladies created their first Twitter account at one of these Social 101 sessions at a state SHRM conference or HRCI approved event, sending 5 tweets over 3 days from their newly minted handles, feeling super cool when they figured out what a hashtag was and vigorously retweeting any sound bite or statistic they could find on the conference stream.
Then, when the event ended and they went back to the office, these HR practitioners promptly forgot that their accounts existed and let them languish, unused and unopened, until they went off to the next SHRM event in 6 months time, in which case, they added another handful of specious tweets to their timelines before promptly abandoning them yet again.
The few who kept them up in the interim, of course, showed up at the next conference feeling a bit like Twitter rock stars, giddily sharing updates to their network of 49 followers and adding an ampersand to their name tags so everyone would know they were meeting an HR Twi-lebrity.
Bless her heart.
Some Social HR Straight Talk.
The sad thing is that people who rely on accessing and engaging on social networks to do their jobs continue to face an uphill battle for buy-in from their HR teams.
I recently had a conversation with a recruiter for a major multinational employer (one with over 2500 open requisitions, to give you a sense of scope), who told me that the company's in-house legal counsel, with the blessing of HR, of course, had informed the entire TA team that the much maligned edict prohibiting engaging with candidates or posting job content to any social channels would remain in effect indefinitely.
Yeah. In 2015.
So much for "social recruiting," hey?
I'm going to be straight here. If you're stuck at a company with Jan (or her ilk) overseeing your corporate HR function, it's going to continue to be a challenge to win her heart and mind when it comes to social media. She's still terrified at the very thought of an employee having a drunken Facebook conversation after hours, lest they make a mention to their jobs or professions even in passing.
How To Get HR To Stop Worrying About Social.
But you have the opportunity to get her on your side by approaching it, in my estimation, in one of two ways.
1. The productivity issue. Your HR lady is convinced that employees are screwing around and wasting time on social media. Do you know why she thinks that?
Because she, herself, is spending 2 hours every workday sharing motivational quotes on Facebook and playing Farm Heroes Saga.
I know this because a sizable number of my Facebook friends are HR ladies and I see this crap from them all day long. So if you want to make your point by being a bit passive-aggressive see if you can troll her Facebook feed and then present your case by sharing a few artfully captured screen shots showing that she posted about Princess Charlotte Elizabeth Dianna at 11:13 AM on a workday. Busted!
2. The engagement issue. Take advantage of your HR lady's desire to be on the cutting edge of business and pepper your conversations with the buzzwords she sees every month in HR Magazine. Show her that you're on her side by tossing out words like engagement (the reigning buzzword champ) and onboarding (coming in strong at #2).
While I don't want you talking about talent communities (networks, mailing lists, whatever), the concept of which will just make her head explode, I do want you talking about supporting the workplace community and socializing onboarding. This will set you up for success!
You'll be speaking her language rather than coming in there with all your fancy chatter about social search and sourcing and digital marketing strategies.
Maybe one day your HR lady will learn to love social media. Just probably not as much as she loves chocolate, Harry Connick. Jr., and Tory Burch shoes.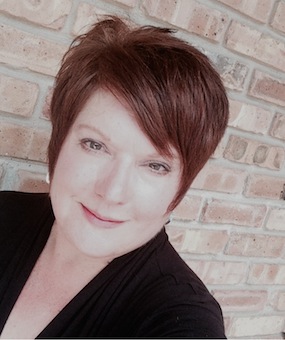 Robin Schooling is on a mission to make organizations better by making HR better. With 20+ years of senior HR leadership experience in a variety of industries, she consults with organizations, advises HR teams, speaks to HR and business audiences and writes for a variety of sites and publications.
Schooling has been an active and involved SHRM volunteer leader, holds a few of those HR certifications herself, and at one point in time even received an award as "HR Professional of the Year." She has been known to search out the perfect French 75 and is a fervent and unapologetic fan of the New Orleans Saints, even if they did trade Jimmy Graham.
For more for Robin, check out her blog, follow her on Twitter @RobinSchooling or connect with her on LinkedIn.
---
---
VP Human Resources, Hollywood Casino – Baton Rouge Robin is on a mission to make organizations better by making HR better. She's worked as a Human Resources and Recruiting Leader since the days of fax machines and has traversed a variety of industries including healthcare, banking, 3PL, and gaming. She speaks to global audiences on a variety of HR, Recruiting and HR Tech topics, has a popular HR blog, and one time had a by-line in Fast Company!  She serves on the Advisory Board for HROnboard, is the current Ringmistress at the Carnival of HR, and stays involved with groups including HR Open Source, the ATD Baton Rouge chapter, and various SHRM entities.  A fervent and unapologetic fan of the New Orleans Saints, she continues her relentless quest to find the perfect French 75. Follow Robin on Twitter @RobinSchooling or connect with her on LinkedIn.
Recruit Smarter
Weekly news and industry insights delivered straight to your inbox.