Sourcing Data scientists
The world is awash with a lot of data. Much of this data is unstructured. Some of it has structure, but to analyze the data would require the development and implementation of an appropriate model, and to come up with meaningful insights out of the data is where the challenge lies. This is where the data scientist's role comes in handy.
Recruiters in general will navigate Linkedin as the first port of call to find data scientists, but there are sources where they can find relevant prospects to explore further.
The following are a few platforms worth further explorations.
Kaggle
Kaggle, owned by Google, is a large online community of 1M+ data scientists, statisticians, and machine learning practitioners. Additionally, they are novices through more experienced levels. Companies run competitions on this platform, offering big prizes of up to $100,000. And, maybe hire the winners from time to time.
Kaggle has a ranking system described here and an illustration of it is as follows. Notice Gold, silver and Bronze medals and the total points is what makes an individual stand out from the rest.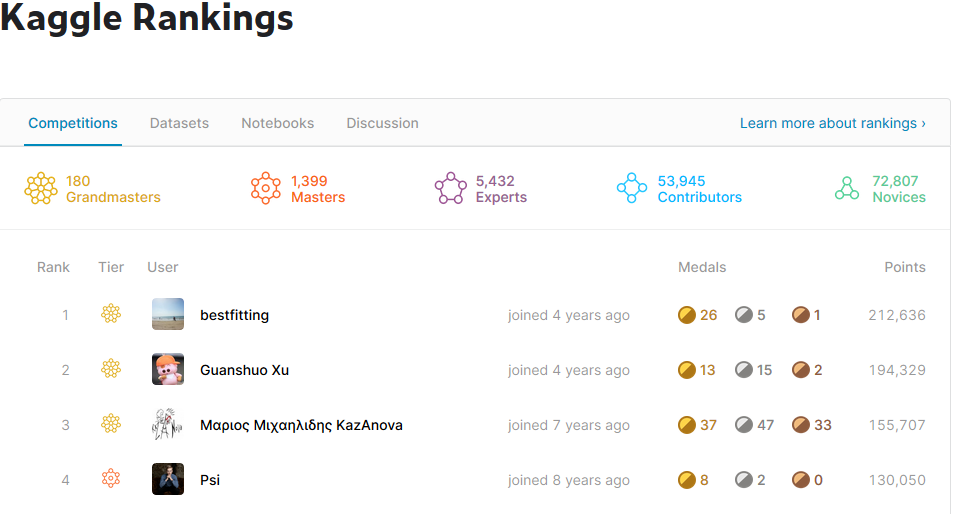 Since the ranking information is quite structured, utilize DataMiner or similar scraping software to select the required information to be exported to Excel for outreach marketing.
A Kaggle profile generally will list the following:
Name
Brief information on the individual
Location
A link to a personal website or Linkedin etc (sometimes)
Competitions Ranking (if applicable)
Contribution to datasets
Notebooks expertise
Discussion expertise
Followers
Sometimes a bio if you are lucky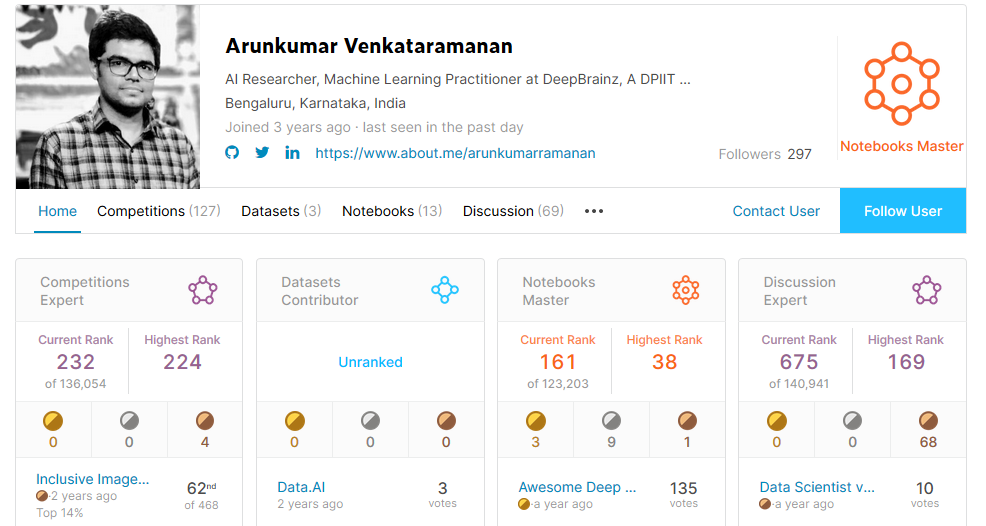 Example search strings you can employ:
AICrowd
Another worthwhile data science competition platform includes AICrowd.  Their motto is to enable data science experts and enthusiasts to solve real-world problems, through collaborative challenges.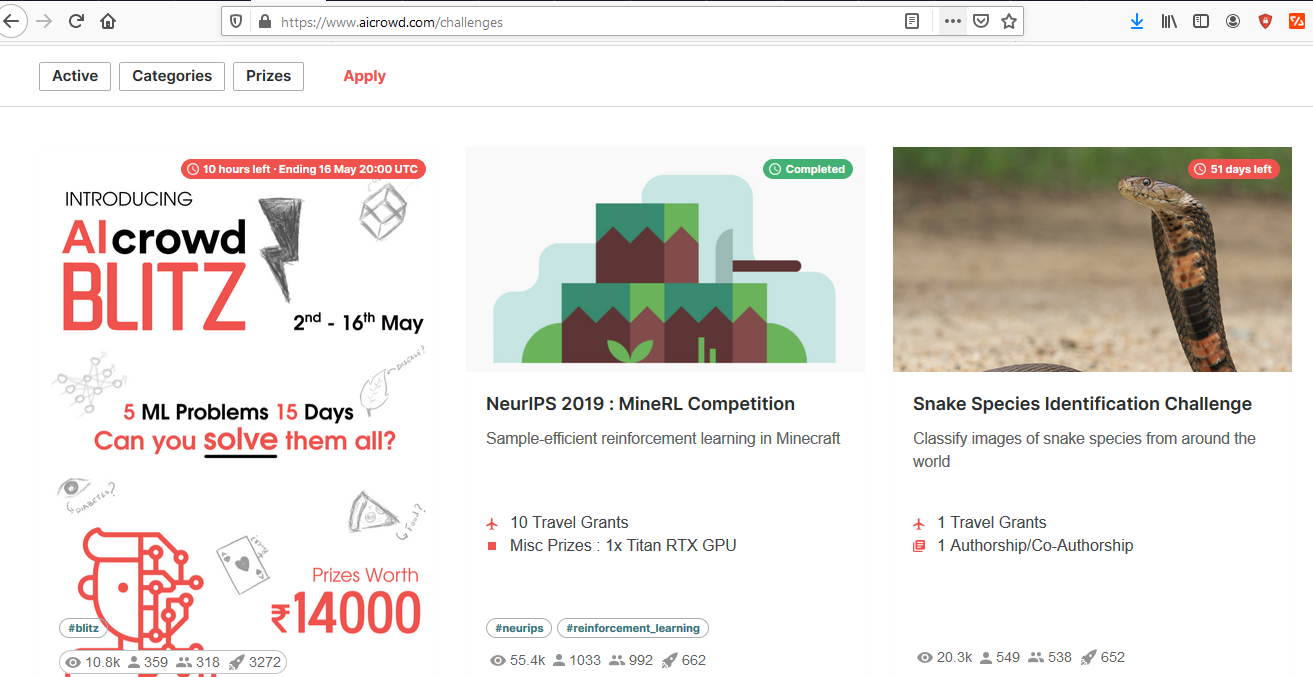 They have a leaderboard with the top 100 users ranked. Some of the user profiles have names, location, and sometimes a bio as illustrated below:

Zindi
If you have Africa based hiring requirements, then Zindi could be the hunting ground for your pursuits. Zindi hosts an entire data science ecosystem of scientists, engineers, academics, companies, NGOs, governments, and institutions focused on solving Africa's most pressing problems.
They work with companies, non-profit organizations, and government institutions to develop, curate, and prepare data-driven challenges. Solutions are automatically ranked by the accuracy achieved. Zindi also has a leaderboard points-based ranking system of its users in terms of top challenges.
A typical Zindi profile lists the following as illustrated below:
Photograph
Spoken Languages (an unusual category)
Tech language
Location
Bio (sometimes)
The competitions that the individual participated in
Discussion forum contributions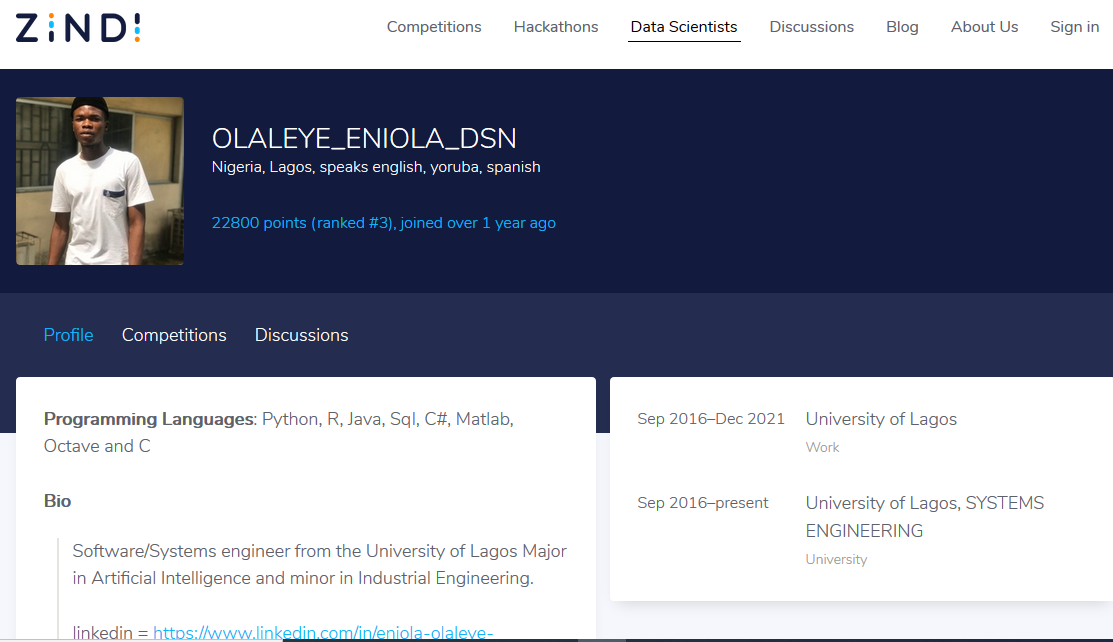 An example search string to find data scientists in Nigeria one could employ is:
Innocentive
Innocentive is a US-based platform that focuses primarily on real problems dealing with life sciences as well as other industries.
They have 390,000+ Solvers from 190+ countries.  With 60% educated to Master's level or above in their network, and have run 2,000+ Challenges, received 162,000+ Proposed Solutions and awarded $20M worth prizes so far.
Innocentive has a Top Solvers list going back up to the year 2015. However, the public profiles display very little information apart from the occasional photo and location. You cannot view the full profile without registration.
There is a section of profiles listed under "winning solvers" going back to 2015 but very little information is accessible.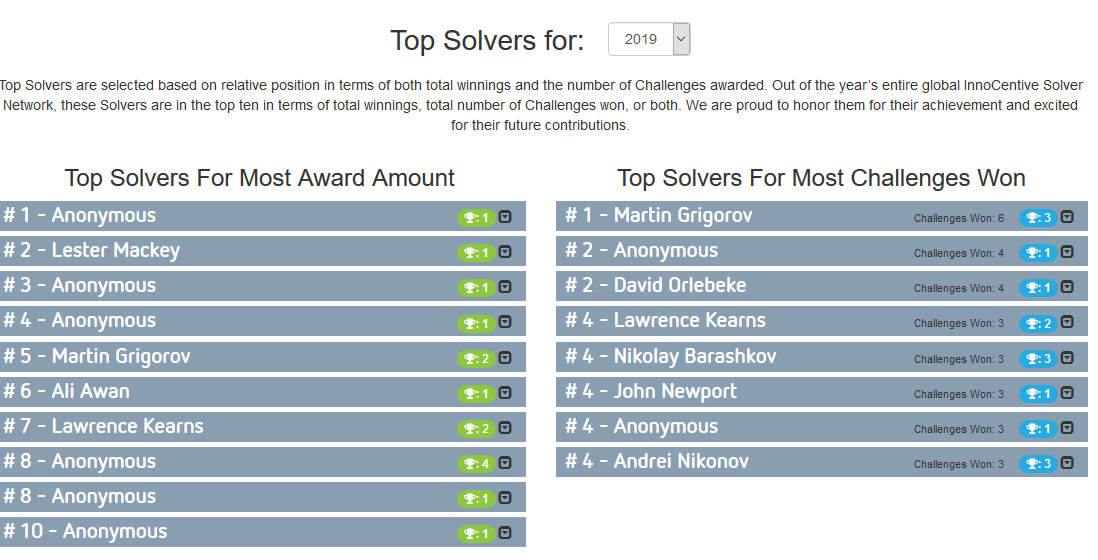 CrowdAnalytix
CrowdAnalytix is an end-to-end platform for developing and deploying AI and Data Science solutions and while building solutions. Basically, they leverage a network of 24,000 data scientists.
An X-ray search of the website site:crowdanalytix.com inurl:contests leaderboard gives a list of the contests. And, upon clicking a contest, information about the winners and leaderboard are available. From time to time you will luck out, and a bio of the individual is visible.
CrowdAnalytix additionally has a Twitter handle using which one can find the followers of this platform.
Conclusion
To sum it up, the sky is the limit to search for data science professionals. Recruiters would be well advised to look out for upcoming platforms where the relevant professionals congregate, contribute, and are making a name for themselves.
---
Authors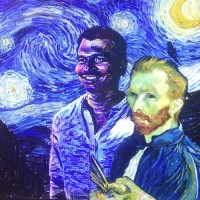 I am an accomplished and internationally experienced recruitment professional with eighteen plus years of hands-on experience in sourcing and recruiting. Focus on Canadian, Indian and a little of US market.
Recruit Smarter
Weekly news and industry insights delivered straight to your inbox.