One of the hardest recruiting jobs is to access and hire high-level security clearance professionals.  Although different levels of clearances exist, these individuals are not that visible from a social media perspective.
Furthermore, traditional methods of relationship building aren't necessarily successful, so recruiters must build trust.
A security clearance is essential if you have an offer to work for a government agency on a full-time basis.  The same is true for consulting contracts with a vendor who works for a government agency, primarily for handling and access privileges, for example.
With this in mind, we'll outline requirements to obtain a security clearance and then how to source for individuals that hold them. 
US Government Security Clearance
In any event, all federal agencies require a security clearance. Varying levels of access are dependant on the privilege level granted. 
For example, below are the three levels of clearance:
Confidential

– An unauthorized release of this information could cause some damage to national security.
Secret – An unauthorized release of this information could cause serious damage to national security.
Top secret – An unauthorized release of this information could cause grave damage to national security.
In order to qualify for any level of clearance, the individual must first be a US citizen. The individual will then need to pass a series of checks, including the following:
First, one must pass all credit and criminal checks, which includes fingerprinting.  Second, a polygraph must be passed. Then, there will be interviews of neighbours and co-workers, as well as a review of personal records. Finally, all records such as tax returns, county assessor's data, employment records, driver and vehicle licensing records, drug, alcohol, and sexual status (among others) will be assessed.
All these clearances are re-evaluated every five years.
Keep in mind, top-secret does not give access to all classified information. To clarify, some classified information is so sensitive that extra protection applied to Top Secret information won't cut it.  For example, a category called Sensitive Compartmented Information (SCI) includes intelligence sources, methods, and processes. Special Access Programs (SAPs) are another category that includes highly sensitive projects and programs.
The DoD operates a security program weighted differently from other agencies. They also create the highest number of security clearance requests. For example, 80% of all clearance requests come from the DoD. That said, even if one were to possess a secret/top-secret clearance from a different agency, it might not transfer to the DoD. Therefore, it will matter what kind of security clearance an individual has. 
When a security clearance expires, they can reactivate within 24 months. An example of expiration of clearance would be when someone leaves the military or leaves a government civilian job or contractor job. However, reactivation is only possible if reactivation falls within the re-evaluation period. Otherwise, the clearance must be obtained as a new request. This takes time, even if the clearance is guaranteed.
In other words, for recruiters, this means a race to source and hire active clearance holders.  As a result, successful hires can come with huge rewards and bonus payouts for sourcing such individuals before that re-evaluation period runs out.
Clearance personnel numbers
According to the Office of the Director of National Intelligence, as of 1st October 2017, there were 4,030,625 individuals found eligible to hold a security clearance.  Of that number, the Top Secret clearance numbers are 1,309,793.
Sourcing cleared personnel
So, now you understand the value of individuals holding these security clearances. Next, the question is how to find them? Below, please find areas across the internet where you can search for clearance jobs, talent, and how to source for them.
Clearance searches and job sites
Here are three websites that discuss clearance job queries for potential leads: Clearance Jobs Blog, Federal Soup, and Reddit /r/SecurityClearance.
Likewise, here are three locations where you can attract and hire talent: Cleared Jobs, Clearance Jobs, and Cybersec Jobs.
Where can I find lists of US government contractors?
Your first avenue is to look at the Top 100 US Government contractors report from the "Federal Procurement Data system." After that, you can search based on those companies to find their current relevant security clearance personnel. 
Secondly, look at Washington Technology.  Here, you'll find lists of Top 100 Prime contractors in many areas. These include IT, professional services, and telecommunications, as well as other high-tech services. 
Another source is Bloomberg Government Top 200 Federal contractor's reports.
Finally, an option is to look up GSA schedules in Google. Companies often display this on their website to identify competitors not found in the Top lists above.  For this purpose, an example Google search would be: "GSA schedule" federal government -what -how -advantage.
LinkedIn search
Of course, most LinkedIn searches will produce results, but few will be Top Secret personnel. Typically, they are the hardest to find and hire. 
In light of this, here are some security clearance specific keyword searches: 
"Security clearance"
"Public Trust clearance"
Secret OR "DoD Secret"
"Top Secret" OR "Top Secret Clearance"
"TS SCI" OR "TS-SCI" OR "TS/SCI"
"Special Access Program"
"TS/SCI w/ Full Scope" OR "Full Scope Poly"
"TS/SCI w/FSP OR "FS–Polygraph"
"Special Agent" OR "SIDA"
"Sensitive Compartmented Information" OR "SCI"
"Counter Intelligence poly" OR "CI Poly" OR "Lifestyle poly"
Keep in mind, JPAS or Scattered Castles (for intelligence agencies) is the only place to check an individual's current clearance status. What's more, even a full-scope Polygraph from some agencies like NSA may be inequivalent to DHS Full Scope Polygraph.  
A US Navy or Airforce contractor personnel is typically required to travel.  Considering this, use a search term of CONUS for the Lower 48 states. Additionally, the use of OCONUS for outside of Continental United States would be handy, as well. 
Likewise, you can utilize specific department names like these:
Federal Bureau of Investigation (FBI)

Department of Defense (DoD)

Defense Intelligence Agency (DIA)

NSA

NGIA

Department of Homeland Security (DHS)

Department of State – Bureau of Intelligence and Research

NASA

CIA

National Reconnaissance Office

Air Force Intelligence-Surveillance and Reconnaissance

Army Military Intelligence

Office of Naval Intelligence

Marine Corps Intelligence

Pentagon
Facebook search
Often, enlisted personnel are stationed on warships, so they'll typically have USS or USNS as a starting point. The Military Factory website has a good list of the current fleet by name. With this in mind, to use the list just look up the fleet by name. Then, determine where its base station is in the US, and search from there. 
For example, an x-ray search could be: site:facebook.com "profile photo" "USS Carl Vinson" "San Diego" engineer
Federal procurement registry search
You can check past program names like F35 or F22 or F18A in the RFP/RFQ solicitations. These can be found in Federal Government procurement sites. 
Frequently, company names will be the current vendors (prime and sub-contractors).  You can then cross-reference with other sources to identify personnel working on such programs.  Of course, some may be brand new programs that you can add to your database search list for future use.
Some of these registries are:
Areas where government agencies hire contractors:
Systems Integration

Network support

Missile Defense and Security Systems (warning, environment monitoring)

SATCOM

Space Systems and Exploration

Intelligence, Surveillance, and Reconnaissance Platforms

Cybersecurity Analysis

Radar and Air Defense Systems

Logistical Support

Drones

Secure Unified Communications

Combat and Fire Control Systems

Port Harbour and Perimeter Defense
Typical job titles at federal government agencies:
Thermal engineers

Mechanical Engineers

Identity and Directory Management Lead

Program Analyst

Help desk or service desk agents

Software engineer

RF Engineer

Electrical engineer

Program and Project Managers

System Integrator

Systems Administrator

Stress and Structural Engineer

Systems and Network Engineers

Software Programmers

Intelligence Analyst

Hardware Engineers

Application Developers

Data Methodologists

Strategy and change management consultant

Facilities consultant

Testing Engineers

Contracts Management Professionals

Aerospace and Aerostructure Engineers

SATCOM network support analysts

Cybersecurity analysts and managers

Logistics support associates and analysts
Scrape contractor job postings
If you keep in mind that if you scrape every job posted by federal contractors, you'll pick up a lot of specific system names unique to that government agency. That is, you can then use these system names in future searches.
To illustrate, here's an example of a SAIC job posting with system names highlighted: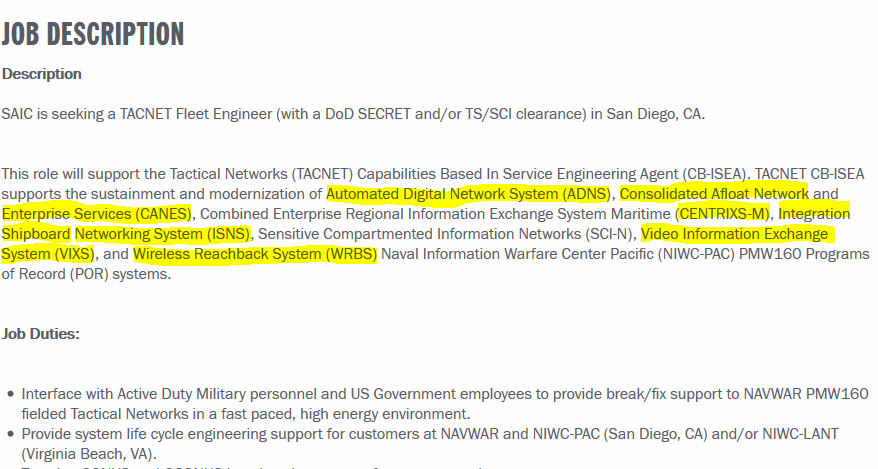 From a Canadian perspective
Similar to the U.S., the Canadian government has three levels of security clearance:
Enhanced Reliability (Level I):  Unauthorized Disclosure by which some damage occurs to the national security 
Secret (Level II): Unauthorized Disclosure by which serious damage occurs to the national security. 
Top Secret (Level III): Unauthorized Disclosure by which grave damage occurs to the national security. 
Clearance
Screening activities
Background check
Validity

(Years) 

Average Processing times

Enhanced Reliability

First, verification of identity and background

Second, verification of educational and professional credentials

Both Personal and professional references check (every agency may not check personal refs)

Both Credit and financial check (may differ from agency to agency)

Criminal record check

Fingerprinting

5 years

10

2-4 weeks

Secret

Above criteria, as well as a CSIS assessment

10

10

Up to 9 months

Top Secret

Above criteria, and additionally Polygraph tests, personal interview, and neighbour checks

10

5

>1 year
Also, if a person has lived outside of Canada at any point in time during the active security clearance timeframe, additional documentation will need to be submitted.
Contract award notices search
Finally, the Canadian government discloses all awarded contracts under and over $10k.  This data is searchable by many types of data. They include the year, company, country origin, agreement type, contract values spread across goods, services, and construction, along with departmental wise of contracts and values awarded. The data is also available for download and can be found here: Canadian Government Contract search.
NATO Clearances
There is an additional North Atlantic Treaty Organization (NATO) clearance that is required to access NATO classified information for a specific contract. This is applicable for 29 countries. A variation of this is COSMIC for NATO Top Secret, for example. All in all, NATO clearance typically involves a check of 20 years of your historical professional experience, in addition to the Top Secret clearance requirements.
Conclusion
In conclusion, though sourcing and hiring talent with high-level security clearances may seem impossible, it is not. As discussed, there are many methods to use and to narrow your search. In spite of the difficulties, the rewards can be large and perhaps worth the effort. However, that is up to you.
---
Authors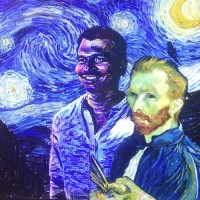 I am an accomplished and internationally experienced recruitment professional with eighteen plus years of hands-on experience in sourcing and recruiting. Focus on Canadian, Indian and a little of US market.
Recruit Smarter
Weekly news and industry insights delivered straight to your inbox.