If you want a business case or case use for the importance of mobile recruiting adoption and optimization, you don't really have to look far. Hell, there's a cottage industry of content marketing and conferences dedicated specifically to the whole "mobile" category – which is all kind of silly and specious.
Talking about the potential power of mobile seems a lot like talking about the wonders of air conditioning or indoor plumbing – sure, those kick butt, but they're kind of just a part of every day life that it's hard to imagine life without them.
Why Are We Still Talking About Mobile Recruiting?
While we may debate whether to go with an iPhone vs. Android (no one ever reps Windows phones, for some reason, not even Microsoft Employees), which emoticons to use or whether or not an app is worth the storage space, I know of no-one who's such a Luddite they debate whether or not it's worth investing in mobile.
 Unless you're in a Millerite sect or are a card and tote bag carrying SHRM volunteer leader, there's no way anyone's so outdated they make mobile a talking point or trending topic – at least as an independent category.
Of course, unless you happen to work in corporate talent acquisition, in which case, the jury remains inexplicably out.
It should strike any observer as odd that for whatever reason, this 21st century mainstream medium would be such a contentious issue for employers, much less one that seems pretty low on the totem pole of platform priorities. It's not nearly as important as, say, kind of hokey and extraneous features like "talent communities" or video interviewing or whatever the bell & whistle du jour happens to be that distracts us from the more pressing and persistent challenges to our recruiting capabilities.
 We'd rather endlessly discuss abstract theories instead of trying to agree on actionable takeaways, and far prefer looking at what's new and what's next to what's needed now to fill the reqs you've already got.
 We like to talk about building pipelines and creating elaborate sourcing and candidate acquisition strategies, but for some reason don't search our ATS to identify warm leads who are already aware of and interested in opportunities with your organization, preferring instead to continue cranking out cold calls.
 We want to create compelling career content, but prefer investing in polished, professionally produced videos and slick headshots of employees instead of focusing on writing better job descriptions instead. And while internal mobility and employee referrals make up a lion's share of source of hire, we'd rather dedicate ourselves to "talent networks" or "career communities" instead.
 Recruiters love making their job harder than it has to be, and have a pretty established track record of ignoring the easy and obvious fixes. It's not an easy job, by any means, making candidates with obscure or esoteric skill sets somehow materialize out of the ether to backfill that one of a kind hi-po who just got poached might be one of the most difficult asks you could ask any worker, anywhere. But there's no point in making this whole thing more complex than it needs to be, no matter what the consultants and thought leaders may tell you.
 No where is this phenomenon more obvious than in mobile recruiting.
Mobile Recruiting Made Simple.
Over 80% of the Fortune 500 haven't optimized their apply process for mobile despite the fact these companies spend literally billions of dollars trying to find the very same tech savvy, constantly connected digital natives who they're missing out on by missing out on mobile.
92%, by contrast, report to recruiting on social media. The thing is, according to Comscore, around two thirds of all social media traffic occurs via mobile devices .
This means you can have the world's most kick butt careers Twitter or employer branded Facebook page, but if your call to action can't be acted upon due to device limitations, than you're really just wasting everyone's time.
Similarly, not being able to search for or apply for jobs while at work, which many passive candidates do as a practical matter to effectively bypass corporate firewalls, spying system admins and prying bosses, not only costs companies potentially amazing new hires, but also creates a pretty crappy candidate experience by forcing them to go to an actual computer to successfully apply – something that no one you'd actually want to hire probably's willing to do.
Passive candidates have other stuff to do than jump through your hoops and barrels, so if you're one of those employers who ignores actual applicants due to a bias against active candidates, well, goes to show you reap what you sow.
Plus, for many younger workers (and, disproportionately, diversity candidates, too), their phone is their exclusive access point to the internet, a trend that's even more prevalent in the developing nations multinationals are increasingly targeting with their hiring, such as India, Brazil or Korea.
So, in fact, actively excluding mobile could even be interpreted as an employer's breach of making a good faith effort. After all, implementing mobile doesn't take all that much effort.
 Unlike, say, trying to change the minds of the entrenched employment establishment, but then again, their recruiting technology is largely still just the fax. And maybe Asking Jeeves every once in a while what the hell they should do with this crazy internet thing.
 In conclusion, mobile recruiting is really this simple:
People look for jobs online. People access online mostly through mobile. Therefore, people mostly look for jobs on mobile devices.
Of course, the preceding few hundred words were simply to add that layer of complexity requisite for any discussion about recruiting or talent attraction. You're welcome.
If you're tired of talking about mobile recruiting and want to start actually doing something about it, click here to check out SmartRecruiters and see why companies are getting going getting candidates on the go. Because turns out, mobile recruiting is kind of a no brainer.
Disclaimer: Recruiting Daily was compensated by SmartRecruiters for this post. But we obviously believe that mobile should be a part of every recruiting strategy, so in this case, the facts and opinions contained herein do, in fact, represent those of the publisher. Because we're all about making applicant tracking systems suck less, too.
---
---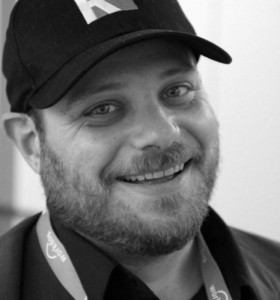 Matt serves as Chief Content Officer and Global Thought Leadership Head for Allegis Global Solutions and is a partner for RecruitingDaily the industry leading online publication for Recruiting and HR Tech. With a unique background that includes HR, blogging and social media, Matt Charney is a key influencer in recruiting and a self-described "kick-butt marketing and communications professional."
Recruit Smarter
Weekly news and industry insights delivered straight to your inbox.