HR Strategies for Adapting to a Post-Pandemic World of Work
COVID-19 has permanently impacted the global workforce. While every business, industry, and region is at a different stage of "re-opening," one constant for everybody is that the world of work will never be the same. 
New work-from-home norms. A heightened importance of support and safety in the workplace. And a worldwide effort to redefine work-life integration. This global pandemic has accelerated the future of work faster than we could have ever expected.
As we move forward, HR will play a crucial role in ensuring employees adjust as seamlessly as possible to these new work realities. Here are three key strategies that HR professionals can use when adjusting to a post-pandemic world of work:
1. Master the art of Managing a Remote Workforce
The work-from-home reality is here, and it's here to stay. According to a recent Gartner survey, 75% of the CFO's said they will permanently shift at least 5% of their company's employees to a remote working structure post COVID-19. 
With this new dynamic, organizations will have to adapt business models and devise new ways to incorporate technology into their workforce structures. HR will need new and innovative approaches to master the art of managing a remote and blended workforce.
First and foremost, HR teams need to ensure their processes are digital. During a time of volatility, the ability for organizations to make changes quickly is key to managing a dispersed workforce. For example, cloud-based technology can provide the flexibility for HR teams to easily track the health and safety of their workforce, no matter where they are located, and in accordance with local data and regional regulations.  
Additionally, tools like digital assistants or chatbots can be used to give employees – whether remote or in the office – the information they need quickly. For example, digital assistants can share the latest information about company policies, health and safety updates, or new workplace guidelines with just the click of a button or an ask from a voice.
2. Deliver a Supportive and Positive Employee Experience
HR support for employees is more important now than ever before. Workers today are dealing with exceedingly high levels of stress in new work-from-home environments, and now have added layers of anxiety as businesses begin to reopen. 
The health and safety of employees needs to be taken care of. And it's up to HR to provide a supportive, safe, and positive workplace experience for their teams. No matter where they are physically. 
One way to do this is by putting a heightened focus on benefits like flex-time schedules, child care, and mental health support. While remote work provides the flexibility to work on your own time, the reality is many employees feel they are now expected to be available around the clock. Burnout, Zoom fatigue, and furlough anxieties are real concerns right now. HR should recognize this, show compassion, and provide a supportive environment for their teams. 
3. Redefine Work-Life Integration
While there may be some downsides to this new remote work lifestyle, the upside is employees are now home. They're spending time with their families, engaging more with their children, and having the opportunity to have quality time, like family dinners, every day. 
Previously, when workers spent most of their time in the office, people got into a cadence of organizing life around work. However, the pandemic has allowed us to reverse those roles. Now, there's an opportunity to organize work around our families. 
This is a dynamic shift in the way traditional "work-life balance" has been viewed. I believe it's a shift in the right direction. Moving forward, HR leaders should recognize the value of having families at the center of our society, and provide opportunities for their teams to navigate work around that priority. 
There's no doubt that the world of work will forever be different. And while the global pandemic has resulted in terrible tragedy, we have to be able to look forward and be prepared to adapt to the new landscape. The future of work may be unknown. But it's up to us to define it. 
---
Authors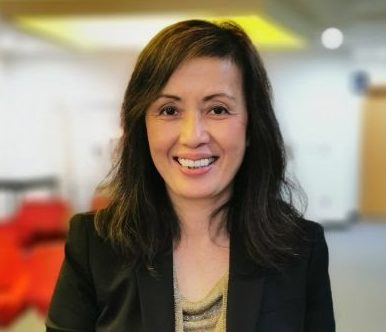 Emily He is the SVP of Human Capital Management Marketing at Oracle Corporation. With over 20 years of experience in enterprise software, Emily is known for highly differentiated messaging and innovative takes at traditional marketing. She is a recognized thought leader on digital transformation and the future of work with insights featured in The Economist, Fortune, The Financial Times, Forbes, Fast Company, and more. Emily has an MBA from Stanford Graduate School of Business and has previously held key marketing roles at Saba Software, E2Open, Siebel Systems and DoubleDutch. 
Recruit Smarter
Weekly news and industry insights delivered straight to your inbox.