Congratulations! You're going to an industry conference, event, trade show or continuing education seminar — which means that your company is investing in your professional development and growth.
But how do you justify your time away to leadership — and to yourself — without burning out or feeling somehow short-changed?
Getting the most out of an HR conference isn't easy — particularly because most of the content is designed to sell consulting services or perpetuate some thought leadership "theory" that has nothing to do with the real world you practice in every day.
And while we all say we go to these things to network, let's face it: that's more work than actually working — before Happy Hour, anyway.
Brain Play and Your Best Self.
We might come for the content, but we stay for the sponsored bar – one of the few direct benefits most HR and recruiting end users ever realize from their crappy HCM or ATS providers.
Of course, there's no such thing as a free drink, and most of us forget that it's our outrageous annual spend on those same obsolete systems that generate the margins required for non-core activities like event sponsorship, or charging thousands of dollars for your users to go to your annual user conference.
These asinine vendor love-ins, for the uninitiated, often consist of shows where the entire agenda is sessions on how to make that same system suck less or have that software suite somewhat deliver as promised during the sales cycle. Inevitably these "user conferences" are held at some swanky hotel in some exotic location, a budgetary boondoggle that's funded largely through training dollars that could be better spent on professional development, not esoteric product expertise.
There are a few exceptions to the traditional mix of painfully choreographed executive speeches, forced customer "success" stories and product showcases that showcase stuff that's not actually available to the companies paying a premium to get the most out of the mediocre tech stacks they're stuck with.
The point of most user conferences is more or less kind of an implicit support group for people who made bad buying decisions to get enough ammunition and information force fed to them by the vendor and its associated "community of practice" (read: anyone who would spend 3-5k per ticket to go to an event that's essentially an extended infomercial) to continually justify their choice (and save their asses, often).
Avoid these at all costs. Particularly Oracle HCM World. Trust me on this one.
That's not to say that just because a vendor is sponsoring a conference, it should be avoided entirely; the important thing to think about is whether or not the agenda is focused on the bigger talent picture, or whether or not it's just variations on the same pithy product pitch.
Companies with intuitive technology don't need certifications or elaborate training; the HR Technology plays worth talking about don't need to talk about themselves. The best providers know that the best way to win new clients and keep existing ones happy is to provide insights, ideas and inspiration (see next week's #HireConf, presented by HiringSolved, for a great example of a vendor event that's effectively vendor neutral).
The ones that suck? They just want to push product. And you should always beware of any provider who puts selling their solution ahead of your recruiting and HR problems. The worst offenders, inevitably, are the ones who throw the most lavish user conferences, as a rule of thumb. This is why LinkedIn Talent Connect and Workday Rising remain among the most over the top and elaborate events in the industry.
Because if you can't reinvest your ridiculously overinflated earnings in product R&D, might as well put it towards a bitchin' party instead. And some of them are actually kind of awesome, even when the party is for a product that certainly isn't worth celebrating. But that's where the free booze comes in, I suppose.
Bottoms up.
Hidden Pictures: Highlights for HR Conferences.
Of course, even the crappiest conferences aren't entirely the fault of the producers or vendors in question. It's the attendees that really make all the difference in the world when it comes to whether or not a conference is worth the price of admission.
The only thing that can really determine an event or conference's relative success is, well, you. The value lies not in what happens at the event itself, but in what happens after the conference has closed. If you go out of the office for an events, at a minimum, you should come back with some tangible takeaways you can implement immediately (or actual, actionable insights for iterating and improving what you've already got in place).
Of course, that's way easier said than done.
That's why, with conference season already kicking into high gear, I wanted to share this handy, dandy handbook for surviving – and succeeding – at HR and recruiting conferences. Even if you only go to a couple events a year (lucky), you'll inevitably wind up suffering through a few stinkers. But that doesn't mean they have to be a total waste of time, money and effort.
Here is a checklist of some of the things you can do to make every event pay off, even if that payoff ultimately has nothing to do with the actual conference. The best events often are worth going to even if you don't actually go to a single session – ideally because you're too busy meeting people to suffer in silence through yet another Powerpoint deck.
While the only protection against crappy conferences is practicing total abstinence, that's not necessarily always an option. So while staying home and doing your real job are always the best bet, if you've got to go to an HR conference, make sure you follow this checklist so you not only make it out alive, but make it a success, too.
9 Ways To Make Work Events Work Better for HR and Recruiting.
Remember Goofus and Gallant, the postmodern version of Kipling's Just So Stories, Aesop's Fables or the New Testament?
Since the content marketing and agendas related to most conferences are written for about the same comprehension level as Highlights for Children, we'll let these evil/good twin archetypes keep it old school and explain how to survive an HR conference.
Here's a hint: Gallant takes the more sensible and responsible approach, even if he's a total wet blanket and the target of incessant mocking by the cool kids.
Of course, if you ended up in HR, that should really be second nature by now – just like these 9 steps for conference success.
1. Meetings to Attend.
Goofus picks which sessions to attend based on the session description or the presenter (whose bio is normally as inflated as their claims of expertise). Gallant does his research before planning on which sessions to attend and can align them with business objectives or actionable takeaways that, if not addressed in the session itself, he prompts the speaker to address these during the Q&A portion of the session.
2. When to Come and Go.
Goofus arrives just before the conference starts and hits the road as soon as the agenda officially concludes. Gallant knows that the informal encounters outside the venue, the sanctioned or spontaneous dinners and after hours camaraderie are where the real networking happens at an event, and his travel schedule shows it.
3. How to Network.
Goofus gives his business card to every vendor on the trade show floor for the chance to win something like an iPad or a gift certificate. Gallant knows that this is how vendors get leads, and that most of these prizes aren't worth the weeks or months of dodging sales calls that, unlike a giveaway, you're guaranteed to win with the company's sales team.
4. Taking Notes.
 Goofus brings a well sharpened pencil, a legal pad and takes copious notes in long hand from all the speakers to reference when he gets back to the office. Gallant knows that the slides will be available for download after the conference, and he's better served bringing a laptop and live tweeting.
5. What to Talk About.
Goofus makes himself the center of conversation and pimps out his credentials and company whenever the opportunity for self-promotion presents itself. Gallant knows to ask questions, listen and get to know the people and players – and lay the groundwork for future opportunities.
6. Where to Hang Out.
Goofus is there to learn. He sits in on every session. Gallant knows the best part of conferences are the interactions in the hallway, in the expo floor and everywhere but trapped inside a conference room — and knows how to create those opportunities to interact.
7. How to Interact.
 Goofus begins every interpersonal interaction by asking what company someone works for and their job title. Gallant begins every interpersonal interaction by asking why that person is at the event and what they hope to learn out of it.
8. When to Follow Up.
 Goofus follows up with everyone he meets at the conference on LinkedIn, Twitter or via e-mail as soon as they get back to the office to remind people of his existence immediately. Gallant enters his new contacts into a CRM or spreadsheet and strategically waits between a month and 60 days before reaching out, knowing that his message won't be lost in related conference messaging.
9. Post-Conference Insight: Goofus reads the recaps and takeaway posts from the conference's official blog. Gallant checks the hashtags on social networks and third party blogs from attendees or media partners to get a real idea of what real people really thought.
Go be Gallant, my friends. Because as you'll learn about 20 minutes into whatever conference you're going to, this industry already has enough Goofuses as it is. Present company included.
About the Author: Matt Charney is the Executive Editor of RecruitingDaily. Follow him on Twitter @MattCharney or connect with him on LinkedIn.
---
---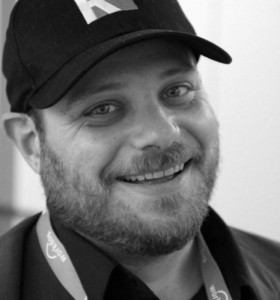 Matt serves as Chief Content Officer and Global Thought Leadership Head for Allegis Global Solutions and is a partner for RecruitingDaily the industry leading online publication for Recruiting and HR Tech. With a unique background that includes HR, blogging and social media, Matt Charney is a key influencer in recruiting and a self-described "kick-butt marketing and communications professional."
Recruit Smarter
Weekly news and industry insights delivered straight to your inbox.