Posted with permission from Jan Tegze
If you want to succeed at sourcing, you need one important tool — your brain.
Luckily, your brain cannot be stopped by any LinkedIn Terms of Service. However, saving time in sourcing is also important, and if you want to save time and be more effective, you need to use the right tools.
There are hundreds of plugins and tools for recruiters; every month a new one appears, and many are also disappearing. My guess is that we will see a huge amount disappear this year.
It's hard to follow or test every single one. There is probably only one person (Dean Da Costa) who knows them all.
I'm trying to test every new tool I discover or that I get tipped off about from others. And because I am also a geek who loves new technology, I like to test everything, and I did new test of 10 plugins that will help you to find anyone's contact details.
This test was done during April 2017, and since that time a few things have happened. Many of these tools improve their databases, and Hiretual in particular did pretty good job in this area. However, the most important news was the update of the LinkedIn User Agreement.
Right now it's hard to predict how sourcing tools will be affected by LinkedIn and new LinkedIn Terms of Service, but I don't think many of these tools revealing contact information will be still with us.
How I Set Up My 10 Plugin Test
I tried to compare these tools and find out how effective they are, how effectively they can find email addresses, and, if the email address that is found is valid or not.
And the best way how to do that is a prepare test scenario and run a test case. Here's what I did: 

I selected 50 random profiles on LinkedIn;
All the profiles were my 2nd or 3rd connections;
All profiles were checked to see if there is no email or phone;
The roles I targeted were: Finance Manager, IT Director, Senior Developer, Project Manager, UX Designer, Accountant;
The locations I targeted were: Hungary, Germany, France, United Kingdom, Slovakia, Brazil, Finland, Czech Republic, Spain, and the USA (the Greater Seattle Area);
The plugins I tested were: Prophet, Connectifier, Hiretual, Contactout, Hunter, Jobjet, Lusha, Rocketreach
The first thing I did was my own search, so I tried to find emails on all 50 profiles without these tools and I only used Google. After 4 hours and 57 minutes, I found 29 private emails. As you can see, I didn't find all 50 emails, but I learned a lot about these candidates. I also learned about new sites to use to look for people like them, especially in countries that I usually do not target during my search.
With these plugins, I found email addresses within a few seconds or minutes. During this test, I also checked if the email address provided by the plugin was valid and connected with the right person. I also tested every single email I found to see if it was live and working.
Google Chrome Extensions
Because one plugin can show the company email and the second plugin a private email for the same profile, I decided to split that test results on the group "private email" and the "company email" section.
People often use their company email address for their LinkedIn accounts, but there is no way I can double check if the company emails I found through these plugins are also primary email addresses connected with their LinkedIn profiles. Alternatively, if they used private email, and these plugins showed me their company email addresses, it is because they tried to guess them based on their database.
These plugins offer various tools and options; I don't want to write a long review about all of them, so here is a quick one-sentence review.
Results
All working emails
All functioning emails are all the private and company emails these plugins found. I tested these addresses, and if they worked, I added them into the graphic.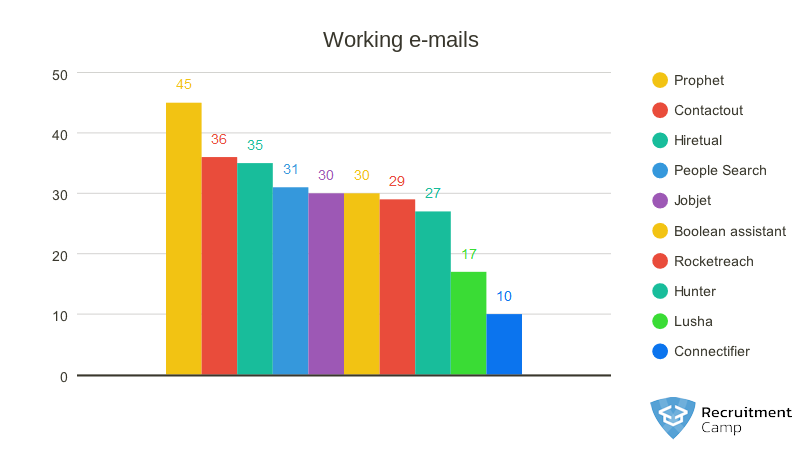 I'm using some of these plugins every day. Sometimes, the email address that the plugin shows you for one person belongs to somebody els. so it's good not to blindly trust every email address they reveal, but it's wise to double check to make sure that the email belongs to the right person you're looking for.
Private emails
This graphic is only informative, because some people can use the company e-mail address as a primary email for their LinkedIn account.
Results: All Plugins
How is the future looking for these plugins?
The new LinkedIn Terms of Service could affect many of these plugins; if that happens, they will either end or stop working. However, I'm sure that more new plugins will appear in the future, and it will be interesting to see how they will coexist with LinkedIn.
Even if these plugins survive, one challenge for them could be how to prevent sharing a candidate's contact details through these apps and plugins if they don't want to share anything. Right now, there is no way to reach them all and tell them to hide or remove your email address from their databases (and if you are planning to use this idea for a new startup, you should give a big reward for it!) :).
It will also be interesting to see how they will follow all the privacy regulations like the General Data Protection Regulation (GDPR) (Regulation (EU) 2016/679) and other similar regulations in the future. This will be one of the biggest challenges not only for these plugins, but also for applicant tracking systems (ATS) and technology companies.
Final Thoughts
These plugins are great but don't rely solely on them. Contact details and emails are everywhere on the internet; you can use these plugins and try to learn how to create Custom Search Engine (CSE). You will also need some time to master CSE and get on the level of CSE experts, like Irina Shamaeva or Mark Tortorici.
You can also learn how to find the contact details on people on Stack Overflow through this lesson.
These Chrome plugins are used for sourcing, but they could also be used for sales or marketing activities. I tested 50 random LinkedIn profiles to get these results. If you want to get more relevant results, I recommend testing at least 500 profiles.
And, every plugin has its own pluses and minuses. During this test, there was one candidate profile when the email was found only through Hiretual and Prophet plugin. For one profile, the only Prophet located the work email, and the others showed nothing. Remember: Every plugin I mentioned here is worth a try.
I am running more of these tests, and some plugins are more successful for some areas and locations than others. Don't take all the results from this test as final, but test all these plugins yourself. Try to test more of them and find the ones that are working for you. And if you are planning to do a similar test, please, share it with others.
These plugins offer free credits every month, but the Premium accounts give you not only more credits, but also more interesting analytics and tools. Moreover, the ROI from these plugins is also pretty good.
If you use these plugins and you are planning to contact the candidate or potential client, you should run (every time) this three step checklist before you hit the send button.
The candidate you are planning to approach is matching the requirements; you spent some time to learn more about them, so will the role you are offering be to the benefit of that candidate?

Are you sure?

Are you really sure?
There are many tools out there you can use for finding contact details within few clicks, but it's really essential to learn more about the person you will contact. We all should learn from people like Willem Wijnans, who is doing great work in this area and learning a lot about the candidates before reaching them.
Remember this too: Good research is the key if you would like to get a good answer from candidates.
The spray and pray sourcing method is not working anymore, so try not to spam others even if you have an email address.
Finally, remember that sourcing is not about quantity, but about quality! If your KPI is the number of emails, Inmails and Facebook messages you send per week, you should start thinking about whether you are working at the right place.
Don't forget that you are not only representing your company, but you are representing yourself, and it's your work that people will remember.
---
Authors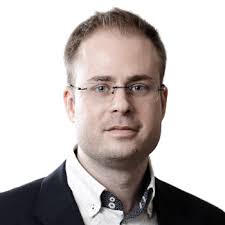 Jan Tegze is Senior Recruiting Manager at SolarWinds, a company that "provides powerful and affordable IT management software to customers worldwide, from Fortune 500 enterprises to small businesses, managed service providers (MSPs), government agencies, and educational institutions." He is also the author of the book Full Stack Recruiter: The Modern Recruiter's Guide, published October 2017. Jan has extensive experience in full life cycle recruiting, and broad knowledge in international recruiting, sourcing, recruitment branding, marketing and pro-active innovative sourcing techniques. Connect with him on LinkedIn or follow him on Twitter @jantegze .
Recruit Smarter
Weekly news and industry insights delivered straight to your inbox.