Best Practices for Successful Diversity Hiring
What's the secret to great hiring? Over the years, I've seen some great and some not so great hiring practices and processes. If you want to build a strong, high-performing, and diverse team (making the best hires), here are some ideas you should consider including in your hiring process.
Please keep these high-level principles in mind as you continue reading:
Transparency is crucial on both sides (candidate and employer)
Understand and accept that different types of people can succeed at every job
A successful match must be made on both sides (candidate and employer)
Okay, next let's talk about some practices that will remove barriers to finding the best hires for your team.
Include the salary range in your job posting.
It's shocking how much time is wasted by not being transparent with salary ranges. No one wants to get far along in the interview process, only to find out the salary expectations are not a match.
Your jobs should be market-priced based on the responsibilities, how it fits in your company, and your industry and company's asset size. Sharing the range in your job posting will ensure that only people who feel the pay is an acceptable match will apply.
Diversity Impact: Stop asking for salary history which can adversely impact diverse segments who may have been underpaid in their prior roles. Pay fairly for your position based on its worth to your company. Don't base the value on a candidate's historical compensation.
Include benefits, work environment, and company culture details in your job posting.
Potential employees have different motivations and needs. Understanding your company's work environment and culture will help them evaluate the job fit beyond job tasks and responsibilities.
Highlight company benefits that speak to your company culture and showcase what's important to your workforce. Examples include paid time off, short and long-term disability leave, pregnancy/parental leave/adoption support, special veteran benefits, etc.
Diversity Impact: Each employee has different personal values and will need varying types of support depending on their personal situations, family structure, stage in life, or career. Including this content in your job posting or on your career website can help diverse groups of people see themselves within your company.
Experience – don't make too narrow or wide and allow for transferrable skills.
It's important to determine what experience and education are essential to perform the role, and what areas you can provide training for.
To allow flexibility in considering transferrable skills or related experience, list your experience requirement like this: Minimum of __ years of experience in _____ or related experience is required.
If your company uses some custom special secret software – don't list it! Think instead about the foundational experience, like what type of coding language or similar software experience would help them learn your system quickly.
Diversity Impact: We all traveled a different career path. Building your team with a diverse set of personalities, backgrounds, and experiences will enable you to capture insights you may be missing in order to adapt and thrive in the future.
Allow for flexible qualifications by considering a combination of education and experience.
We traditionally list a level of education required to be "qualified" for a role. Do you consider work experience comparable to education? What about certifications?
By allowing a combination of education and experience, you enable candidates with varied career paths to qualify for consideration. To allow flexibility in educational background, list your education requirement like this: Bachelor's Degree in ______ or a related field. Or an equivalent combination of education and experience is required.
Diversity Impact: By allowing a combination of education and experience, you open the door for more diversity in your applicant pool. Not everyone can afford or will choose a traditional college experience. Depending on the candidate, they may have more or less education, including certifications, degrees, or even on the job training.
The depth and length of a candidate's experience are equally important.
Instead of looking solely at the number of years someone has done a job, seek to understand the depth of experience held within those years. Be careful not to overstate the number of years required to qualify for your job.
Instead, focus on the depth of meaningful experience you are seeking through interviews or skills assessments.
Diversity Impact: Don't exclude younger candidates, those moving to a new field/industry, or those who are "overqualified", instead take time to evaluate and understand their experience.
Limit the use of preferred qualifications and the number of knowledge/skills/abilities (KSA).
Often managers build a wishlist of the ultimate candidate in their mind. We call this the purple unicorn syndrome. Candidates often share that they think their application will be passed over if they don't meet ALL qualifications. Therefore they didn't apply.
Only list the required minimum qualifications and eliminate all the other noise. You can give extra credit to candidates with preferred qualifications during the evaluation process.
Diversity Impact: Candidates self-evaluate in different ways. For example, many women will not apply for a role unless they feel 100% qualified (see chart below). Candidates may also avoid applying if the qualifications are unclear.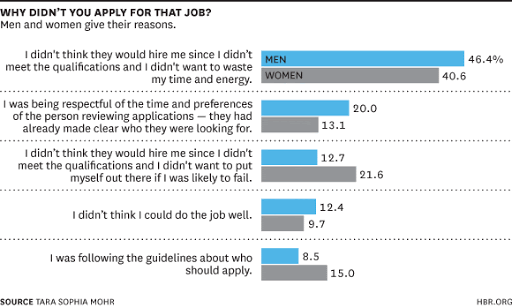 Why Women Don't Apply for Jobs Unless They're 100% Qualified from Harvard Business Review
Don't miss out
When striving to attract a diverse applicant pool, be careful and thoughtful about what you include in your job postings. Include your salary range in your job posting to save time and make better matches.
Talk about your benefits, culture, and work environment to help everyone see how they can find a place in your company. Don't exclude people with different work history, industry experience, or educational backgrounds.
Instead, allow flexibility in your experience qualifications (options to accept transferrable skills and related experience) and accept a combination of experience and education. Don't assume years of experience equate with a depth of experience. Only list the absolute minimum qualifications for your role to allow for a diverse group of candidates to apply and be considered.
These recommendations will open your application to a more diverse applicant pool. Diversity hiring matters. A more diverse hiring practice will bring unique perspectives and strengthen your teams, so don't miss out.
After all, building the right team will make or break your company.
---
Authors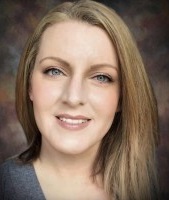 Shandi Carton is the Talent Acquisition Supervisor for Black Hills Energy. She is a talent acquisition professional who partners with hiring managers, organizations, and candidates to help them connect in a more genuine way.  With 14 years of experience in talent acquisition and business leadership, she has helped make thousands of successful hires. Shandi is passionate about diversity, inclusion, and belonging initiatives and has helped organizations develop or improve their diversity and employer brand attraction programs. She has a depth of recruiting experience including staffing agency, high volume, specialized industries, federal contractor, and corporate environments. Shandi holds a bachelor's degree from Ashford University, double majoring in organizational management and business information systems. She also holds several certifications including the Senior Professional in Human Resources (SPHR), Certified Diversity Recruiter (CDR), and Lean Six Sigma.
Recruit Smarter
Weekly news and industry insights delivered straight to your inbox.