"Only one thing counts in this life: Get them to sign on the line which is dotted. You hear me? … A-B-C. A-Always, B-Be, C-Closing. Always be closing. ALWAYS BE CLOSING.

A-I-D-A. Attention, Interest, Decision, Action. Attention – Do I have you attention?

Interest – Are you interested? I know you are, because it's f#@% or walk. You close or you hit the bricks."

David Mamet, Glengarry Glenn Ross
One of the most quoted cult classics of all time, the 1992 adaptation of the David Mamet stage play Glengarry Glenn Ross remains relevant, even after all these years.
The film not only helped propel Alec Baldwin to fame (for better or for worse), but it forever solidified the archetype of the overly pushy, overly aggressive sales guy willing to stop at nothing to win a deal.
Always. Be. Closing.
Makes sense, if you're trying to sell a commodity like peanuts, whiffle balls or widgets, for all of you B-Schoolers out there. In fact, if you're selling anything that can be commoditized, I definitely support the philosophy that the sale is the ends, justified by any means necessary.
But if you're "selling" jobs, placing a premium on the process or product instead of the people who matter most is just wrong. If you think jobs are commodities, think again. And if you think that "always be closing" is always a great approach for building and nurturing nascent relationships, you probably suck at recruiting. Just saying.
Ask any successful recruiting or staffing professional out there, and they'll tell you the fundamental fact that even though we're more or less selling jobs, we have a responsibility to make sure that we're not doing anything to close a deal, that we're looking to make the best match instead of simply put another butt in another seat.
Contrary to popular belief, any realtor, car salesman or contingency recruiter will agree that social selling, the ultimate act of transforming a new relationship into a meaningful connection that's mutually beneficent, doesn't happen overnight.
Putting too much emphasis on the close instead of the conversation, on the deal instead of the discussion, on building business instead of building relationships, can be a fatal error for any recruiting professional out there. In this business, it's not about finishing a conversation – it's all about starting one. [Don't tell Alec.]
The Medium Is Not the Recruiting Message.
There are a million potential sources of hire out there, and it's never a good idea to neglect any of the proliferating platforms out there where your next great hire may be hanging out.
From LinkedIn to Facebook, Twitter to GitHub, from emails and referrals to old fashioned cold calling, all of these platforms share one core commonality: they're all social channels.
And you'd be hard pressed to find any recruiter, candidate or hiring manager who can point to one channel exclusively; instead, employers must be ready on multiple fronts to ensure that they're getting the right message across to top talent, irrespective of the medium. But making sure that the right person hears the right message at the right time is more about getting noticed, or even getting heard. It's about more than having the right talking points or recruitment marketing.
It's easy, and natural, for employers to want to talk about themselves when it comes to recruiting, to come up with a carefully massaged and carefully managed message, but the thing is we have to understand that our candidates, not our recruiters, control this conversation. So to really get any value out of all these social channels, it's important for recruiters to start by shutting up and actually listening for a change.
Ask not what the candidate can do for you, but what your company can do for the candidate.
Listen. Understand. Engage.
LinkedIn recently unveiled its Social Selling Index [SSI], which the "professional network" (ahem) touts as a sort of indicator of the relative health of our online connections, touting its ability to "tap into the power of the LinkedIn network to help Sales professionals to establish and grow relationships with prospects and customers."
LinkedIn, clearly, is letting sales guys and staffing pros completely bypass that whole "professional networking" thing and figure out who actually has the influence within an organization, and who's not worth even picking up the phone for.
You can even think of it as a kind of Klout score for sales and recruiting professionals (and the math is about as asinine and inaccurate, too).
The real reason for this kind of tool, and something that recruiters should have been doing well before LinkedIn built it into a product it could sell (but shouldn't have to) is that while most of us in recruiting put an emphasis on conversions, we should instead be focusing on conversations, instead.
Get that right, and the rest becomes pretty easy. Promise.
This brings us to the pretty obvious, but pretty hard to answer, question of how, exactly, you start (or join) a relevant recruiting related conversation. Or if you even should, for that matter. Here are a few ways that I think recruiters can engage on social channels to return the value to the candidates from whom they're hoping to extract it from – an exchange that serves as the basis for all online engagement.
Validate
Share
Contribute
Challenge
Let's break these four basic precepts down and see how each of these parts must add up to make the recruiting math make sense – and make sure that value exchange between company and candidate is actually equal, online or otherwise. Remember, anyone can blast job postings. But it's far harder – but infinitely more meaningful – to build meaningful relationships.
Validate: Validation is the low hanging fruit of engagement, an easy strategy that takes little investment or effort on behalf of employers or candidates, and therefore, produces the lowest form of ROI. Some examples of validation include liking or favoriting a piece of content your audience posts, showing you're watching even if you're not necessarily engaging. That way they'll know you're there – this is the digital equivalent of waving back at that person after you cut them off in traffic.
Sorry, not sorry.
Share: Sharing is caring, but it's also very easy. All you have to do is know what your audience is interested in, and help retweet, share or repost anything you think your network might find valuable. It's a great way to start conversations, showcase subject matter expertise and prove to your network that you're someone who actually wants to do more than tweet open jobs through a bot or tweet aphorisms during career themed Twitter chats.
Even if you might not think it's a big deal, the online endorsement inherent to content sharing is actually a big deal, a vote of confidence that you're all about sharing the love and adding value instead of simply extracting it.
Contribute: This is the part where your engagement noodle really starts to bake (or something like that). But if you've been listening into the conversation and know your audience, it's time to kick it up a notch by adding your own perspective – and voice – to the conversation.
If you find enough value in someone's work to share, and can add your own perspective on how a particular topic affects you (personally or professionally) instead of simply sharing information, chances are your followers and friends are not only going to find value in the content, but the context you provide for how you relate to that content. This isn't only "joining the conversation" – it's actually advancing it.
And that's really what all this is all about.
Challenge: It's appropriate that the highest value form of engagement is also the hardest, more than living up to its name. But if you're ready, if you've already shared, commented and added your own insights and expertise, the only thing left to do is to actually provoke the conversation, posing valuable questions and offering up differing opinions and diverging points of view, even if it's just for the sake of the discussion. It's not easy, but it's also the most valuable form of engagement there is.
And no, you don't have to be the Matt Charney of software engineering to get responses from developers. But it doesn't hurt to go beyond the buzzwords and dive into what really compels them to code. Word to the wise: it might not hurt to brush up on those Star Wars references, either. May the Force Be With You.
Social Recruiting: Success isn't Conversions, It's Conversations.
I recently conducted a study across multiple social platforms, but instead of focusing on traditional transactional metrics like conversion, I instead focused on the outcomes driven by conversation, in an attempt to find quantitative data that supports the recruiting ROI of conversations, data that's all too often qualitative (and anecdotal) at best.
My study found that focusing on conversation – what's commonly referred to in recruiting as engagement – instead of conversion yielded over 54% more responses with qualified candidates across channels.
These online interactions, largely, focused on driving sustained, meaningful interactions, instead of sharing job related information or employer branding related material.
Intent matters when trying to engage an audience. When your intention is conversation, you'll understand why "social" is more than a buzzword – it's a mindset. And you've got to give to get. Nowhere is this evident than in another recent report from Software Advice, which surveyed candidates on which channels they'd be open to receiving recruiting related messaging.
The majority of respondents, turns out, don't want anything to do with recruiters on Facebook or Twitter; they don't even want to be approached, according to the survey, by more old fashioned strategies like phone calls or e-mails.
While that might sound a bit weird, and I have my own theories as to the illusion of making a prospective candidate feel like they're in control while steering them towards an opportunity, but it really comes down to the fact that it's not always that an opportunity might not be right, it just might not always be right now.
Many candidates who would otherwise welcome a conversation simply want a heads up – and at least that illusion of having control over your process. Nothing undermines that relationship quite like catching them off guard.
That's why you've got to make sure your timing always remains on point. This can be a big challenge for recruiters. But most candidates will respond to the right messaging, provided it's on their time, not yours – and the right timing almost always depends on the right candidate's time table. What's not going to keep a candidate warm is vomiting jobs from some RSS feed into your social stream, without any human intervention.
This is basically the social version of spray and pray, and if you're relying on this to build engagement, expect those prayers to go completely unanswered. Because no one pays attention to those crappy anti-social "social media" trolls, anyways.
Do you have a go-to method or trick of the trade for starting or engaging candidates in meaningful conversations? Please weigh in below, and let the shop talk (and hijinks) ensue. 
About the Author: Bryan Chaney is a global talent sourcing and attraction strategist. He's worked at IBM, Twilio and currently leads employment brand for corporate recruitment at Indeed. Bryan has worked in recruitment, technology, and marketing, providing him insights into the marketing of hiring, the importance of technology and the buying process that candidates make when applying for jobs.
He's an international speaker and trainer on the topic of recruitment and talent branding and loves to travel. The Huffington Post recently named him one of the Top 100 Most Social HR Experts on Twitter. That and FiveBucks will get him a delicious cuppa coffee.
Follow Bryan on Twitter @BryanChaney or connect with him on LinkedIn.
---
---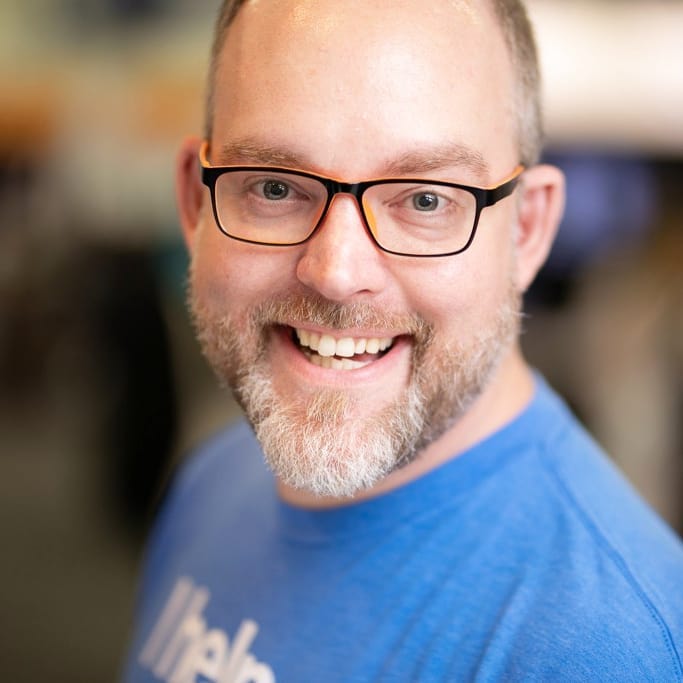 Bryan Chaney is a global talent sourcing and attraction strategist. He's worked at IBM and Twilio and currently leads employment brand for corporate recruitment at Indeed. Bryan has worked in recruitment, technology, and marketing, providing him insights into the marketing of hiring, the importance of technology and the buying process that candidates make when applying for jobs. Bryan is a co-founder of the Talent Brand Alliance and can be found on Indeed Resume and Twitter.
Recruit Smarter
Weekly news and industry insights delivered straight to your inbox.