5 Tenets of Successful High-Volume Recruiting
High-volume recruitment presents a completely different set of challenges from those found in traditional corporate recruiting. While the roles traditionally require fewer prerequisites, you're dealing with a significantly higher volume of candidates that are typically less responsive.
A different set of challenges requires a different approach. Attracting qualified candidates while simultaneously screening and searching through hundreds of applications is tedious and time-consuming. Once you do have these candidates in your funnel, the ways in which you screen and evaluate them requires the ability to work quickly and efficiently.
A successful high-volume recruiting process has many characteristics. I've included 5 key tenets to help you establish an effective high-volume hiring process:
Eliminate barriers to entry
The first challenge that high-volume recruiters experience is a lack of applicants. If you're staffing for many positions, across a variety of locations, not having people in your pipeline will require you to spend more time on sourcing. The more time you spend sourcing, the greater your cost-per-applicant becomes.
The easiest way to increase the number of applicants in your funnel is to eliminate unnecessary barriers preventing or deterring them from applying. Shorter applications (1-5 minutes) have a 12.47% completion rate, compared to a 6.97% completion rate for longer applications (6-15 minutes). Try to avoid too much jargon, and only include critical information.
Before posting a job description and application form, ask yourself what the absolute must-haves for the role are. If you find yourself including other qualifiers that aren't dealbreakers, don't include them. Any lingering questions beyond the must-haves can be addressed later in the interview process. The most important factor is getting these people into your pipeline.
Take a mobile-first approach
Email has traditionally been the primary form of communication between recruiters and candidates, but times are changing. Individuals are becoming more and more comfortable having companies communicate with them via text. Utilizing text messaging as a primary source of communication with your candidates is crucial for any successful high-volume hiring process.
When dealing with such a high volume of applicants, you don't have extra time to try to get their attention. Emails have anywhere between a 15-20% open rate, while text messages have a 98-99% open rate. You can almost be certain when you text someone, they will see it at some point.
A few other key statistics about job seekers from our recent survey:
57% of applicants apply to jobs via their mobile devices
52.3% said lack of follow-up was one of the most annoying things about the application process.
52.3% prefer a phone call to let them know they've made it to the interview stage
Add video interviews to your process
In a Covid world, video interviews are gaining increased popularity. Prior to COVID, there was a stigma associated with video interviews. Many recruiters reported that applicant conversion rates were much lower when applicants were asked to submit a pre-recorded video at the start of the recruitment process.
Those times are gone. Candidates and companies alike are buying into the new norm, as there has been a 67% spike in video interviews conducted on the Fountain platform and a 150% increase in candidates wanting to digitize their CV via a pre-recorded video.
If you were to get on the phone with a candidate who identified themselves as an under-qualified candidate within the first 3-4 minutes, what would you do? You'd likely spend the full 15 minutes allotted to speak with them as a courtesy. Alternatively, if your first step was to evaluate a group of pre-recorded video interviews, you would be able to get through 3 candidates in that same amount of time.
Give the candidate more control
High-volume recruiters have at least 10x more roles than corporate recruiters on average. They don't have nearly as much time to make decisions and weigh candidate feedback. This requires the ability to work at an expedited pace.
There can be many stages in a candidate's journey. Application, interview, assessment, document upload, background checks, etc. As a recruiter, you need to have a set process that allows you to navigate these stages in your workflow in a quick, repeatable, and scalable manner.
A key workflow that high-volume recruiters can implement immediately to accelerate their recruiting is allowing applicants to schedule their own interviews. Going back and forth with an individual via email is time-consuming at scale. Eliminating this step will increase the total number of candidates you can manage in your pipeline.
It's important to note that you should have limits to when a candidate can book time on your calendar. Set the parameters so they have to schedule within a 5-7 day window. This will help you decrease the amount of time each candidate spends in your pipeline.
Lean into workflow automation
The distinctions in workflows are a big reason why a traditional ATS just doesn't work for high-volume recruiting. You need a system that allows for a high level of automation if you're going to evaluate your candidate pools effectively.
You can't allow automation to come at the expense of the candidate experience, however. There has to be a healthy balance, and you need to identify which stages can be automated. Candidate screening and feedback is a step that can't be automated, but a "thank you" email after applying can be. There are enough candidate touchpoints in a candidate's lifecycle (at least 5 within the first 48 hours) that some can be automated.
Successfully personalizing messaging and communication at scale is difficult, but a necessary component if you are to successfully scale your recruiting.
---
Authors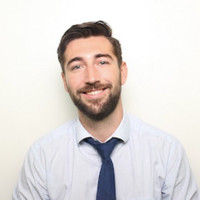 Tyler is the Content Marketing Manager at Fountain, a high-volume hiring platform for the global workforce. Prior to Fountain, Tyler worked at Betts Recruiting as an Account Manager and Recruiter, managing client relationships and placing sales professionals in full-time roles at innovative SaaS companies. He holds a B.A. in Psychology from the University of California Santa Barbara.
Recruit Smarter
Weekly news and industry insights delivered straight to your inbox.