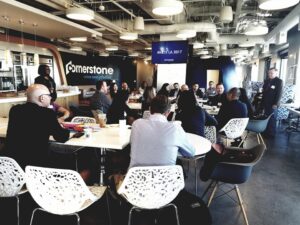 Let's start with a confession: I'm not actually a recruiter.
You may gasp (GASP!) at this, because if you've seen my byline at all — here or elsewhere — I write about recruiting topics a lot. But aside from helping my friends hire for a charter school once a few years back, I've never actually been a recruiter.
Here's what I do have, though:
A Masters degree in Organizational Development (OD);
A lot of research and interviews with recruiters and recruiting leads under my belt: and,
A true belief/passion that what you (recruiters) do is incredibly important work on both sides. You make companies better when it's done right, and you make candidates more viable in their career arc and ability to live the life they want.
It's everything.
Sometimes, things get overwhelming
But it also moves really fast. Technology is playing chess to our checkers in some respects, and new suites and ideas are coming out every day. So, you need to stay on top of that.
Plus:
There's also new research.
There's also new "best practices," which can be tweaked and applied to what you do and what niche you recruit in.
Then there's the fire drills that happen at every job.
You still need to manage relationships with hiring managers — and with your bosses.
There are quotas.
There's also training and professional development.
And, most of you have families and other commitments.
In short, it gets overwhelming.
I know and I understand. My own life gets overwhelming and what I do — predominantly writing about what you do — isn't even as challenging as what you do. But in dozens of interviews, I know that the recruiting function is pulled towards more more more (do that) while there's still concerns about what what what (is going to happen as tech continues its ascent).
I have a small solution for you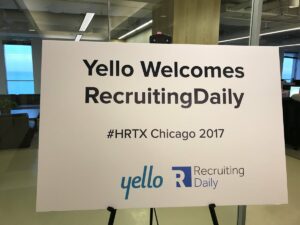 I started doing some work with RecruitingDaily over the summer. In November, I had the chance to attend one of their #HRTX events in Chicago. It was only the third time I'd ever been to Chicago, and for some reason, one of the other times was in January, so it was nice right on face.
The event was hosted at Yello and I got to meet a few execs and employees there and talk to them about their client base, their business model, how they see the industry, and all of that. It was very informative, but off the record in parts. They also had wine and Pop-A-Shot, so that's all good too.
The format of #HRTX is going to change a little bit in 2018, but it's still rooted in opportunities for a great discussion about various aspects of sourcing and recruiting, such as:
Diversity
College
Referrals
Candidate experience
Tech/tools/platforms
Case studies
Best practices
It's incredibly interesting to attend #HRTX, and there are typically 8-10 vendors there as well. You don't have to meet with everyone, but you CAN find different snippets of the solutions they offer and see what your decision-makers think.
In a way, it's like one-stop shopping for both physical resources and new ideas and approaches. And you get slightly-more-than-half-day out of the office (these events usually start at 8-9 am and run until 1-2 pm), and you chop it all up among people facing the same stresses and challenges who are looking for the same wins as you are.
Now again, I'm not a recruiter, but in Chicago I talked to probably 12-15 recruiters throughout the day — and all of them called it a worthwhile event for these reasons:
You get lots of practical advice.
You see what vendors are out there, and some of them are ones that people may not have heard of.
There's a lot of mingling with like-minded folks facing the same challenges.
It's a little time to step away from the standard rat race for a few hours.
And most importantly, you get insights that help you to stretch and grow as a recruiter.
Oh, you're a vendor and reading this?
Well, you probably know what "shelfware" is, right? It's when someone buys your software product — so cool, you just made some money — but they don't use it at all because they can't adopt it properly, so you probably just lost a renewal. "Shelfware"  annual recurring revenue, and your bosses quite likely care deeply about annual renewing revenue.
Now, what's the biggest reason "software" turns to "shelfware?" It's right above: adoption problems.
This is where #HRTX events help vendors.
You see, in a standard selling model you go right to the decision-maker. That makes sense in terms of a shorter sales cycle, and you want to talk to the person who can write the check. We all have been there.
But oftentimes the decision-maker won't be using the product or suite day in and day out.
So another selling model is to start with those who will be using it, i.e. the recruiters, and convince them of the value and functionalities it has.
When they present it up through their management hierarchy, adoption is more logical post-purchase. The recruiters know their existing systems and know what will fit into those.
And here's the big kicker: #HRTX events have both decision-makers/check-writers, AND day-to-day sourcers and recruiters in attendance.
So, you get both audiences. Pretty nice, right?
Here's why we evolved #HRTX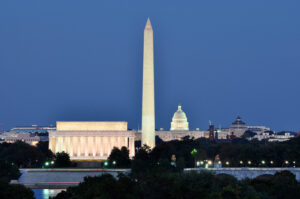 If we want to be serious about a place recruiters need to be coming for must-have news, tips, ideas, ways to approach problems, case studies, etc., we need to make sure we had a strong "IRL" (in real life) component in different cities.
We love sharing content on channels and platforms, but we also know — see above — that days are short, you're busy, there's real work to be done, and your attention span is limited. You might miss some of our best stuff. That's not your fault.
But IRL interactions allow you to learn and grow from other people just like you. We thought that was a powerful space for us to do more with.
So, come on out and see the value. We'll have probably 8-12 of these #HRTX events them this year. The first is in Washington, D.C. (well, Arlington, VA. but right across the river) on February 8. Here's how to sign up, and we hope to see you in Washington or in one of the other cities we'll be at this year.
Thursday, February 8, 2018 (9 AM – 2 PM EST)
Click here for more information and to sign up.
---
Authors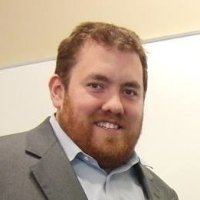 Originally from New York City, Ted Bauer currently lives in Fort Worth, Texas. He's a writer and editor for RecruitingDaily who focuses on leadership, management, HR, recruiting, marketing, and the future of work. His popular blog, The Context of Things, has a simple premise -- how to improve work. Ted has a Bachelors in Psychology from Georgetown and a Masters in Organizational Development from the University of Minnesota. In addition to various blogging and ghost-writing gigs, he's also worked for brands such as McKesson, PBS, ESPN, and more. You can follow Ted on Twitter @tedbauer2003, connect with him on LinkedIn, or reach him on email at [email protected]
Recruit Smarter
Weekly news and industry insights delivered straight to your inbox.