Can definitely argue that we probably discuss the differences between generations too much, and it's also not exactly rocket science that Boomers and millennials would want different things out of the workplace, especially because they're about 35 years apart in age. Still, though, we love us some data on what millennials want out of everything, and here's some new stuff from Indeed.
The set-up: The Indeed data science team analyzed data from Indeed's 72 million ratings and reviews to find out the top-rated companies for millennials. Then we're going to ask the big old "Why?"
The list
Here you go: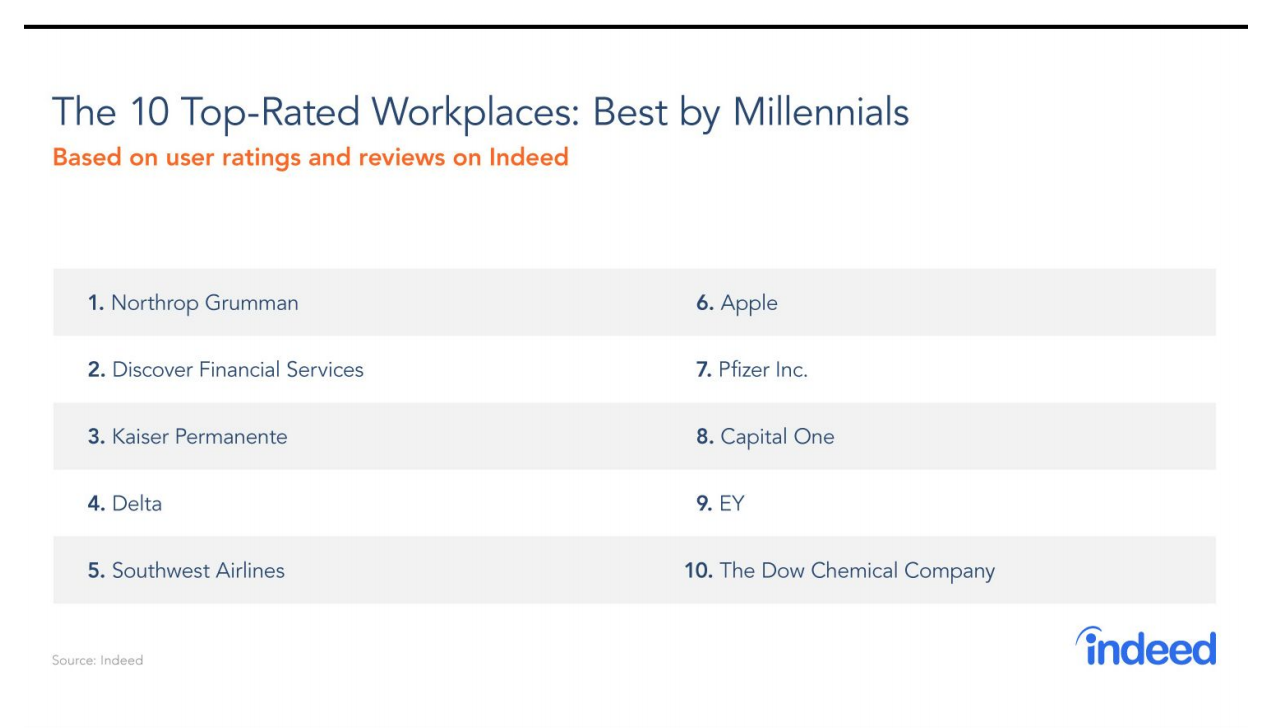 You can find a deeper list here.
How is Northrop Grumman No. 1? Shouldn't it be a "sexier" company?
Despite the cliche that millennials only want to work at tech companies and startups, the list of top-rated workplaces by members of this age group includes a broad range of industries—including security, finance, healthcare, tech, travel and chemicals. In fact, the top three firms represented the fields of global security, finance and healthcare, and only one of the top ten is in the tech arena (Apple at No. 6). 
Here we go with the broader assumptions again, though:
Millennials feel increasingly disillusioned with businesses—less than half of millennials in 2018 believe that businesses behave ethically and are committed to helping improve society, down from almost two thirds in 2017, according to a recent Deloitte study.
The same study found that the vast majority (83%) of millennials think that a company's success should be measured beyond just their financial performance—it is important to millennials that business leaders be proactive about making a positive impact on society.
So does the top three start making sense more now?
Northrop Grumman supports STEM education by providing financial and educational resources to help schools meet their education needs. They also support programs for troops and veterans, health and human services and the environment and natural disaster response.
Number two, Discover Financial services, has a Discover Cares program, which supports and encourages volunteering at programs like Big Brothers Big Sisters and Boys and Girls Club.
Third place Kaiser Permanente has given back to vulnerable populations, such as providing assistance to victims after the 2010 earthquake in Haiti. The company donated money to provide a new fully furnished office building for Haiti's Ministry of Public Health and Population, and Kaiser Permanente physicians and nurses trained in disaster relief immediately departed to Haiti following the earthquake to assist aid organizations.
Purpose over profit?
For now, yes. But remember — these millennials in 10-15 years will have a mortgage, multiple children, and responsibilities around their aging parents. (Not all will, of course, but many.) Their connection to work will be significantly different, as will (admittedly) all of our connections to work because of the rapid scale we're seeing around automation. But at this moment in time, maybe check your narrative on "Millennials want cool tech-y jobs with pool tables" and just be a good, mission-centric company that pays fairly. It can work.
---
Authors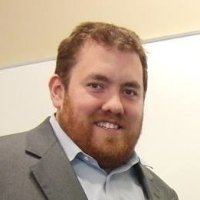 Originally from New York City, Ted Bauer currently lives in Fort Worth, Texas. He's a writer and editor for RecruitingDaily who focuses on leadership, management, HR, recruiting, marketing, and the future of work. His popular blog, The Context of Things, has a simple premise -- how to improve work. Ted has a Bachelors in Psychology from Georgetown and a Masters in Organizational Development from the University of Minnesota. In addition to various blogging and ghost-writing gigs, he's also worked for brands such as McKesson, PBS, ESPN, and more. You can follow Ted on Twitter @tedbauer2003, connect with him on LinkedIn, or reach him on email at [email protected]
Recruit Smarter
Weekly news and industry insights delivered straight to your inbox.