Artificial Intelligence, robotics process automation (RPA) and machine learning are changing the face of HR bringing cognitive technologies that will transform the candidate experience and leverage talent acquisition efficiency and effectiveness.
Executives expect cognitive technologies to transform their companies and change the face of HR with technology that can reduce error biases, better predictions, discover patterns and augment or replace human judgment in talent acquisition processes to attract top talent. According to 2017 Deloitte State of Cognitive Survey, "Eighty-three percent of respondents said their companies have already achieved either moderate or substantial benefits from their work with these technologies".
With revenues from AI expected to reach $59.8 billion by 2025, according to a report by Tractica, this task-reducing technology can and will make changes in the hiring and recruiting practices in the near future. For instance, RPA can automate repetitive, rules-based processes usually performed by people sitting in front of computers. By interacting with applications just as humans would, software robots can open email attachments, complete e-forms, record and re-key data, and perform other tasks that mimic human action
According to Forrester, 47% percent of executives surveyed believe that by 2020, digital will have an impact on more than half their sales. We see how digital has transformed healthcare, retail, transportation, and security. Now HR in on the stage: could the AI talent acquisition bots be the new business partners?
AI Talent Acquisition transformation
There are many artificial intelligence companies that are taking the lead in this process providing solutions that would help talent acquisition for sourcing (Textio), interviewing (MontageTalent), onboarding (Talla), coaching (mobile Coach), social recognition (growBot), and assessments (Hirevue).
AI is already enhancing talent acquisition, giving support in resume screening, candidate sourcing, ATS mining, while reducing "unconscious bias" in the selection process. Chatbots are interacting with candidates, answering FAQ's about the position, asking screening questions about qualifications, interviewing and scheduling pre-interviews, via email, text message and social media. According to Leanne Wong, MC Partners –"behavioral and situational interview assessments will leverage AI and predictive analytics to capture both quantitative and qualitative data to ensure the right match". Industry experts estimate 100% of sourcing and screening phases can be automated.
However, chatbots are not designed to replace Humans. Instead, a key contribution of chatbots is the ability to process multiple data sources (including your ATS system) to find and assess candidates' qualifications, make recommendations and provide shortlist potential candidates that fit best for the role. This is a great advantage since it allows to speed-up activities, create consistency and effectiveness in talent acquisition.
According to Sjoerd Gehring, VP Talent Acquisition & Employee Experience Johnson & Johnson, the company uses data science to improve their talent pipeline. "Textio helps recruiting teams to write better job descriptions with very actionable and tangible data". Unilever is using HireVue to find top talent faster with video Intelligence and machine learning. Inc is using X.AI to schedule meetings smarter and faster.
Another example that caught my attention was the Virtual Reality (VR) experience that the British Army is using as a recruitment tool. Designed by Visualise, and tested on the Samsung Gear VR headset, this cutting-edge approach gave a 66% boost to their recruitment applications. VR is a powerful recruiting tool that will allow organizations to fully immerse potential candidates into some real-life work situations, communicate their culture, projects but also offer them virtual tours of their offices, and get them to experience on how is to work for your company. This way, it's easier for candidates to realize whether they fit themselves working in such an environment.
However, there are some challenges that AI brings to HR Teams to name a few, HR re-organization, skills assessment, job losses and change management. This new journey for HR involves to assess current capabilities and create a plan that embraces artificial intelligence in HR transaction work to let talent acquisition teams and other HR functions to deliver faster solutions using technology to create sustainable value.
HR AI: Creating the business case
AI implies to make an investment and assess team skills, job design, processes, and HR capability to design and implement AI HR strategy. This technology is expensive and may need to create the right partnerships across your organization to convince your CEO and C-Suite executive to make an investment in HR instead of marketing (to improve customer relations) or operations (to improve operational excellence). However, I think there is an opportunity within the HR profession to build the business case and assess what are the impacts and potential efficiencies — and therefore cost savings — in the long run, and how they are linked to business strategy.
Furthermore, the idea of technology can be intimidating for people and perhaps some organizations. Hence a so a clear change management strategy and communication are critical pillars to align the organization and engage stakeholders. This transformation involves to focus on reskilling people, assess structure, work, and workplace. CHROs and senior HR leaders to create the HR framework to consider all the aspects described above to implement an HR strategy supported by AI technologies
Bottom line is that HR is changing with AI technology that can deliver and enhance better candidate and employee experience. Recruitment practices will need to be redesign to define the role of the bots and talent specialists.  AI is not our enemy it is our "buddy" and will make our work easier and faster while also helping HR to make better decisions and achieve results faster. Keep in mind that we are not replacing the "Human Component" in HR, HR is adapting to this 4th industrial revolution where customers, clients, and candidates are connection 24/7.
How do you feel about using AI and VR recruitment chatbots?
---
Authors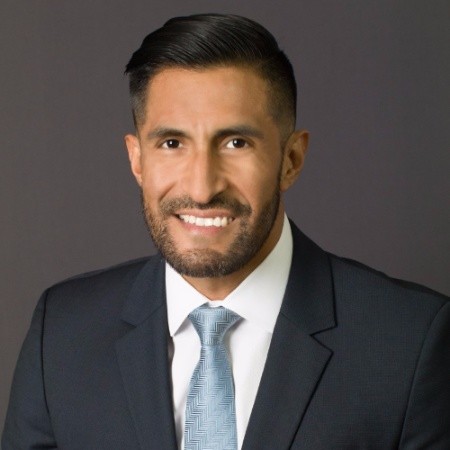 Alberto Loyola is CEO and Managing Partner of Global Talent Partner, a talent and organization consulting firm. He consults globally and serves as a trusted advisor to executives to assess leadership development, talent, corporate culture, HR technology and the future of work to achieve their mission and organizational agility Alberto has led Talent & HR transformation projects in North America, Latin America, EMEA and Asia-Pacific and helps leaders to transform organizations and implement a talent value proposition that drives performance and long-term value. Alberto speaks and publishes widely on trends in people strategy, HR artificial intelligence and the future of work through different media players. He has been featured on SHRM People + Strategy, Thomson Reuters, CactusSoft, HR.com, America Economia and Semana Economica. Follow him on Twitter @AlbertoLoyolaM or connect with him on LinkedIn.
Recruit Smarter
Weekly news and industry insights delivered straight to your inbox.