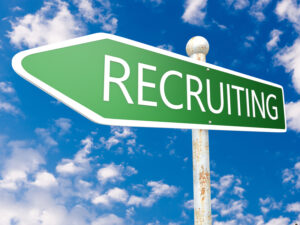 We've had two #HRTX events this year — one at Brazen's offices in Arlington, VA and one in Dallas, TX sponsored by the good people at Monster — and look, let's begin with the positive here.
There has been a ton of great insights and conversations, and all of it very good.
But, here's something that needs a little more discussion: If you've been in the talent acquisition/recruiting space for a while and have attended conferences for some time, why does it seem like the same problems persist year-after-year?
For example, why is candidate experience not improving drastically when you consider all the solutions and software suites on the market geared towards it? Why are we closer to a "war ON talent" rather than a "war FOR talent?"
Why aren't the problems getting better at scale?
"We've always done it that way"
These are some of the most fatal words in business, and probably the largest reason why it takes certain concepts a while to phase/age out, even if most people executing on those concepts know they're not working.
Change is hard. It's maybe not as hard as we assume it to be, but it's really difficult for a lot of people.
Consider the challenges of the individual level around change. Now consider an organization with even 1,000 people — which isn't really that big — where it's much harder to get 1,000 people with different priorities and commitments marching in the same direction.
Sometimes, the status quo is desirable.
TA being housed within HR
This is a problem at some level. Although the perception is changing gradually with concepts like People Analytics and more forward-thinking HR leaders, most people currently running businesses came up in an era where HR:
(A) Didn't have any revenue responsibilities; and,
(B) Was largely focused on compliance.
This is the crux of the "HR doesn't have a seat at the table" discussion. "The table," in that context, is about things that make money — and HR doesn't generate any revenue. Because talent acquisition resides in HR, effective changes to TA fall by the wayside because true decision-makers need to rush to other meetings more directly about financials.
Not enough collaboration across solutions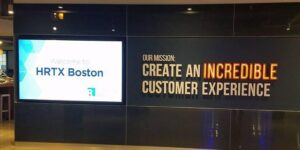 In a nutshell, this is why we created HRTX. People in recruiting and Talent Acquisition need to be talking to each other in real life, not just on LinkedIn or Facebook.
By some measure, face-to-face communication is 34x more powerful than digital communication. That was the design: share challenges, discuss, propose solutions, point colleagues towards solutions already in existence.
How software is being sold
We've had some great subject matter experts — you can also call them "vendors," yes — at HRTX events, and it's always fun to see how they position their solution within the market.
But we've also been to bigger trade shows and seen that many HR tech solutions get sold from either:
Relationship selling ("I'll take you out for drinks");
A list of product features.
Both approaches are noble and have been used in sales for decades, if not longer. So that's good. But what's lacking is a value-driven approach. In a value-driven approach, the road map looks like this:
You have this problem.
Here's how we solve it.
Let's continue to work on customizations and how to make this relationship successful.
When value-based selling declines, a lot of times software that could have been productive for a TA team becomes "shelf-ware," meaning they don't use it and don't incorporate it into their pre-existing workflows. This is a shame both for the TA team and the software company, as it's doubtful they'll get a renewal on that deal.
We need to navigate to a place of value-driven selling, not simply a list of features.
Where the decision-makers reside
Even someone who owns TA in an organization may not be able to impact as much change immediately as they'd like, because of the "seat at the table" discussion mentioned above. It would be helpful for TA leaders to define their organizational value in bottom-line terms, potentially around:
People Analytics (data on people's ties to revenue generation and what a successful hire actually looks like);
Cost data on turnover and engagement;
Cost data on compliance failures; and,
Differences between A-Players and others in terms of productivity and output.
Many business leaders are admittedly still comfortable looking at presentations and spreadsheets and having someone explain that, "These numbers mean this." That isn't happening enough from the TA suite.
We need harder numbers in front of the main executives, so that they understand "Oh, OK, these correlate together in this way…" Then decisions will likely come faster.
What else would you add?
Do you think HR/recruiting/TA is changing faster than ever?
If so, let us know. And if not, what are some of your theories about "why not?"
Next up: #HRTX heads to Boston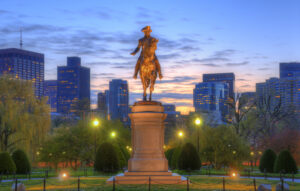 There are six (6) more #HRTX events this year, and our next #HRTX 2018 event will be in Boston at 9 am on Thursday April 12, 2018 at Bullhorn Inc..
In the world of talent acquisition, we understand better than most that time is a precious commodity. So, we invite you to join us for a morning full of learning next month in Boston, a morning that we know will be of immense value. We'll have you back in your office that afternoon so you can finish up your day with actionable experience.
In other words, it's worthwhile to attend — and you can tell your boss we said so.
If you're a recruiter, or know someone in Boston who is and within a reasonable travel distance, you definitely should consider joining us in April.
RecruitingDaily Presents: #HRTX Boston 2018
Where: Bullhorn, Inc., 100 Summer St, Boston, MA 02110
When: Thursday, April 12, 2018 at 9:00 am
To sign up: Click here for more information.
---
Authors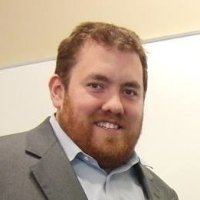 Originally from New York City, Ted Bauer currently lives in Fort Worth, Texas. He's a writer and editor for RecruitingDaily who focuses on leadership, management, HR, recruiting, marketing, and the future of work. His popular blog, The Context of Things, has a simple premise -- how to improve work. Ted has a Bachelors in Psychology from Georgetown and a Masters in Organizational Development from the University of Minnesota. In addition to various blogging and ghost-writing gigs, he's also worked for brands such as McKesson, PBS, ESPN, and more. You can follow Ted on Twitter @tedbauer2003, connect with him on LinkedIn, or reach him on email at [email protected]
Recruit Smarter
Weekly news and industry insights delivered straight to your inbox.