Executives at major companies have been promising to focus more on improving DE&I. Companies like Facebook have announced a new effort to increase the representation of people of color in leadership by 30% — in the next 5 years.
However, 6 years after the initial diversity reports began at tech giants like Alphabet, Apple, Facebook, Microsoft, and Twitter, little progress has been made.
In fact, Black tech professionals only accounted for 9% of core technology roles in the U.S. last year.
Many companies are trying to increase the percentage of Black employees in their workforce. However, a common perception that is hurting Black candidates' prospects is the misperception that Black employees tend to change jobs more frequently.
For example, a recent CTI shows that Black professionals are 30% more likely to leave a job as compared to non-Black employees, with more than a third intending to leave a company within two years. The study points to many factors, such as barriers for advancement at their jobs, limited access to senior leaders, and experience of prejudice in the workplace.
In our study, the claim that Black employees tend to "job hop" more often than non-Black employees was put to the test. We analyzed over 1 million profiles of software engineers as a case study because it is speculated that the sheer demand for engineers contributes to their ability to move to bigger, better, and higher paid positions.
After comparing the average tenure of Black employees to that of non-Black employees, it was found that Black engineers are actually very similar to non-Black engineers in their tendency to "job hop."
The table below shows the % of candidates from each group in each tenure category.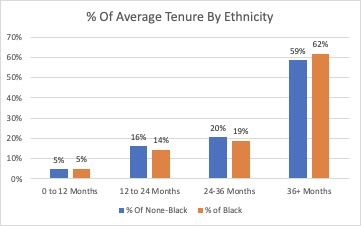 We found that both Black and non-Black engineers average 35 months in their tech jobs.
When looking deeper into the data, we also see that only 5% of both Black and non-Black software engineers are likely to leave a job before their first-year anniversary. However, there is a negligent difference between the two groups when looking at the likelihood to leave their jobs between 12 to 36 months on the job.
After 36 months on the job, 62% of Black employees are likely to leave their jobs compared to 59% of non-Black employees.
The research results suggest that companies need to pay more attention to Black engineers during their first 12-36 months of work in order to retain them.
Furthermore, to increase diversity and improve retention, tech companies must strive for better inclusion and appreciation of all employees. For example, companies need to look at their internal mobility.
Research shows that when employees see potential for promotion and advancement in their career working at their current company, they are more likely to stay.
HR leaders should also evaluate the participation of diverse talent in managerial roles.
Employees who see that the percentage of their racial group in managerial roles is similar to their representation in the total workforce, tend to feel more encouraged that they have an equal chance to be promoted to managerial roles.
Another way that HR leaders can increase representation in their workforce is by recruiting candidates in cities with a more diverse talent pool.
Many companies failing to fill and retain diverse talent have attributed their limited access to qualified and diverse talent on their location. Companies can more easily source great talent from anywhere with the benefit of remote work.
To explore this further, we performed a study identifying the percentage of Black software engineers in major US cities. While according to the data, only 4% of all computer programmers are Black, certain cities have more candidates for recruiters.
While the tech scene seems to be booming in cities like San Francisco, New York, Los Angeles, and Boston, they're home to a much smaller overall percentage of Black software engineers than other cities, with only 2% in San Francisco and New York, and a mere 1% in Los Angeles and Boston.
Companies that wish to increase representation of Black software engineers should capitalize on the current remote revolution and recruit in other cities. 
Our study shows that these cities are home to the highest number of Black software engineers. 
Atlanta, GA – 8%
Charlotte, NC – 5%
Dallas, TX – 4%
Detroit, MI – 3%
Raleigh, NC – 3%
In summary, Black engineers are loyal to their employers as much as non-Black engineers. In fact, our data indicates that a greater percentage of Black engineers actually tend to stay longer in their jobs.
The highest risk of losing engineers is between their first year to their 24th month of employment, so HR leaders should focus their efforts on improving the onboarding experience and showing appreciation to retain talent.
Once companies hire a remote employee, they should be extremely deliberate in the hiring process and maintain consistent communication of company culture and benefits to ensure these new employees feel included.
If companies cannot find enough qualified candidates in their location, they should leverage remote work options in cities where there is plenty of qualified and loyal talent. By widening your search to a remote workforce, companies can open the door to great hires. However, it is on the HR leaders to make sure these employees stay connected.
Remote work is here to stay, and companies need to start looking more strategically at how to change their recruiting strategies and fill more remote roles if they truly want to hire and retain more diverse talent.
---
Authors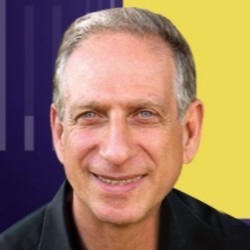 Gal Almog is the Co-Founder & CEO at Talenya, a world leader in talent sourcing solutions. Gal spent the last 20 years inventing AI-powered products that disrupted the recruitment technology market. Prior to founding Talenya, Gal founded PandoLogic, a world leader in recruitment advertising technology.  In 2021 he was named one of the 100 most influential thought leaders in the Talent Acquisition technology market, by the Association For Talent Acquisition Solutions.
Recruit Smarter
Weekly news and industry insights delivered straight to your inbox.