We talk a lot about the marketing and recruiting overlap in our industry, a discussion that's largely theoretical – like almost every trending topic in an industry desperately searching for professional validation.
If you're one of those talent practitioners still denying the fact that recruiting and marketing have become more or less indistinguishable need to face the facts:
     Almost all talent acquisition activity occurs online.
     The starting point for online consumers is almost unilaterally Google (or some sort of search engine)
     Career related results are returned in the same searches as consumer-facing keywords.
     The online behaviors of consumers and candidates are more or less indistinguishable. All consumers are potential candidates.
     Converting customers or candidates to a consumer or employer brand CTA depends almost entirely on user experience and interface.
     The purpose of marketing is to generate, develop and convert qualified leads.  The purpose of recruiting is to generate, develop an convert qualified hires.
Therefore, as the above high school geometry style theorem should prove, if you're hiring online, you're marketing online – and candidates, as online consumers of content, expect a consumer grade experience when making an online purchasing decision.
This phenomenon has created an increased focus on employer branding, talent communities, social media enablement and a bunch of other stuff that's all hiding the much more fundamental problem: even the world's best employer brand or compelling company culture can't fix a broken process.
And the biggest process problem in recruiting – and the most easily fixable one, from a marketing perspective – is simple: it takes way too long to turn passive visitors into active leads. Ultimately, a crappy user experience is the same as a crappy candidate experience, and both are bad news for your brand or bottom line.  The best online experiences are inexorably connected with ease of use and the value to time ratio any given online property provides.
If you think your application process cuts it, think again.   I got big data backing me up on this one.
Big Data, Big Problems: How The Candidate Experience Is Transforming HR Technology
The cool thing about a company with the scale and reach of CareerBuilder is that they can go beyond the buzzword and actually generate big data, with a customer and candidate base that looks pretty much mirrors the sweeping spread of the work behind finding people work.
In marketing terms, CareerBuilder reaches recruiting respondents who represent a pretty damn good focus group for market research.  In their most recent study, "How the Candidate Experience Is Transforming HR Technology," CareerBuilder asked hundreds of employers and job seekers about their perceptions on the application process.
The results reinforce the fact that fixing the funnel (not to mention candidate and employer experience) means plugging the gaping hole in the passive pipeline which represents every recruiting organization's greatest resource – and most crucial competitive advantage.
The real black hole isn't your applicant tracking system, it's your application process.
CareerBuilder found that 60% of candidates quit an application process because it took too long; compare this with 50% of employers who felt that having a rigorous application process effectively "weeds out" undesirable candidates.
This makes any marketer's head explode, because you've likely spent a ton of effort in building a strategy to drive a conversion, 60% of potentially qualified inbound leads are getting lost – and with 40% of employers reporting to paying more than $3000 a hire, that works out to a whole lot of blown opportunities.
The fact that recruiters actually think that having a cumbersome process that's overly complex and takes too long somehow is an effective screening device is simply inane.
Consider the types of leads that are coming in through job postings served up by search results – consumers who, since they're still not fully captured in your system, are unlikely to want to provide things like reference contact information and their social security number just to casually express their interest in a role.
If passive candidates truly command a premium, then there's no way top talent is going to spend their valuable time filling out page after page of unnecessary forms.  They've got jobs, after all – and if someone has an hour to devote to proving their commitment to simply applying for a job they found online, is that really the kind of candidate you want to talk to?
Candidate Experience: A Call To Action
From a marketing perspective, while the application process today is an awesome screening device, it's not the recruiters who are screening out potential candidates – in fact, their hubris is likely costing the candidates most likely to actually get hired.
Recruiters who think that candidates need them worse than they need candidates are ignoring both market realities and the fact that in a buyer's market, it takes more to sell a consumer than a bulleted list of minimum requirements and a career site with some crappy copy and some stock photos that can't hide the fact that you're technologically behind the times and are only now paying the price for that hubris.
The study's most shocking statistic? That one out of three employers hasn't even gone online and gone through their own application process.
Spoiler alert: it sucks.  But the good news is, it doesn't have to.
To learn more about how candidate experience is transforming HR Technology, click here for a full copy of CareerBuilder's latest study, along with the insights, observations and action items talent pros need to know in order to put the human back in Human Resources.
Disclaimer: Recruiting Daily was compensated by CareerBuilder for this post. But their data and action items are actually pretty priceless, so in this case, the facts and opinions contained herein do, in fact, represent those of the publisher. Because we're all about making candidate experience better, too.
---
---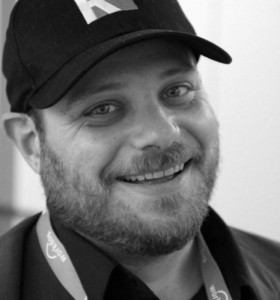 Matt serves as Chief Content Officer and Global Thought Leadership Head for Allegis Global Solutions and is a partner for RecruitingDaily the industry leading online publication for Recruiting and HR Tech. With a unique background that includes HR, blogging and social media, Matt Charney is a key influencer in recruiting and a self-described "kick-butt marketing and communications professional."
Recruit Smarter
Weekly news and industry insights delivered straight to your inbox.