"In '99, the homeys goin' drop to the number 1, wid ya gun, so run, run, run run."

– Bone Thugs & Harmony, East 1999
It's hard to believe, but online recruiting was relatively nascent back in 1999, that seminal year when Y2K, stained blue dresses and Slim Shady were dominating the popular culture landscape – and applying for a job was pretty much just the fax, ma'am.
That is, if you didn't have to print off a ton of resumes and send them through the actual mail, the last time cover letters were actually relevant. By the last year of the last century of the millennium, the fundamentals of recruiting hadn't really changed in the centuries since the first help-wanted broadsheets appeared in the late 1700s.
Apparently, even in pre-Industrial Revolution England, finding skilled labor and high volume, low skill domestic workers required investing in recruitment advertising. And at no time was that more true than during the days before the dot-com boom went bust and our bubbles hadn't yet been burst.
We were changing the way the world communicated and connected, but when it came to job search, newspaper classifieds were pretty much your only option if you decided that, just maybe, the gig at Pets.com or Lycos looked increasingly like it might have a limited shelf life, at best.
The internet was still in its infancy, but even in its initial consumer explosion, recruiting remained well behind the times, clinging to outdated technologies and anachronistic processes, a pattern that continues to this day.
But for recruiting, 1999 was something of a watershed year, giving rise to the entire industry of online talent acquisition and management (or "the cloud," if you want to bring the buzz-words) that's one of the fastest growing and most lucrative corners of the technology space today.
See, during that year's "Big Game" (which was so long ago John Elway was actually under center), a relatively obscure start-up called "The Monster Board," decided to bet the bank on a series of Super Bowl ads.
The price tag: a cool $4 million, which sounds like a bargain by today's standards, but at the time represented fully 10% of Monster's total net worth of $40 million at the time, which represented most of the online recruiting industry at the time (it's now estimated to be around $90 billion annually in North America alone).
The campaign, "When I Grow Up," featured vignettes of kids talking in very adult terms about the mundane realities and everyday disappointments of the kinds of careers you actually end up in when childhood dreams give way to grown up realities.
And those realities, as we all know, kind of suck, which is why the message stuck. In the day after the ads ran, Monster's traffic spiked between 30-50%, numbers that continued to grow for over a decade.
The recruiting technology gold rush was on, and while job boards were the public face of the revolution, the shift from paper-based, manual processes to digital, automated applications created the need for specialized systems to help employers deal with the process and compliance demands created by the increasing onslaught of internet applications.
Enter: the applicant tracking system, better known as the ATS. These were great in theory, designed to help automate applications and, as the name would suggest, help employers track applicants.
That's what they were designed to do, and for the most part, they served as serviceable systems of record. The problem is, that while recruiting has fundamentally changed in the intervening 15 years or so since these legacy systems first hit the scene, these systems remain stuck in absolute stasis.
But like the Monster commercial that gave rise to these recruiting monstrosities, applicant tracking systems really beg the question:
"What Do You Want to Be When You Grow Up?"
The answer has profound implications for recruiters and candidates alike.
Building the Frankensuite: The Problem With Point Solutions
As stated before, the problem with applicant tracking systems is that they were designed as system of record, which was the entire raison d'etre driving their development. Which, in the days when Taleo and Brassring were considered cutting edge, meant that these more or less delivered as promised. But those promises have long since been broken, at least where the end user is involved.
Talking about how much recruiting has changed has become a cliché, but the ubiquity of that conversation evidences just how little the systems where we spend most of our time – and invest most of our money – have fallen so far behind the needs of employers and the top talent they're looking to attract.
Today's recruiter doesn't simply need to reactively track candidates after they apply – they have to proactively attract top talent, with applications being more of an afterthought than a departure point for most hiring processes today.
This requires something with a little more robust functionality than, say, a payroll solution or a time & attendance system. It requires a system of engagement, but the ability to engage across multiple channels and touch points, to develop actionable analytics and align recruiting with the bigger business picture – and bottom line – falls well past the outer limits of most legacy systems.
Of course, companies have made a significant investment in their ATS, and feel like migrating to a better solution would be some kind of implicit admission of failure (not to mention having to go through another pain in the ass implementation), so recruiters continue to suffer with systems that royally suck.
Rather than start from scratch, employers are increasingly purchasing a plethora of point solutions designed to overcome the limitations of obsolete, outdated ATS systems.
These tend to be highly specialized, highly siloed software solutions that require recruiters to use a dozen different credentials to sign on to these disparate systems, managing divergent data streams and often, manually migrating information like candidate records and contact history.
This means busy recruiters do busy work instead of meaningful work like building meaningful relationships and talent pipelines, generating referrals and facilitating internal mobility and, perhaps most importantly of all, improving the ease of application and personalized, timely communications so essential to improving the candidate experience.
Starting From Scratch: From ATS To Hiring Success
It seems like half your life is spent cutting and pasting stuff from one system to another – which really, really sucks. But if you think there's nothing you can do, think again. No recruiter should be stuck with a crappy ATS.
If you've ever talked to any "cloud" vendor (which is a fancy way of saying that they don't store your data onsite and access is network agnostic), then you probably know that rolling out new features, functionalities or even implementing new systems is easier and cheaper than ever before.
In fact, for true multi-tenant, single instance software solutions, turning on tech often requires little more than a few mouse clicks. There's no timely, expensive implementation process involving process mapping, data migration and teams of consultants for even the simplest customer requests.
This not only drives down costs, but also removes many of the most compelling arguments for sticking with a shitty system and shittier customer service so endemic to enterprise software – not to mention the pain in the ass of having to deal with a hundred different point solutions on a hundred different tabs requiring a hundred unique log-in credentials, contracts and customer service contacts.
If you think this sound too good to be true, think again. If you're shopping for a system designed for recruiting today (and if you're on anything owned by SAP, Oracle or IBM, you should be), here's a Yellow Brick roadmap for finally finding an applicant tracking system you don't have to hate. For real.

The Future of ATS: One System to Rule Them All.
From functionalities like LinkedIn integration and sourcing/CRM capabilities, from employee referrals to reporting,, the product roadmap today's recruiters would want if they were building the system of tomorrow looks a lot like solutions already out there today – with products like SmartRecruiters actually transforming recruiting fantasy into reality.
1. Gotta Keep 'Em Integrated: 92% of enterprise employers have LinkedIn Recruiter licenses, and even for those who can't shell out these kinds of boucoup bucks for some of the priciest seats this side of the Super Bowl, over 95% report using this platform as a primary tool for sourcing and engaging candidates.
The problem is, making the investment in a LinkedIn license pay off (or even just keeping track of profiles you've viewed or conversations you've had) can be nearly impossible. Not to mention the fact that none of that data lives within your actual system, meaning that you're more or less losing out on any activity or associated records that might occur before that passive lead becomes an active applicant.
The system of the future would transform LinkedIn from a stand-alone network into what it really is: an integrated, integral component throughout the full recruiting cycle, turning public information into proprietary leads, more effectively tracking data, building better referrals and optimizing on-site spend – and overall efficiency & efficacy.
2. Sourcing Without Seizures: Yeah, we know. You're probably tired about hearing how recruitment is marketing, but it's largely true: recruiting is more or less consumer marketing built around a career related call to action. 
Sourcing has traditionally involved lead generation – finding targeted candidates and building a database – but traditional applicant tracking systems have no way to automate, scale or segment communications and nurture those leads so that they ultimately convert into hires.
Instead, they often sit untouched in an applicant tracking system, long forgotten candidates tied to a long forgotten requisition. But don't forget – your ATS doesn't have to be a black hole.
By adding CRM capabilities, you can help breathe new life (and make new hires) out of old applicants. Because unlike just-in-time hiring, a candidate might be right for your company – even if they're not right now. The ATS of the future makes it just-in-time, all the time.
3. Refer Madness: As the old aphorism says, people don't work for companies – they work for people. Which is kind of trite, until you consider the fact that employee referrals have represented the top source of external hires for well over a decade, and by a wide margin across industries, functions and company sizes. 
Referrals work – but too often, companies have no way to efficiently incentivize, track or even keep employees in the know about what opportunities are open and how employees can help put their network to work.
By integrating referral capabilities and applicant management directly into the ATS of the future, companies can stop worrying about building brand ambassadors and start building bench strength – without constantly asking who your coworkers and colleagues know. After all, it's not what you know or even who you know – it's about who knows the people you know.
4. Doing the Math: Relying on a ton of point solutions, each with differing data sets, disjointed tracking and diffuse dash boarding, makes it impossible to find actionable analytics and make metrics meaningful.
To get the full story, data and reporting must cover the full cycle, from sourcing to selection to onboarding – and provide the information you need to control your budget, optimize your strategy and standardize the statistics that help recruiters make smarter hires faster.
That's why the ATS of the future will give talent practitioners all the information they need, all in one place – and automate data aggregate to enable better analysis – and better align the impact of recruiting on bigger business and bottom line initiatives. That's one formula that makes for pretty obvious math.
If you hate your ATS, you're not alone. But the good news is, the future of is now. To learn more about how to get with the system, click here to check out SmartRecruiters and see why companies are choosing hiring success over applicant tracking. Because turns out, the choice is a no brainer.
Disclaimer: Recruiting Daily was compensated by SmartRecruiters for this post. But their data and action items are actually pretty priceless, so in this case, the facts and opinions contained herein do, in fact, represent those of the publisher. Because we're all about making applicant tracking systems suck less, too.
---
---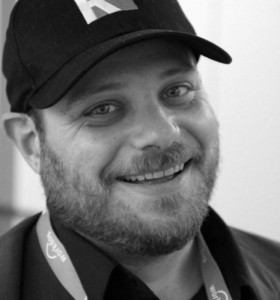 Matt serves as Chief Content Officer and Global Thought Leadership Head for Allegis Global Solutions and is a partner for RecruitingDaily the industry leading online publication for Recruiting and HR Tech. With a unique background that includes HR, blogging and social media, Matt Charney is a key influencer in recruiting and a self-described "kick-butt marketing and communications professional."
Recruit Smarter
Weekly news and industry insights delivered straight to your inbox.