The goal of recruiting and HR content, or any content, is not to be good – it's to be read. That's the same with any corporate content, really.
That in and of itself is a tall order, considering the finite niche readership and the infinite amount of content on any topic even tangentially related to talent. It's also got to be read by the right people, and in no case are the right people voluntary consumers of your branded content.
Whether it's a passive candidate reading a job description, an active one reviewing the culture related copy on your company careers site or a successful one pouring over pages of benefits information, recruiting related content is a necessary evil.
It's the most pointless prose possible, content written for an audience that largely doesn't want to read it by people who largely didn't want to write it.
The same goes for core HR – in this case, the audience is not only captive, but are required to read that content, no matter how poorly written, dense or mind-numbingly boring that content might be.
The Audience Isn't Listening.
The average HR document reads about as easily as an Apple End User Agreement or a class action settlement agreement, with similar effect – everyone signs a legal document verifying they've actually read what no one, particularly the company producing said content, expects them to read in the first place.
Everyone is complicit in this arrangement, but the convenience of agreeing to something you've never actually read comes at a cost – no one gets anything out of the exercise. It's the same thing as a performance review, job application or employment agreement, really – the only people who give a shit are lawyers. The rest of us sign on the dotted line and trust the people who put it in front of us.
The problem with recruiting or HR related content is that it's intrinsically asinine and pointless, so of course must be the result of policy and not practicality. Recruiters wonder why so many unqualified candidates apply for jobs; generalists wonder why they get asked about things explicitly outlined in the employee handbook.
This content is so disposable that it's not even consumed, but it doesn't have to be that way. The point of a job description is to, well, describe a job. The point of providing written performance reviews is to review an employee's performance. The obvious goals also make it obvious that the intent of this content is not only to be read, but meaningful enough to drive some sort of action.
Getting anyone to respond to written content isn't easy for even the best writers. Getting a professional, passive audience to respond to HR or recruiting related content isn't just hard, it's damn near impossible. That so much of it is so bad – or so meaningless it's moot – must mean that we've come to accept this in our business as business as usual.
Stop the Inanity.
It doesn't have to be this way. So, how do non-writers forced to crank content crank content? Content is a big deal these days, and kind of a commoditized buzzword, but it's one that's actually prevalent enough to at least justify that buzz a bit.
Whether that's suddenly going from cold calling and reference checking to running career sites and social recruiting accounts or giving an employee detailed, specific performance written feedback (as most get annually), all of our professional lives have been somewhat subjected to the servitude to content's proverbial "king."
What most HR professionals know, but few care to admit, is that most of what we read as professionals is never read, largely because it's written not so that it's intrinsically memorable, but instead, so that it's quickly forgotten. After all, the point is largely legal, and therefore, paying attention to the means Is pointless – it's only the end goal of compliance that matters.
While content might indeed be king, compliance complicity carries the constant capability of committing regicide, if needed. Tbis very real threat makes the rest of this a theoretical exercise, sure.
Job descriptions largely exist as EOE/AA and OFCCP documentation, and at the end of the day no one watches sexual harassment videos for the production values or just can't put down the page-turner that is your internet policy. I get that.
But here's the question that it seems no one is asking: if this stuff is important enough to be a prerequisite for all employees (or future ones, for recruiting), why isn't it important enough to actually be worth reading?
Style Points.
Even current employees don't respond to content without duress or direct threats, with the default action to anything HR related seemingly set on inaction; for less captive audiences, well, candidates aren't candidates if they don't click 'apply' but click onto a competitor's job ad.
The thing about content is it's hard demonstrating direct ROI or bigger business impact even for companies getting it right, but it's impossible to accurately estimate (or overstate) the opportunity costs of getting it wrong
If you're still reading this, you're likely wondering what the point of all of this is. I'll tell you something: I don't have one, except to point out you've already read nearly 1000 words of a lead that was leading nowhere.
Here's why:
It sounds like it came from a person and not a persona.
It doesn't matter what you say, it's how you say it. And if you say it with voice and tone, it really doesn't matter how boring your topic might be. If you have a point, it's easier, but even that's really extraneous if you can get that whole tone and style thing down, instead.
Trust me – I'm an HR blogger. Voice is everything, and that's something no one can really teach, because the only way to learn how to be you is by being yourself. And chances are, whoever you are, the last thing that you'd want to be is just another HR or recruiting professional.
Because, well, they kind of suck. Kind of like this post. Sorry, not sorry.
---
---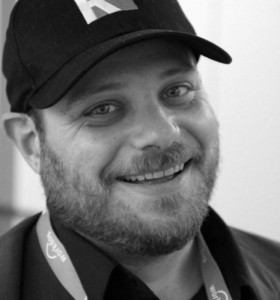 Matt serves as Chief Content Officer and Global Thought Leadership Head for Allegis Global Solutions and is a partner for RecruitingDaily the industry leading online publication for Recruiting and HR Tech. With a unique background that includes HR, blogging and social media, Matt Charney is a key influencer in recruiting and a self-described "kick-butt marketing and communications professional."
Recruit Smarter
Weekly news and industry insights delivered straight to your inbox.