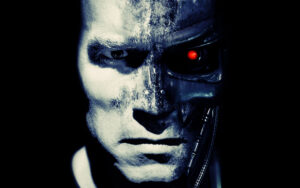 It's an image that you often see in movies or read in books – humans battling machines or robots, in digital warfare that often signals the apocalypse or the dawn of a new age.
But, it's a fictional image that could never replay itself in the real world – or could it?
Even if it could, apply that same image to the workforce and you'd get a totally different outcome — like machines quickly overtaking jobs as robots feverishly work in factories to assemble the latest technology.
But what's the human-versus-machine scenario like in recruiting? Does the rise of the machines overhaul an industry inextricably tied to human nature, or can humans and automation work symbiotically to generate overall productivity?
Humans versus machines in the fight to revolutionize the recruiting industry is one of the most disruptive trends in staffing. According to research from Bullhorn:
About 67 percent of recruiting professionals believe automation will help the human workforce and not demolish it;
Alternatively, 33 percent of respondents said they plan to replace talent with technology to lower prices so they can build the most efficient businesses possible.
Who ultimately wins the fight in recruiting? Will humans prevail and use the machines to their fullest advantage, or will the machines overtake humans and eliminate their jobs?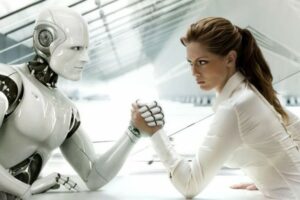 Here's how the "battle of humans versus machines" shapes up in recruiting – and who comes out on top in the end.
In corner No. 1 — The Humans
Humans possess the innate ability to develop and form relationships with other individuals – something that humans were born to do. This is through their strong sense of emotional intelligence that allows them to skillfully – and correctly – move conversations forward in the precise tone with the right amount of empathy.
Combined with their knowledge of the labor market, humans – or recruiting professionals – are equipped with the mastery of the craft of conversation to deepen their engagements with candidates and clients, which can help them grow their businesses.
Humans can draw on their past conversations and previous experiences with candidates and clients to understand their hiring requirements. The essence of growing relationships is a remarkable human characteristic that will always have an impact in relationship-driven businesses such as staffing.
In Corner No. 2 — The Machines
Machines have the power of programming so they can be instrumental in automating routine or daily tasks.
In recruiting, these can include non-value-adding ones such as scheduling, screening, data entry, and following up, which essentially free up recruiters' time to focus on more strategic initiatives such as relationship building. Machines can alleviate the administrative burden that's currently placed on most recruiting professionals.
Imagine a world where machines could screen a pool of 50 applicants, identify the Top 5 candidates, and schedule interviews for recruiters – all during the night so a recruiter doesn't have to waste any time doing so in the morning.
Machines can automatically remind recruiters of certain tasks, effortlessly increasing their productivity and efficiency in their day-to-day work.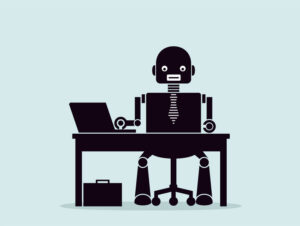 Who's the real Winner?
In the end, humans will win because of their aptitude to cultivate relationships, which is crucial in business. While machines can certainly answer commands from humans and supplement their workloads, they don't have the skills to advance strategic dialogues the same way humans can hold engaging discussions.
Though machines have the processing ability to expeditiously complete work, they can't replace humans because they don't have enough knowledge to progress conversations in meaningful ways.
Leveraging machines, recruiting professionals can become even better at their jobs and can win against their competition by placing the best talent in the best opportunities in the quick amount of time.
---
Authors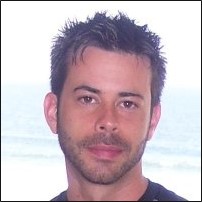 Jay Pennington is vice president, research and development for Bullhorn, the global leader in CRM and operations software for the staffing industry. You can connect with him on LinkedIn.
Recruit Smarter
Weekly news and industry insights delivered straight to your inbox.