The 5 Key SALES Lessons YOU MUST Implement in a Global Pandemic: Part 3
This is Part three of a series of five by Steve Guest. Read Part one: "If you don't get your head straight, you've already LOST" and Part two: "If you always do what you've always done, you'll always get what you've always got." 
Go above and beyond, no time to REST.
How are you going to spend your time communicating with your clients? A hardened sales pitch? Go straight in and let them know what you've got? If this is your thought process, you won't last long and you won't get very far. Remember your business development is about your CLIENT and not about YOU.
Communicate and understand where and how you can add value to your clients. Your business development calls should be investigatory. Let your client know that you are also trying your best to adapt to the new environment; that these are unprecedented times, and that the recruitment industry has also been rocked by COVID19. Be upfront about the impact that coronavirus is having on the businesses that you support and whom you work with. Show empathy towards your market and make the point that you are here to help and add value where you can. Show that you understand the knock-on effect of the pandemic on their business, their family, and their finances. 
Planning your business development ahead of time is vital to ensure that your interaction: calls, emails, social media, business development is as effective as possible. If you don't ask the question upfront how do you know which solution to sell?
You must understand your client's business. Ask them how you can help them to grow, build, improve, and to continue to recruit. What can you do to add value?
Do you ask the BIG question?
"How has your business been impacted by the lockdown and subsequent economic decline?" 
YES, you ask the big question!
You must ask; whether the answer is negative or not. As a recruiter, you must understand their business environment. What are you looking to sell into? How can you offer a solution? You must have tough conversations to know what problems to solve. 
Start with your current, longer, and well-established clients. Ask how they have been affected and ask what you can do to help. Identify how you can benefit them with your service, how you can minimise the cost, improve the revenue, and establish a better working relationship.
Remember – whilst you may not be using the downturn to grab market share, your competitors might be! This goes for you too, your business, and your clients.
Ultimately market downturns, economic dips, recessions don't last. Relationships, however, do. 

What do you want your business to look like once this is all over?
Are you prepared to do what it takes? Here's some inspiration, and zero doom and gloom!!
Did you know:
For professional and technical recruiting, an industry downturn can create a wealth of opportunity.  Workforce reductions produce a pool of available talent. Certain companies will still look to strengthen particular functions and in the current market, you can start to find ideal candidates more easily than before.

Market downturns create an ideal environment for recruiting senior-level professionals and executives at competing firms. The economic turmoil and market uncertainty with redundancies, layoffs, financial insecurities, and all the pressures that coincide create further opportunities to attract new talent. 

Companies that are in a good place despite the lockdown, the financial and economic pressures, can steal a march on their competitors. This provides a vital opportunity to grab market share and build, whilst recruiting top talent that they perhaps couldn't attract previously. This is where you fit in!

You may find businesses that 'trim' their overheads in one area to focus on key strengths in another which means they could potentially be looking to grow a new division off the back of the downturn. Therein lies another opportunity. New paths forward, new talent required. A shortage of existing talent or teams will mean you can add value and help your clients as they pursue other lines of enquires.
Work hard to find better solutions to offer to your existing customers. Think about what you can do differently to help.
Help your clients streamline their business and find active candidates that you can market to their competitors. If a client is letting people go, then how can you help share the burden? Perhaps work from your client's offices, register the candidates, and help remove some of the pain & guilt from your client.
When the downturn ends you will have a more loyal client base. Your clients become more in tune with your business as you now offer a more rounded service for their requirements. 
Remember: If you don't ask; the answer will always be NO. (And if you don't ask, I will! ) 
Stay tuned for tomorrow's post with Part Four: "You can't sell anything, if you can't tell anything"
---
Authors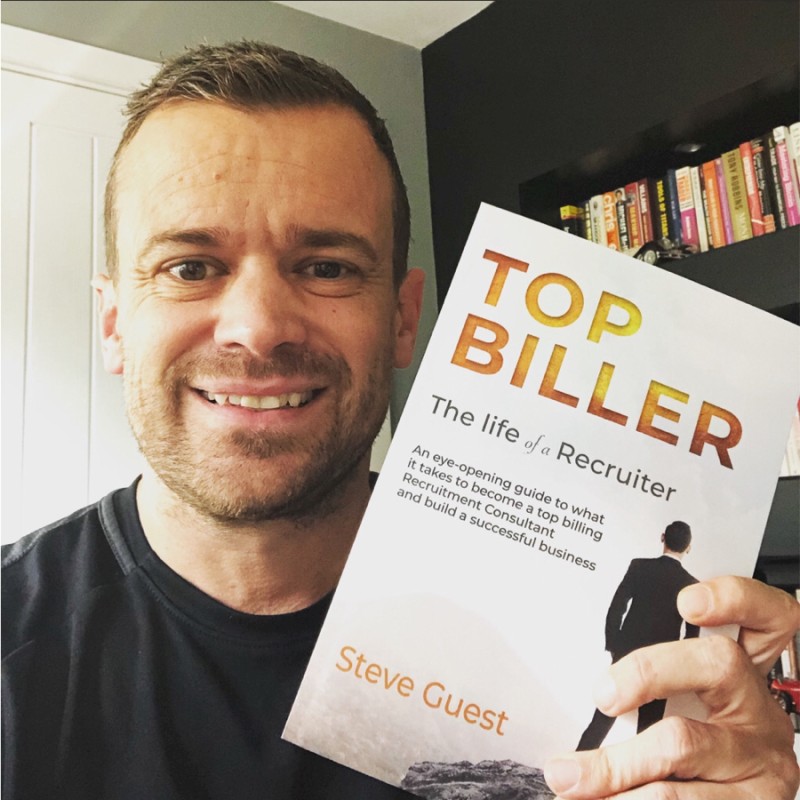 Steve Guest has spent the last 15 years as a recruitment specialist, opening & building new regions, brands & businesses in the UK whilst actively specializing in recruiting commercial permanent placements within the construction sector. Steve has built a strong reputation globally based upon process, procedure and having the right structure to achieve high levels of performance. He recently published his first book Top Biller – The Life of a Recruiter. The Amazon No.1 Best Seller, "Top Biller" has now sold in over 39 countries and is the highest-rated recruitment book on Amazon. In addition, Steve trains and mentors on a global scale via his 12 Week Recruitment Mastery Programme through webinars, strategy calls, articles, and sharing value. Join his Free Recruitment Mastery Facebook Group - all are welcome.
Recruit Smarter
Weekly news and industry insights delivered straight to your inbox.