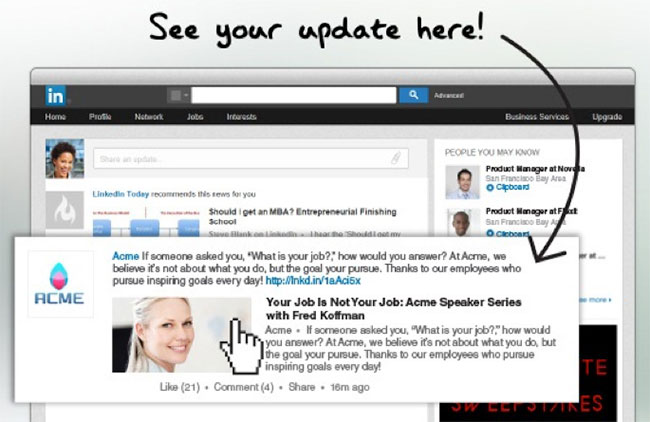 Today, industry juggernaut LinkedIn announced the release of a new feature within its LinkedIn recruiter software called Talent Updates.  With Talent Updates, recruiters now share branded content like company blog posts, videos and news directly from the LinkedIn Recruiter interface.
According to a spokesperson for LinkedIn, 70% of LinkedIn members follow companies due to an interest in career opportunities – the result is that LinkedIn company pages act largely as dedicated talent networks for current and prospective candidates alike.  With the new Talent Updates feature, recruiters can add valuable insight and contribute content besides simply posting jobs on their Company Page.  This ability to keep followers informed has the potential to lead to better prepared, more engaged candidates, improving the candidate experience while allowing a much broader look into a company, its culture and what careers there are really like. The feature is currently in English only and available for free to all existing LinkedIn Recruiter customers.
This is an encouraging move by LinkedIn, and one that seems to mirror its broader strategy of transforming its professional network from a job search platform into a targeted content destination, as evidenced by their recent relaunch of LinkedIn Pulse as the next evolution in their strategy. The worlds of brand marketing and corporate talent acquisition are becoming increasingly intertwined, and as LinkedIn themselves stated in their product announcement, Talent Updates "borrows a play from the hottest trend in marketing: content marketing." Targeted content, particularly around careers, should allow employers add value to candidates instead of simply extract it, as is too often the case on the LinkedIn platform, and has the potential to improve the candidate experience by providing more relevant information and enabling more effective applicant self-selection.
This release by LinkedIn seems like a potential play to leverage their existing employer branding solutions to control the entire range of career content directly on their platform.  Recruiters must be approved by the LinkedIn Company Page administrator before they are authorized to post on the page, which means that largely, this content is likely to have the same lack of transparency and authenticity which makes sites like Glassdoor so effective at painting a realistic picture of company culture.  Of course, by owning career content within the LinkedIn platform, employers can have a much easier time monitoring, coordinating and controlling their message. Which is, unfortunately, what "employer branding" today is really all about, anyways.
But beyond the opportunities Talent Updates seems to offer LinkedIn Recruiter customers, the one thing it can't do is prevent members of this new iteration of onsite "talent network," whether engaging around company content or open jobs, from getting in touch with each other and the people who work at an organization who aren't HR mouthpieces of designated "brand ambassadors."
New features and functions aside, making connections and building deeper relationships is fundamental to LinkedIn's "professional network" capabilities and positioning.  It's also one reason that beyond increasing renewals and new sales, this new function is unlikely to significantly change the way job seekers and employers alike are already discovering each other on LinkedIn.
---
---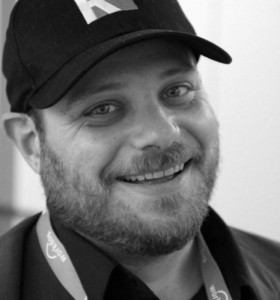 Matt serves as Chief Content Officer and Global Thought Leadership Head for Allegis Global Solutions and is a partner for RecruitingDaily the industry leading online publication for Recruiting and HR Tech. With a unique background that includes HR, blogging and social media, Matt Charney is a key influencer in recruiting and a self-described "kick-butt marketing and communications professional."
Recruit Smarter
Weekly news and industry insights delivered straight to your inbox.