The workforce has had the advantage of being an employee's market for a few years now, which often leaves employers scrambling to uncover what key factors will lead to retention. Pay? Recognition? Flexibility?
With plenty of competitive jobs out there for good talent, managers are scrambling to discover the key to retaining their top performers.
Economists are projecting another strong year for the American workforce, estimating that it will surpass the 15-year high we saw in 2014. This will continue to embolden employees to look for greener fields.
According to a survey from Saba Software, conducted by Harris Poll, more than half (56 percent) of U.S. employees are looking to leave their company this year, and a third (36 percent) are actively looking for a new job right now.
Look around you – if it's not you searching for a job, the person on your left or right is searching, and might be close to getting it.
One key to retention that employers have likely not thought about, uncovered by our recent survey, is the importance of meaning to job seekers.
We're not talking about "meaning" as in "why we painted our walls our company colors" but that deep feeling of "I know why I'm here every day and I make a difference."
Employee Retention: Making Sense of the Search for Meaning
More than with any other generation, Millennials are looking for a sense of meaning in their job today. Nearly 40 percent have cited this as a key factor in job satisfaction.
Within this group, a whopping 45 percent are currently searching for a job. That's right – half of those young, go-getters are going to get a new job really soon.
Most employees are looking for a sense of purpose in their job, and if they don't feel like they are contributing in a meaningful way, they will move on.
But if organizations are willing to make some strategic changes, they can keep their best talent and ultimately impose a favorable impact on bottom lines.
While some businesses have focused on Millennials, it's clear that smart companies need to double-down and invest in high potential employees at all levels. Unfortunately, organizations that don't get in front of this now will be left talentless, further encouraging over-worked staff to walk out the door.
Across all levels (salary, geographical location, gender) respondents unanimously said that their current companies are not providing the growth opportunities that the staff desires. Additionally, under the same conditions, about 90 percent of the respondents said they want more freedom to drive their own career paths.
Employee Retention: 4 Tips and Tricks for Keeping Top Talent
Keeping the people you want to help grow your organization and attracting people that will hit the ground running and support your culture is, I'd argue, the single most important differentiator for you in the workforce, and maybe, in your industry. Good people deliver good results.
Hold on to those good people, and you have the makings of a solid success story. Now, getting there is a bit like the proverbial 'Holy Grail' of employee relations and ultimately, employee retention.
Fortunately, there are some tried and true steps you can take that will support your efforts to develop and maintain a healthy, happy and productive workforce:
1. Develop a more welcoming culture.
Find out what drives your new starts to do a good job and then replicate it with each and every new employee. Implement solid orientation programs and be aggressive in ensuring those first steps are always maintained.
2. Enable personal growth.
If the majority of the workforce is like me, they're looking to learn and build on their skills while they're doing their "day job." Proactively offer learning opportunities one or two steps above an employee's current level – challenge them. Nothing is worse than a complacent employee (unless you count the one walking out the door for a better opportunity).
Employees want to take control of their own career path and take on assignments where they can leverage their own strengths, passion, and aspirations. In this market, organizations need to offer an easy-to-access technology platform to support peer-to-peer, video learning, mobile learning, virtual learning and on-the-job-training. This can also be a virtual location where employees can share knowledge with other colleagues in real time and collaborate with them on projects.
3. Allow employees to help drive company direction.
Encourage workforce engagement and you might be surprised at what they'll come up with. You've no doubt heard about "drinking the Kool-Aid." Well, not everyone is, and that's a good thing. Proactively involve your employees at every level to have a stake in both their career and the direction of the company.
Smart companies are using – quite literally – intelligent talent management systems to gather data constantly – either from explicitly querying users or through tracking system usage. Organizations can then make proactive and personal recommendations to each employee at an individual level.
4. Create an environment of healthy relationships.
Oh sure, the office Gossip Guy is entertaining, but it breeds negativity and an overall fog over the day and throughout your workforce. Encourage positive conversations about company direction, creativity and strategy. Share those ideas and build on the great ones, too.
Again, some smart implementation of communications platforms would be tremendously beneficial. Personalization is only one of the things offered through technology; it can also be used to drive employees together, enable communication and encourage a friendly work environment.
I am empowered and energized when I feel like I'm a part of the future direction of my company and I know I'm not alone. Engage your workforce, truly integrate them into the DNA and thinking of the organization and you will immediately be the richest company on the block – in more ways than one.
About the Author: As Chief Marketing Officer at Saba Software, Emily He is responsible for the development and execution of the company's go-to-market strategy as well as market awareness, demand generation, and field enablement programs on a global basis.
Her direct responsibilities include product marketing, public relations, analyst relations, web marketing, demand generation programs, customer marketing, and partner marketing. Emily brings 17 years of experience in customer relationship management, supply-chain management, and human capital management.
Prior to Saba, she held corporate marketing and product marketing leadership positions at a number of leading public companies such as AT&T, Oracle Corporation, and Siebel Systems, and E2open. She holds an MBA from Stanford Graduate School of Business.
Follow Emily @EmilyHe1 or connect with her on LinkedIn.
---
---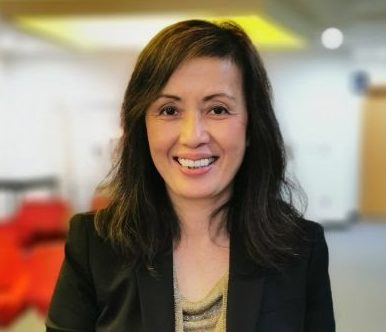 Emily He is the SVP of Human Capital Management Marketing at Oracle Corporation. With over 20 years of experience in enterprise software, Emily is known for highly differentiated messaging and innovative takes at traditional marketing. She is a recognized thought leader on digital transformation and the future of work with insights featured in The Economist, Fortune, The Financial Times, Forbes, Fast Company, and more. Emily has an MBA from Stanford Graduate School of Business and has previously held key marketing roles at Saba Software, E2Open, Siebel Systems and DoubleDutch. 
Recruit Smarter
Weekly news and industry insights delivered straight to your inbox.