Just released, and we won't make you wait: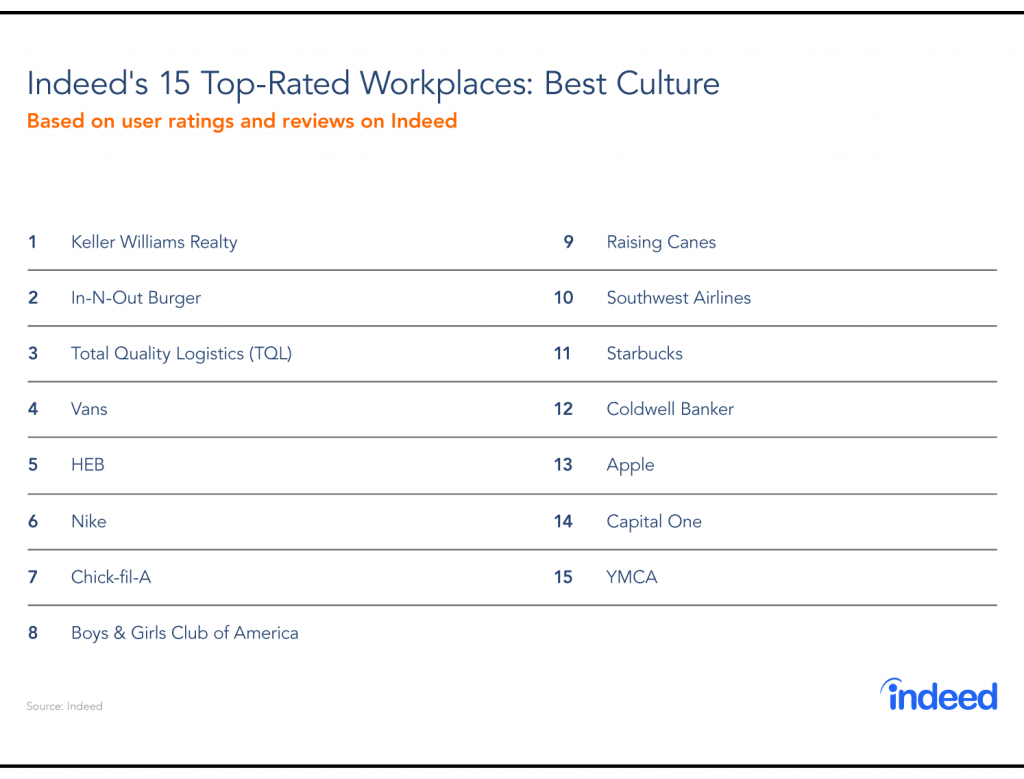 Keller Williams also topped Indeed's work-life balance rankings back in April, so that's a nice double win.
In reviews, one employee mentioned many things they liked about the job, including, "supportive team environment. Great management. Operated with honesty, integrity and friendliness." They also said, "lots of resources and training provided. You are able to make as much or as little as you want determined by how much effort you put forth."
Another reviewer stated, "for new real estate agents, Keller Williams Realty is the place for top-notch training and support. For seasoned agents, the economic model allows for unlimited earning potential."
As for the maybe surprise No. 2 of In-N-Out Burger?
One employee noted the flexibility: "With shifts that start as early as 5 a.m. and as late as 9 p.m. an associate can always find time to work. Management is very flexible with schedules and understands class obligations." They also noted "hard work will result in raises in both rank (level) and money. Strong culture with a legacy of friendliness, quality food and outstanding customer service."
Another employee raved, "it was an awesome place to make lifelong friends and make connections because everyone loves an IN-N-Out employee. The pay was competitive, company culture runs deep, and the health benefits were out of this world, great place to work for young adults, students, or people just starting a family."
The role of tech on this list
A lot of business journalism is rooted in deifying the culture of tech companies and claiming that every other company should be like them, but … notice the top 15 of this list has only one conventional tech company, that being Apple. Hmmm. It's been a rough year for tech in terms of "their impact on the world and people starting to realize the drawbacks," so maybe that's a correlation.
What this means for recruiters and numbers guys
Although a lot of culture stuff sounds and seems "fluffy" and not tied to the numbers of your business, look through these 15 companies and what they're doing right. Look at them on Glassdoor too. See what people say. Try to work internally — it's hard, yes — to build that type of culture. Those cultures retain more, which means fewer open reqs, which means more time to focus and strategize on what you're actually doing. Culture saves time for recruiters. Bad cultures add time. The difference is really important.
---
Authors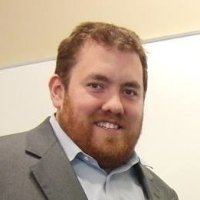 Originally from New York City, Ted Bauer currently lives in Fort Worth, Texas. He's a writer and editor for RecruitingDaily who focuses on leadership, management, HR, recruiting, marketing, and the future of work. His popular blog, The Context of Things, has a simple premise -- how to improve work. Ted has a Bachelors in Psychology from Georgetown and a Masters in Organizational Development from the University of Minnesota. In addition to various blogging and ghost-writing gigs, he's also worked for brands such as McKesson, PBS, ESPN, and more. You can follow Ted on Twitter @tedbauer2003, connect with him on LinkedIn, or reach him on email at [email protected]
Recruit Smarter
Weekly news and industry insights delivered straight to your inbox.