New technology, increased pressure to prove business impact, and a complex hiring landscape are just a few factors behind the rapid evolution of HR.
To meet business demands for strategic initiatives like employee retention, employee engagement, and employer branding, today's HR leaders have an increasingly broad set of responsibilities. Even with these new responsibilities, talent acquisition remains a top priority.
HR has a unique position in shaping the overall organizational strategy by fulfilling the talent needs of the business plan. While talent is critical to any organization's success, recent data from the U.S. Bureau of Labor Statistics illustrates why talent acquisition is so tough in today's job market.
Thanks in part to the economy's post-recession comeback, there's been a 141% increase in the number of job openings from 2009-2018. However, the increase in hiring has only been 37%.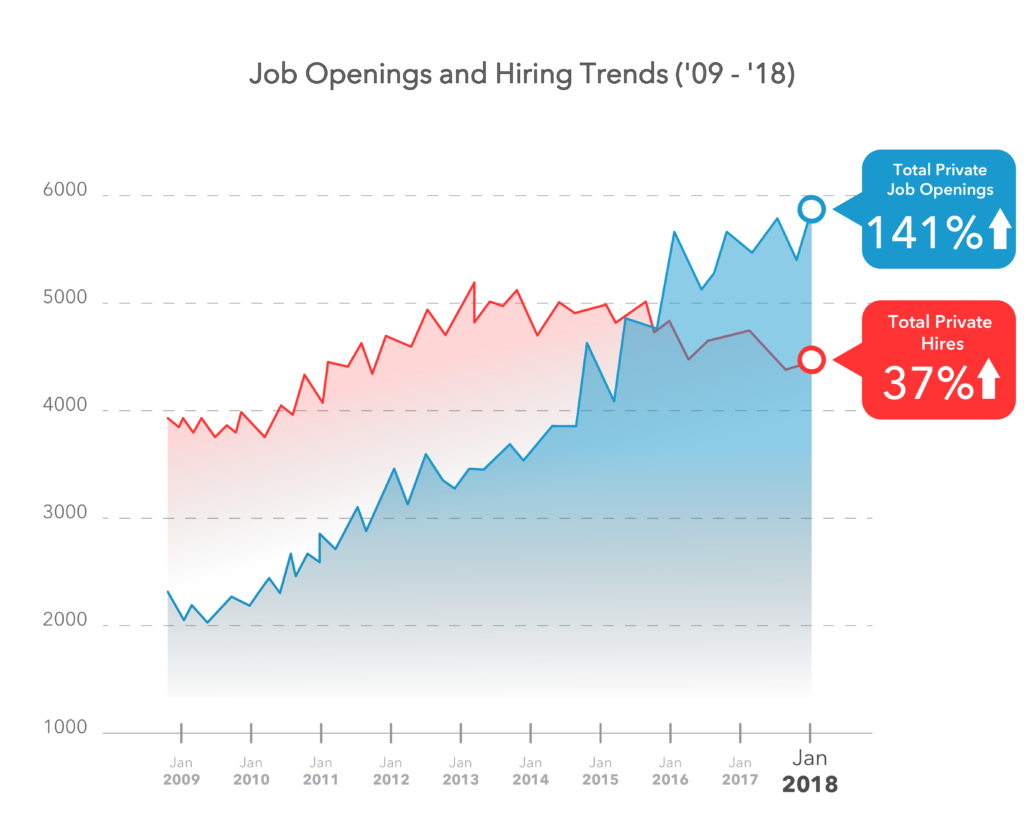 Source: Data for Job Openings vs Hires – U.S. Bureau of Labor Statistics
Meanwhile, another study from the U.S. Bureau of Labor Statistics suggests that the overall number of people quitting their jobs has increased by 47% from 2009 to 2018 — leading to more people in the market.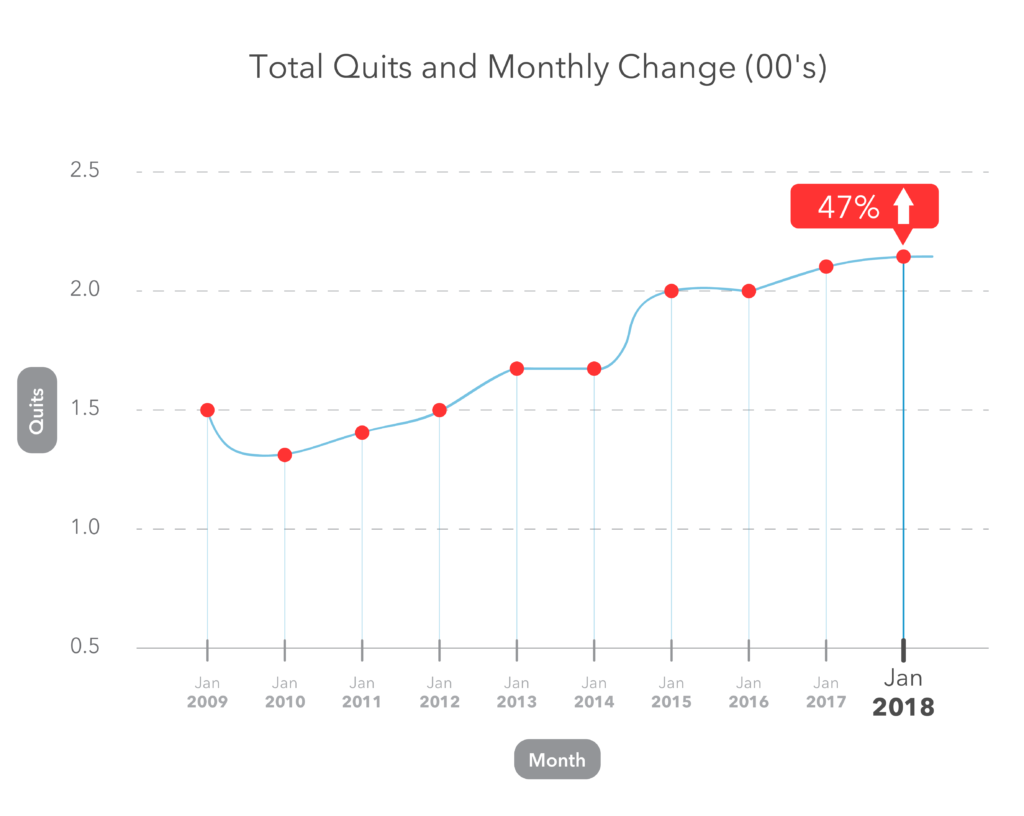 Source: Data for Total Quits and Monthly Change – U.S. Bureau of Labor Statistics
The data shows that hiring volume is increasing. Although this creates more demand for talent, the talent pool is also expanding. These trends reveal just how crowded the job market is today, and why recruiters' roles in finding the right candidate for every open position is trickier, yet more important, than ever.
To meet this mounting pressure, we would imagine that the size of recruiting teams would increase — but that is generally not the case. Despite the pressure and focus on recruiting the right talent, research from Linkedin "Global Recruiting Trends 2017" shows that 61% of HR leaders foresee that their recruiting team size won't change.
Given the challenge of "doing more with less," HR teams need to be efficient. They must embrace new ways of thinking about their companies, talent, and processes. To achieve efficiency and help focus their teams on mission-critical projects, many HR leaders are automating manual tasks through Artificial intelligence.
Artificial intelligence (AI) may just seem like the business world's latest buzzword, but the impact it will have on HR is significant. Artificial intelligence is about giving machines the ability to perform "human-like" tasks. In the case of HR, AI can be used to automate repetitive and high-volume tasks like interview scheduling — which take up to 20% of a recruiter's time. It can bring efficiency to the talent acquisition process, improving productivity as well as the candidate experience.
For example, an AI-powered assistant like Alex, My Ally's AI Recruiting Assistant, can seamlessly manage all interview coordination activities. The assistant schedules interviews, taking into account the time zone difference and the time preference of the interviewer. It can even book a conference room.
While the idea of a bot communicating with your candidates can seem odd at first, the tone your AI assistant uses and even its name can be customized so it feels like a natural extension of your company's culture, team, and brand.
 Alex can improve time to hire by up to 56%
As the entire business world shifts to greater accountability through metrics, HR is also becoming more data-oriented. Cost per hire, time to hire (which has increased by 26 days since 2010 due to the crowded job market and inefficient processes) and time in the pipeline are common recruiting benchmarks. All of these can be improved by using an AI recruiting assistant. For example, Alex can improve time to hire by up to 56%.
In addition, automated recruiting coordination helps you hire better talent. When your recruiters are freed up from manual, time-consuming tasks, they have more bandwidth to focus on strategic activities where they can really add value — such as sourcing qualified candidates.
We are at the beginning of a fourth industrial revolution, which will change the way we work for good. Automation and AI will perform more tasks and result in a massive disruption of jobs. Despite the common belief that automation will replace jobs, in the case of HR, it will only improve them. By alleviating recruiters of time-consuming manual tasks, AI gives recruiters the bandwidth to navigate today's difficult hiring environment with a strategic mindset and focus — leading to better outcomes for both companies and candidates.
About Alex, An AI-Powered Assistant
Alex, My Ally's AI Recruiting Assistant, ensures that candidates have the best interview experience possible by automatically scheduling interviews and moving them through the pipeline with minimal delay. Want to learn more? Request a demo today.
This post was sponsored by MyAlly
---
Authors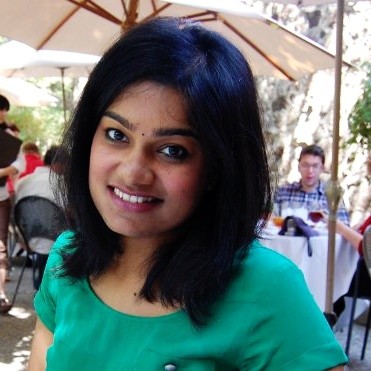 Deepti Yenireddy is the Founder and CEO of My Ally, the makers of Alex, an AI recruiting assistant. Prior to starting My Ally, Yenireddy was an investor at USGT Investors and Oppenheimer Funds. Yenireddy, who began her career as a Petrophysicist and Field Engineer at Shell and Schlumberger, studied Electrical Engineering at the Indian Institute of Technology, Madras and resides in San Jose.
Recruit Smarter
Weekly news and industry insights delivered straight to your inbox.