Entering a new talent market through a multi-channel marketing strategy.
Entering a new talent market is no easy task. The days of posting on your local job board are no more. To make an impact as an unknown in a new market you need to launch a comprehensive campaign or else you won't make a splash.
I've provided an overview of how to enter a new talent market and the main channels you should use.
Data Collection/Talent Research Phase
Before developing your strategy to drive applicants and awareness you need to be able to understand what the talent market actually looks like. Start with collecting data and understanding the talent market you are trying to break into. There's no point in trying to assign money to a channel or even picking a channel without knowing ahead of time where the talent is, where they are looking, and where they consume content. 
Few ways to find out: BLS, Talent LinkedIn Insights
Deciding Channel & Budgets
Based on the information collected during the talent research phase you can then decide where you want to spend your time and money. An important step is delivering the information of the talent market to key stakeholders of the organization so they understand what the market actually looks like and you can set expectations around budget and results.
Establishing Success Metrics
Based on the channels used you can build awareness through traffic increases, advertising impressions & CTR. You can also look at driving top-of-funnel applicants. You want to show that you are building the brand name, more people are hearing about your company as a preferred place to work, and more quality candidates are applying. I would base the quality of candidates on how many candidates get through to the later stages of the interview process. Be clear with stakeholders about what you are responsible for driving so there are no issues going forward.
Channel Strategy
Keep in mind the strategy is to provide air-cover for recruiters that are actively prospecting. This will be done by increasing brand awareness and making sure that positions are available. Since nobody in the market has heard of you, you are going to want to be where the talent actively consumes content but where your jobs are listed. So when they do go to check you out or apply further, that segmented audience has content that resonates with them.
I've broken out the channels to achieve these goals and maximize the effectiveness of your strategy here.
Organic Social
One of the best ways to build brand awareness and the first place many candidates go to learn more about your company is your social media accounts.
Showcase content like:
Highlighting benefits
Location perks
Professional development opportunities
Anything unique to your company.
Paid Social
Take advantage of LinkedIn's, Facebook's, and Instagram's powerful targeting abilities. LinkedIn has the ability to dial down into experience, location, and even target skills that prospects have.
Display Advertising
With display advertising, you can get really granular. Since a big bulk of job seekers are passive this is a great way to continue to build awareness and nudge passive candidates into your funnel.
You also have the ability to retarget your audience to create laser-focused high converting segments. "In general, website visitors who are retargeted are 43% more likely to convert."
Events
Events are a great way to connect with the local talent market even virtually. Host an event and partner with local speakers or offer to lead a workshop on something that is relevant to the industry.
Then promote through local meetup pages, Facebook events, Slack channels. Organic Job Boards + Job Board Advertising + Programmatic Advertising
Ensure that your ATS is pushing out and connected to all the relevant job boards. Many of these job boards such as Indeed or Glassdoor have sponsored jobs and also brand advertising. Programmatic advertising can help handle multiple postings and can be adjusted as needed.
I recommend learning each channel and how it works before adding programmatics. It will make you a stronger recruitment marketer and give you deeper insight into how each channel works.
PR/Media
Finding opportunities to be in local or bigger publications for that talent market is a huge piece of the puzzle. But making a splash in the media is a great addition for referral traffic to your careers page.
This can be even more effective if you tie entering the market with a non-profit cause, like donating to the local school or offering free workshops for rising seniors.
Editorial
Written content is one of the strongest assets you can develop. Not only can it give a detailed look into how your company operates it can act as an anchor for multiple pieces of micro-content. One editorial post can become a social quote card, a video, a podcast, and more.
Email Nurture
An email nurture track is a great way to keep your prospects or interested candidates warm. There are many ways to get talent onto this email nurture, either through email collection on your paid advertising, signup on your careers page, or from event signups.
A nurture program should have at least three touchpoints filled with content about your company and relevant jobs.
Employee Advocacy
Your employee's personal networks can do a lot of work for you. You can use incentives for sharing jobs through your referral program and on how many posts or jobs each one shares.
The more jobs posted by your employees the more willing candidates are to explore your company as they see it's coming directly from them.
Closing
Building brand awareness is a tough job. Building brand awareness to a new talent market is even tougher. Take an analytic approach and use all the channels listed above to gain an edge on your competition. You want to think of it as a giant ecosystem that fits and feeds into each other.
Be where the talent is looking actively, where they aren't looking and when they decide to take a deeper dive you already have content ready for them that resonates and will move them to ultimately apply.
---
Authors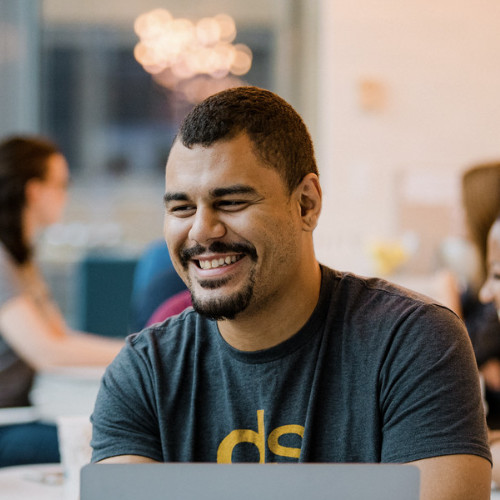 Chris Fitzner is currently a Recruitment Marketing Strategist for Appian. He is a skilled marketing professional experienced in developing creative ways to reach, engage, and convert target audiences. He always stays on top of the latest industry trends and considers himself a constant student in the marketing world.
Recruit Smarter
Weekly news and industry insights delivered straight to your inbox.