In her recent Vanity Fair feature on love in the age of Facebook, "Tinder and the Dawn of the Dating Apocalypse," (which, in fact sounds like a decent description of my high school years), Nancy Jo Sales writes:
"As the polar ice caps melt and the earth churns through the Sixth Extinction, another unprecedented phenomenon is taking place, in the realm of sex. Hookup culture, which has been percolating for about a hundred years, has collided with dating apps, which have acted like a wayward meteor on the now dinosaur-like rituals of courtship."
I am well aware there's perhaps no recruiting related cliché more hackneyed than that spurious, specious and suspect job search as dating metaphor. Already among the more trite trending topics in the canon of crappy HR content, I disdain this simile.
But as I read through this sociological expose of dating apps, which I somehow managed to barely miss, I couldn't help but think of its parallels to the world of online recruiting and talent technology adoption.
Online dating has been around for a really long time, and as Sales points out, as soon as we got online, we've been discovering and perfecting how to use it to hook up, from UseNet forums to AOL chat rooms to Craigslist "Casual Encounters" postings.
It's only been through the ubiquity of smart phones and soaring use of dating apps, however, that meeting a partner online has become the rule rather than the exception. And as recruiters finally wake up to that whole mobile thing, we could reasonably expect the same sort of seismic shift in the way that we look for jobs as have irrevocably impacted the way we look for a partner.
Sales writes:
"People used to meet their partners through proximity, through family and friends, but now Internet meeting is surpassing every other form … It's changing so much about the way we act both romantically and sexually … It is unprecedented from an evolutionary standpoint."
Matchmaking in the Modern Age.
Let's talk about the evolution of dating for a minute. There used to be a time, not too long ago, when it wasn't so easy to meet a potential mate. In that age before the ubiquity of laptops and cell phones, your network was essentially limited to your extended network of family and friends.
Maybe you'd go to a bar, but the possibilities there all reeked faintly of desperation, whiskey, and Axe Body spray. Active candidates are never ideal in dating, either – particularly the ones who are looking just a little too hard.
When you finally did get successfully set up, you did some digging – since meeting people was so hard, it was important to meet the right kind of person.
So instead of simply swiping, you actually evaluated stuff like financial stability, family background, whether they had a solid job and the kind of stuff that matters when the purpose of dating is to find someone who would be a long term fit instead of just another one night stand.
When you actually found someone with potential to start dating in that age before algorithms did all the leg work for you, you had to try to figure out whether or not there was really chemistry. There were no screen names or social personas to hide behind, and every match mattered, because the supply of potential partners was limited to who their friends knew, or else trust in the universe to deliver a "meet cute," but as everyone knows, those are every bit as big a myth as the concept of "the one."
From Famine to Feast.
This brings us to this particular moment, which is something of a momentous inflection point in technology (and Western civilization in the most literal of ways).
Whether looking for a date, or looking for a job, everyone is always just a few clicks away from a seemingly infinite amount of options – what were finite resources have become disposable commodities.
With the veritable cornucopia of options available to people looking for love or those looking for a job, our mindsets have shifted from playing for keeps to playing the numbers – and in both scenarios, we've gone from looking for "the one" to anyone, from searching for the right fit to searching for right now.
Asking someone for a date or applying for an open position have become more or less risk free with these completely automated processes.
You don't know the person, and they don't know you, but since they're out there, the worst that can happen is you never hear back. That happens a lot, but then again, economy of scale is the currency of connectivity.  And as much as we hate an ATS, they sure beat paper job applications
No matter how advanced the algorithms become, no matter how technology evolves, the ubiquity of both online dating and the online job search point to the fact that both are fundamental human needs, and sit squarely atop Maslow's hierarchy. Without love, or the food and shelter our jobs enable us to afford, self-actualization is actually impossible – and that's the end goal of both recruiting and romance, really.
The need to identify with others – whether a significant other or within a workforce – is hard wired into our core collective consciousness. None of us want to be alone and most of us will do whatever it takes to achieve this basic need, but evolution also tells us that we will satiate these primal urges by expending as little energy as possible in the process. The need to do the bare minimum is a Darwinian threshold for survival, although that's likely true in neither the corporate world nor the relationship world. That, or I've yet to find the right woman or the right job.
So, we're content to have our resumes or romantic preferences crunched, interpreted and reported by some matching algorithm no one really understands using math and modeling no one really takes the time to look at in order to tell us who we should date and where we should work.
Better Living Through Chemistry.
These are some of the most important parts of the entire human existence in general, our own lives in particular, and for some reason, we're OK trusting these outcomes to a robot without even questioning whether or not the product delivers as promised, and that the end result is worth the time and effort populating each proprietary platform involves.
Dating app OKCupid (which, coincidentally, I did use for a couple weeks before a fateful meeting with a crazy girl who ended up totaling my car) has released a ton of research on the psychology of affinity, and what drives interpersonal attraction. The ostensible goal, of course, is to tweak the matching engine to best stack rank the results of only those we're most likely to stay with forever.
While we play the field, switching employers or partners whenever the next best thing comes along (or balancing several at the same time, in some cases), that's really what we're all looking for in love and in our working lives.
That's why our employer value propositions and career site copy all speak towards advancement opportunities, professional growth and a familial work culture – we're attracted to stability and want someplace where there's a reasonable chance of putting down roots.
It's why eHarmony commercials have that creepy old dude promising to play wingman in your quest for matrimonial (and soon, career) bliss. It's why candidates are willing to take an hour to apply for a job, or dating site users spend so much time answering personality assessments and answering those never-ending quizzes.
We're all looking for a match, and we all trust machines to do it. Just as dating moved from personal connections to classified advertising to profile based websites before the rise of intuitive, effective mobile apps finally disrupted the market, recruiting stands poised at the edge of a similar seismic shift in the status quo.
The abundance of options and ease of use of these next generation recruiting solutions will finally turn looking for a job fit from a dark art akin to alchemy to a data driven science.
We won't need to rely on that gut feeling that comes with something as subjective as chemistry when we have the formula for creating that chemistry by mixing together the right elements needed to trigger the right recruiting reaction. These next generation recruiting tools mean more first choices and less second-guessing.
Despite this imminent and inevitable industry disruption, the shake up in the recruiting and talent technology vertical has created a tremendous opportunity for established and emerging technology companies to capitalize on the relatively green field market for matching.
This will inevitably alter the competitive landscape, but the technologies best positioned to dominate the next generation of recruiting seem not to be any of the many upstarts entering the market, but instead, more established players who already have the scale, reach and most importantly, the terrabytes required for these matching technologies to be effective – the more data points, the better decisions that underlying algorithm is able to drive.
Talent Technology: The Past is Prologue.
Most importantly, a handful of established companies have experience that no startup can replicate – having built a track record of surviving – and even thriving – against all odds.
Recruiting technology companies have been forced to change dramatically since the rise of job boards nearly two decades ago.
While you might recognize the brand names, chances are you would no longer recognize what's under that hood.
Perhaps no company better exemplifies recruiting technological evolution in action than CareerBuilder, whose own history is more or less a microcosm of the industry at large – and company who I truly believe represents something of a bellwether for the recruiting technology industry, the canary in the candidate coal mine.
Consider the fact that they've managed to maintain viability in the face of the dot-com bust, the Great Recession and the competitive threats inherent to our societal shift towards search, social and mobile.
While the dustbin of HR Tech history is littered with the corpses of startups that never started up or major players who weren't too big to fail, the ones left standing are still around because they've more broadly focused their offerings beyond the traditional, transactional job board or stand-alone point solution model.
Yes, CareerBuilder is paying me to write this post. But I'm paying out of pocket to attend their CareerBuilder Empower event, kicking off September 8 in Chicago. Now, as a rule, I never attend user conferences – if I want to watch an infomercial, I turn on the Time Life channel. But in this case, I can more than justify ponying up for a boondoggle professional development event in Chi-town (or Shot City, if you're a Talib fan).
I could go on about the manifold reasons I'm headed to CareerBuilder Empower instead of my other options that week, which included an invitation to speak at the Wharton School of Business on the evolution of online recruitment advertising as well as a trip to help produce #TruStockholm, since that's now part of our business.
Yeah, I know – but instead of launching into that list, I'll tell you the two reasons that don't involve me trying to make money or increase their spend with me in 2016. Hint, hint.
1. The Agenda Actually Kicks Ass.
I'm old fashioned, but I actually judge conferences by their content – which is why I wanted to poke my own eyes out about 15 minutes into my first OHUG (that's Oracle Human Resources User Group, for you non-cool kids out there) or my first Cornerstone Convergence dog and pony show.
You know the drill – a product manager and a client talking through a deck of how they stopped sucking with whatever software happened to be footing their travel and bar bill and making them feel HR famous for their 15 minutes.
I'm sure there will be some of that at Empower – after all, with the launch of CareerBuilder 1, probably the biggest strategic directional shift in the company's long history, necessitates some end user education and enablement.
But for the most part, it'll be a bunch of former SHRM keynoters – luminaries such as Condoleezza Rice (Class of #SHRM13) and Mike Krzy…the coach at Duke (Class of #SHRM15), but in a much more intimate, interactive setting.
While I couldn't even get in the 10,000 seat ballroom in Vegas to hear Coach K at SHRM this year (I had to watch it via CCTV instead), and had to spend most of his presentation making peace for my earlier Twitter trolling on the official event hash tag, I heard enough to know that his stories about my boy Kobe Bryant alone are worth the price of admission.
2. The Talent Technology of Tomorrow, Today.
CareerBuilder, like a few other established brands, survived by expanded their offerings, moving from job publisher to recruiting platform, enabling rich analytics and meaningful metrics made possible by streamlining software suites to a single, simple system of engagement.
The recruiting ROI that these insights enable impact not only recruiting efficacy and efficiency, but also, bottom line results. With the right recruiting tech stack, talent acquisition can move from cost center to strategic partner – and have the numbers to prove it.
This is pretty powerful for a profession that hasn't had much power – and should finally get some long overdue respect from clients and candidates alike. And I firmly believe that CareerBuilder should be as integral part of that stack – and your recruiting strategy – as it was back in the good old job board days. Of course, CareerBuilder today is anything but a job board.
And the fact that they're paying me to byline a post on their behalf not only speaks to their exceptional taste, but their willingness to push the envelope and evolve from a staid job board into a cutting edge, enterprise grade SaaS solution.
My job is staying on the cutting edge of recruiting, and looking at the line up of awesome speakers and thought leaders coming together to talk talent in the Windy City, I can't help but have something of a nerdgasm. After all, it's not every day you get front line seats to watch the future of recruiting firsthand.
If you're a recruiting or tech geek like me, you should think about joining me. It's going to be pretty kick ass – and I can tell you from experience, CareerBuilder throws one hell of a party. Professionally speaking, of course.
And one that's worth 10.5 HRCI credits, too – just in case you needed another argument for what's already a pretty damn compelling business case for recruiting and HR leaders looking for a sneak peak at what's new and what's next.
See you in Chicago.
Click here for CareerBuilder Empower information and updates, and check out the Talent Advisor blog for a deeper dive into the trends and topics on the Empower Agenda from some of the biggest game changers in recruiting and talent today.
Disclaimer: Recruiting Daily was compensated by CareerBuilder for this post. But we're totally psyched for this one of a kind event, so in this case, the facts and opinions contained herein do, in fact, represent those of the publisher. Because we're all about making candidate experience better, too.
---
---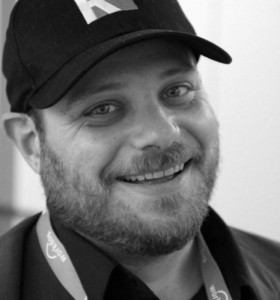 Matt serves as Chief Content Officer and Global Thought Leadership Head for Allegis Global Solutions and is a partner for RecruitingDaily the industry leading online publication for Recruiting and HR Tech. With a unique background that includes HR, blogging and social media, Matt Charney is a key influencer in recruiting and a self-described "kick-butt marketing and communications professional."
Recruit Smarter
Weekly news and industry insights delivered straight to your inbox.