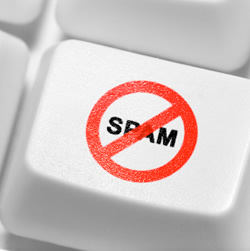 As we wind down our three part look at recruiting contact campaigns, you've learned how to build, deliver and measure a successful recruitment contact campaign.  We've taken a look at what recruiting contact campaigns are really about, practical tips and tricks for making sure your message gets heard, and some best practices for campaign-based engagement & candidate development. Of course, these strategies for success don't matter much if your message doesn't reach its intended talent target.
Here are six real world tips for making sure your recruiting contact campaign can get delivered – and deliver real recruiting results.
1.   No Filters: Don't let your message get lost in a candidate's spam folder.  Most enterprise and personal e-mail accounts have spam filters designed to catch unwanted messages. The most common triggers to avoid include messages in all caps, keywords like "free," "remove," "unsubscribe," and more (click here for a complete list of spam filter phrases).
2.   Know Your Spam Score: There are a few tools out there for determining how likely it is your contact campaign will get caught in these filters before you hit send.  Some recommendations include E-Mail Spam Test (http://emailspamtest.com) and The Cassiopeia (http://www.thecassiopeia.com/portal/SpamTest.html)
3.   Multiple Response Options: Give the person you are contacting multiple options to reply.  Include your e-mail, phone number, links to social profiles or any other way that a candidate can get ahold of you.
4.   Don't Be A Bot: Make sure your copy is clear, compelling and above all, sounds like it's coming from a real person instead of a machine.  Be creative and don't be afraid to be different, but most importantly, keep your message short and to the point. Longer messages are more likely to get caught in spam filters, confuse candidates or lose their interest.
5.   Be Compliant: Make sure any contact campaigns align with all applicable laws and regulations, particularly as relates to CAN-SPAM compliance. For more details from the Federal Trade Commission's official website, click here.
6.   Always Reply to A Candidate Who Replies To You: End of story.
This concludes our three part series on recruiting contact campaigns.  If you missed them, check out the first two posts in the series, Contact Campaigns: What Recruiters Need to Know and How To Execute Recruiting Contact Campaigns.

About the Author: Dean Da Costa is a highly experienced and decorated recruiter, sourcer and manager with deep skills and experience in HR, project management, training & process improvement. Dean is best known for his work in the highly specialized secured clearance and mobile arenas, where he has been a top performing recruiter and sourcer.  Dean's keen insight and creation of innovative tools and processes for enhancing and changing staffing has established Dean as one of the top authorities in sourcing and recruiting.  Connect with Dean at LinkedIn or follow @DeanDaCosta on Twitter.
---
---
Dean Da Costa is a highly experienced and decorated staffing professional, recruiter, sourcer and manager, who also boasts outstanding experience and skills in Human Resources, Project Management, Training, and Process Improvement. He is best known for his work in the highly difficult security and mobile arena's, and the gold star winning numbers he produced. His keen insight and creation of ground breaking tools and processes, to enhance and change staffing as we know it, have proven he is a true "Staffing Thought Leader". Despite all this he remains first and foremost one of the top sourcers, staffing managers and full cycle recruiters in the industry and a true "Search Authority"
Recruit Smarter
Weekly news and industry insights delivered straight to your inbox.