At about 2 PM Eastern on Tuesday, there was a great disturbance in The Recruiter Universe.
Did you feel it? Did it cause your recruiting efforts to come to a deafening halt? Across Facebook, Twitter, Slack, and Discord, a confirmation came: LinkedIn was down.
Not for a few minutes. No, the champion tool was down. And it wasn't the first time, LinkedIn last experienced widespread issues in January last year, when users weren't able to post to the service or make new connections.
Today's outage affected the entire website, and it wasn't loading for most users at all.
While the service, the all-powerful, all-knowing tool, did little to remedy the situation and offered a tongue-in-cheek explanation via Twitter.

While I watched those different feeds on Tuesday, I wondered: why do we all care so much about LinkedIn and LinkedIn Recruiter?
I think that for some it's obviously their number one source of hire. There's no shame in that. It's a highly effective tool.
But with LinkedIn's sinister easy-of-use, is it making us less effective recruiters?
Levy and LinkedIn
I remember a talk I gave back in 2016 shortly after Microsoft acquired LinkedIn. It was at the same conference that I met Matt Charney, Derek Zeller, Pete Radloff, and Steve Levy. These were my sourcing gods, and as I gave the talk, Charney asked if I thought anything would change to LinkedIn.
I was arrogant. I explained that LinkedIn would always be there for us to "freely" extract information because of the SEO and link building that had gone into the site. It was in the middle of the Q&A that Levy challenged the audience to "find one day a week that they sourced from a resource other than LinkedIn."
Three things happened that day:
Levy subtly told me what I needed to do to be a better recruiter.
Levy subtly told the audience what they needed to do to be better recruiters.
Levy subtly coined the term "inmauling".
For these and other reasons, I consider Levy a force of good and a hell of a mentor to the greater community. I digress.
Let's come back to focus on the first two things that happened as they are one and the same and if anyone is following Levy's advice then they did not freak out on Tuesday. Why didn't they freak out?
Because they know more than one way to source and they also know that they can still use Google to extract relevant information from a downed LinkedIn.
Simple Boolean Search?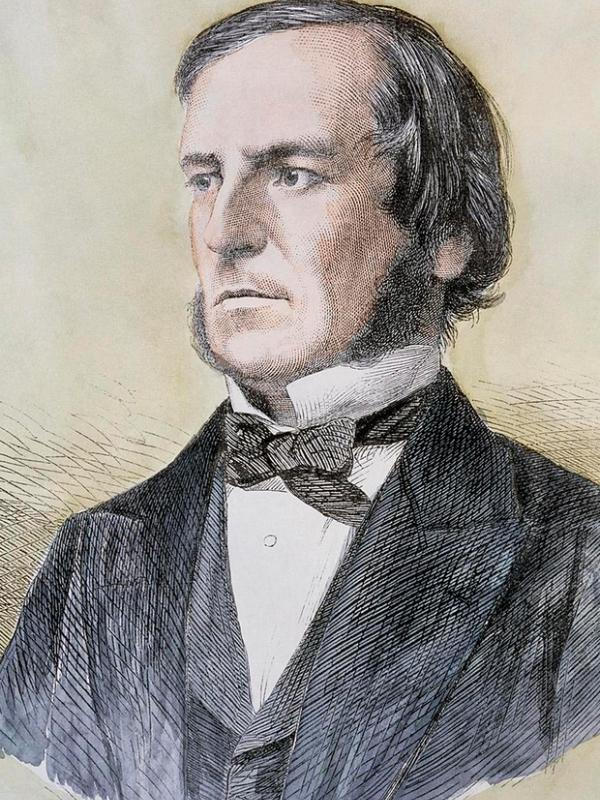 Do we make Boolean search too esoteric? Something like Moses carried down from Mt. Sinai?
Come on, please! But do we use AND, OR, and NOT outside of LinkedIn enough?
Or do we not use so-called advanced operators or Google Dorks to find what we are looking for?
Take for instance the site: operator. When LinkedIn went down this afternoon, I offered my compatriots a simple string to find email addresses on LinkedIn while LinkedIn was down using Google. Call it the power of indexing robots or well-contrived link building, but it works.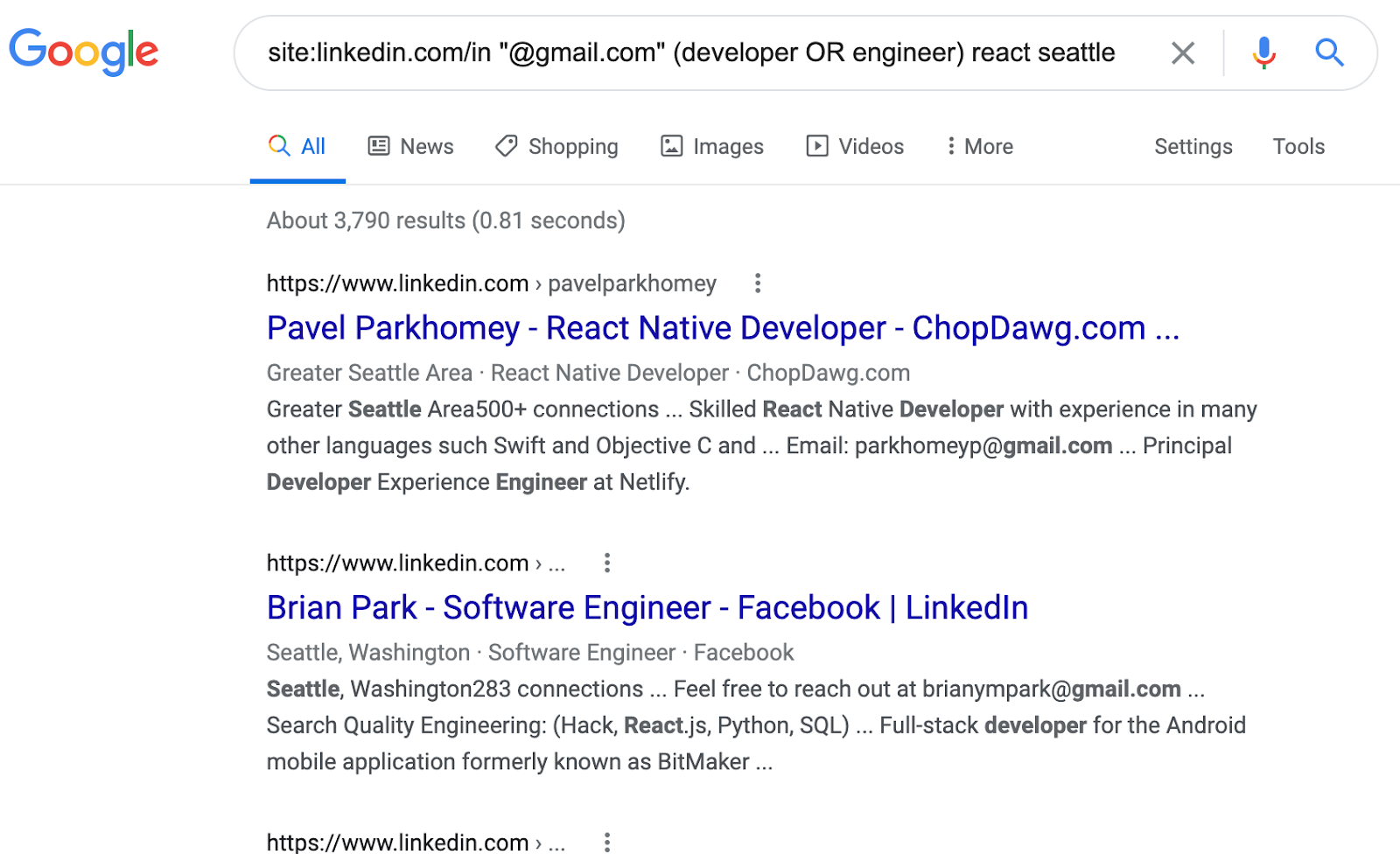 Using the site: operator, I was able to look only at results from LinkedIn. As you can see from the results, I was looking for profiles that had email addresses – specifically gmail.com addresses.
Think about how you could make this string find people with yahoo.com email addresses. That's one part of what Levy was saying that August day.
Maybe we don't need LinkedIn to find this contact information. Try the site: operator with Meetup.com or WordPress.com.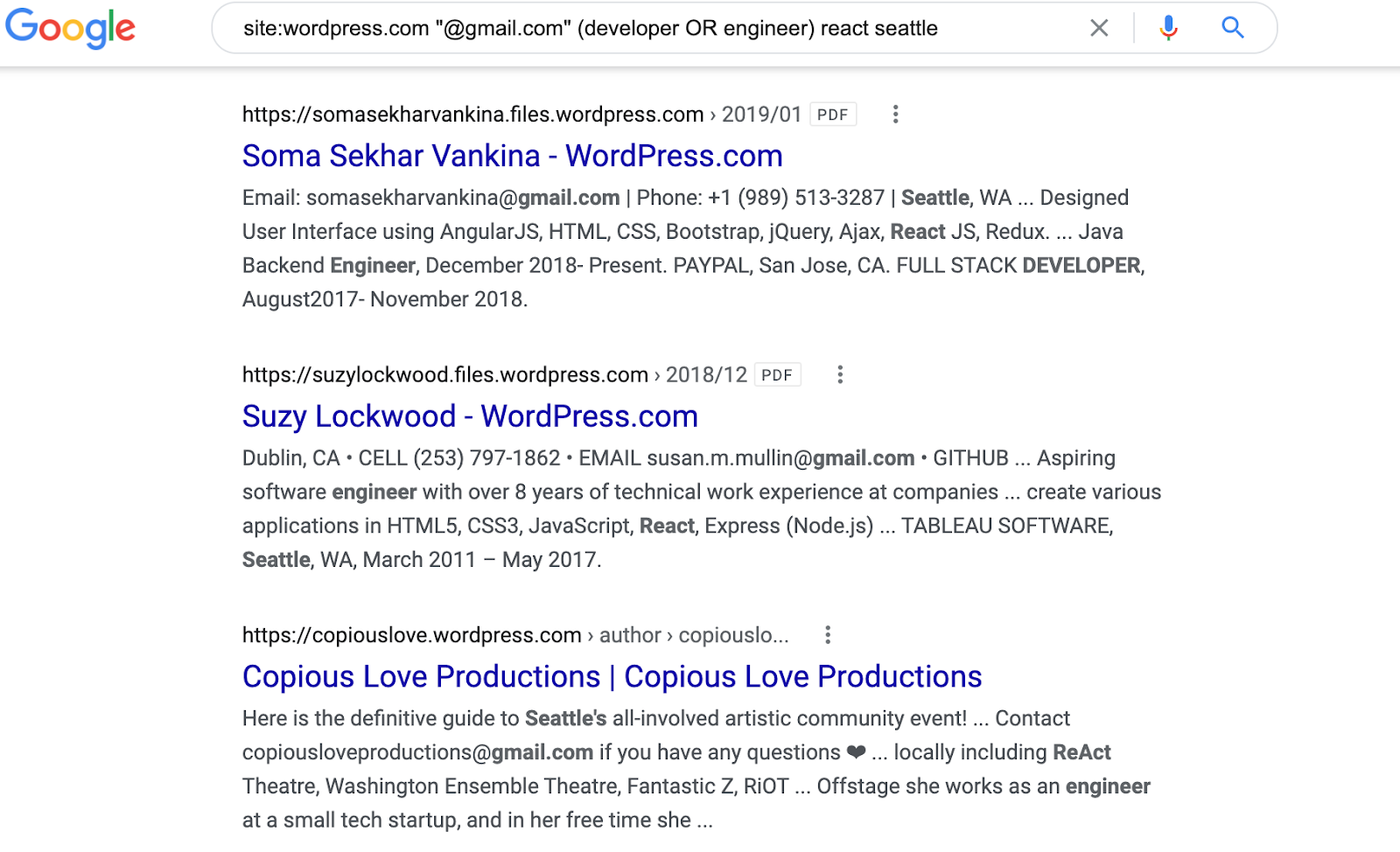 My Point Remains
There's something that's happening – like parts of the body collective of Recruiting is going soft or merely competing for the low-hanging fruit. It's like we aren't putting in the effort to really uncover talent because of the effectiveness of LinkedIn.
And that effectiveness is making us less effective.
When LinkedIn goes down, then we look to other networks. Shouldn't we be looking all along at different networks?
---
Authors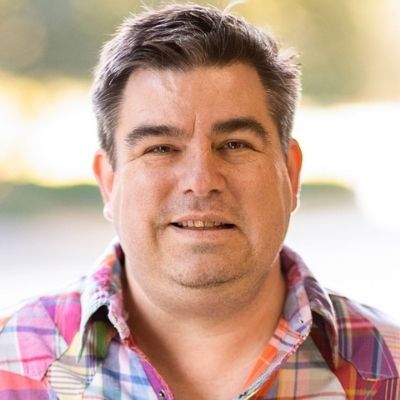 Brian Fink is currently a Senior Talent Acquisition Partner at McAfee. With 10+ years of specialized recruiting experience, Brian specializes in recruitment tooling, building Boolean strings, natural language search, and raw sourcing. He believes and advocates that you are never done learning, regardless of where you are in your career.
Recruit Smarter
Weekly news and industry insights delivered straight to your inbox.