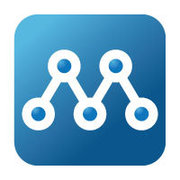 Social media and the role it plays in developing a recruiter's desk can't be overlooked. Recruiting Daily has had numerous posts and articles with regards to social media, but how can you insure that it is working for you? One tool that can assist in making sure your social recruitment plan is working in your favor is MeshHire. A couple weeks ago I had the opportunity to spend some time with Chris Slaughter- Business Development Director at MeshHire to get a demo and learn more about their company.
What is MeshHire?
MeshHire is a Microsoft Azure Cloud-based Social & Referral Recruiting Platform. It enables recruiters to create and manage their Branded Social Network for Hiring across social networking websites such as Facebook, LinkedIn, and Twitter.
MeshHire essentially allows recruiters to create their own Job Referral Network across the social networking sites. By invite only, users are allowed to grow their own network through their various social media channels. It allows recruiters to reduce job board dependency and use your own network to tap into the elusive passive candidate pool. The information you share with your network has increased visibility by others sharing it back out to their own networks.
MeshHire offers four different solutions for recruiters:
– Social Recruit Solution: Turn your employees, job applicants and social media contacts into virtual recruiters using Facebook, Twitter, and LinkedIn.
– Employee Referral Solution: Your employees can help find your next great hire through your private branded employee referral network, and encourage them to promote jobs with our referral rewards system.
– Talent Community Solution: Turn your job applicants into virtual recruiters by adding them to your private branded talent community, and enable them to refer your open jobs to their social network contacts.
– Campus Recruit Solution: Use MeshHire to build and grow a trusted campus-level network for future employment needs.
Positives:
It is extremely easy to grow and organize your personal network with MeshHire. The user dashboard is clean and very user-friendly. The dashboard allows users to manage applicant tracking, referral tracking, reward tracking, and talent pool. It also provides powerful analytical data. There are plenty of options to customize MeshHire to keep within your company brand, and one of the biggest positives is that there is no annual contract. MeshHire is month to month, based on the number of open jobs posted. All data is stored so if you decide to scale down for a month or two, users can return and all information will remain present. Another feature that really stands out here is the reward/payment program that allows MeshHire users to set and track where referrals are coming from. The reward option allows users to place a cash bonus for a qualified lead that can be paid out and tracked all through the MeshHire system.
Negatives:
With most of today's top ATS programs incorporating social media features, some might consider MeshHire as another layer to the process. However it is not a complete duplication of effort if you build your network wisely. The ability to keep your talent pool warm by keeping jobs in front of them is invaluable regardless of the tool used to accomplish that task. With a 30 day free trial, it makes sense to at least try MeshHire and see how it can fit within your social recruiting plan.
In addition, the ATS is just one of Meshhire's many key options, but is not its primary feature.  The ability to build your own branded Talent Community, and broadcasting your job postings across the social web is what truly sets Meshhire apart from its competitors.
Summary:
MeshHire is easy to use, well organized, and allows for users to potentially tap into the passive candidate pool. It is a great tool to for recruiters to consider utilizing when wanting to get the most from your social recruitment efforts.
Recruiting Daily Testimonial:
"MeshHire is a excellent tool for recruiters to utilize in gaining referrals from their social networks." – Tim Spagnola | RecruitingDaily.com
Ranking:



For more information about MeshHire you can visit their official site at www.meshhire.com or follow them on Twitter @meshhire
---
---
Recruit Smarter
Weekly news and industry insights delivered straight to your inbox.