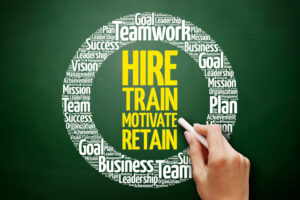 Sometimes, I can't believe some of the things I see.
I just finished reading a very ill-informed article by a HR novice/Intern titled Employee Retention Should Be a Talent Acquisition Responsibility. This article boldly asserts that it's now time for Talent Acquisition to become responsible for employee retention.
Wait a minute; let me calm down and extinguish my hair, which is on fire after absorbing this!
Here's the gist of the "TA should be responsible for retention" argument:
As TA seems to be more directly affected by the employee retention, maybe it is time to rethink the way organizations split duties and responsibilities, and transfer some of them from HR to Talent Acquisition …

Employee retention is an issue which keeps employers awake at night. It is something that can create disruption in the way an organization works, but at the same time, people leaving the company can result in huge costs for the company.

To avoid such disruptions and costs, it is time to shift responsibilities within the HR department and make accountable for employee retention the HR sub-function that really cares about it and that is directly affected by its consequences. Talent acquisition team has more reasons to care about employee retention, and maybe it is the time it becomes responsible and gains full control of the practices and process which focus and aim at increasing employees' retention."
Did I really read that right? I thought the entire company is responsible for retention!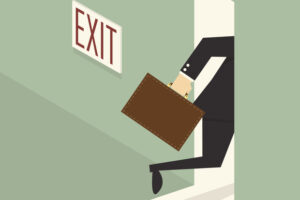 In my 20 years of leading global Talent Acquisition (and Employer Branding and Diversity Recruiting) at various global Fortune 500 companies (Lockheed, Monsanto, etc.) as well as some mid and small size established and startup firms, I have seen a lot of successful hiring processes and strategies for acquiring top-talent. I have also seen broad Company and HR approaches which have aided employee retention.
Here's what TA is REALLY responsible for
Needless to say, I have also conducted more than my fair share of exit interviews and exit interview surveys, and never once did I hear, "I am leaving because the Talent Acquisition department failed to retain me."
Let's approach it this way — what is Talent Acquisition directly responsible for?
Here's a news flash: TA is responsible for the acquisition of talent for the organization involves, among other things:
Building, maintaining and living the Employer Brand;
Writing the job descriptions, meeting with the hiring managers;
Posting the job vacancy inside (at first), and then externally;
Building networks and pipelines to pools of talent;
Accessing diverse individuals and ensuring equal access to opportunity for all;
Ensuring a fair and rigorous hiring and evaluation process;
Rigorous interviewing, assessment and screening of the resumes and candidates;
Creating the short list;
Hiring manager behavioral interview training;
Selling the position to prospective candidates and "closing the candidate;"
Communicating with the applicants/candidates;
Exhaustive reference and background checking (drug screening, criminal background checks, etc.);
Maintaining and updating (along with IT) the external and internal career websites;
Handling the internal job posting process and system;
Benchmarking competitor salary data (discovered in the candidate) offer process;
Helping to select (along with IT) the Applicant Tracking System;
Running the new hire orientation program in some cases;
Initially explaining the company's benefit offerings;

Surveying the new hires, and in some cases, doing the exit interviews;

Etc., etc., etc.
Now, let's turn to "who" is truly responsible for employee retention in an organization.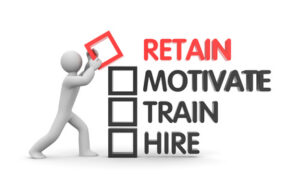 In my experience, I would submit that it is the entire company that is ultimately responsible for working to retain employees.
Here's what helps to retain employees
Consider this: Many factors go into why someone decides to leave a company (or join one, for that matter). Some of these factors the organization can directly control, but others it can't.
The company and all of of its departments, and more importantly, its offerings, are responsible for helping to retain (or even attract) individuals. Specifically, some of an organization's critical offerings include:
A competitive compensation and benefits package, including "perks;"
The organization's culture and overall environment;
Training and development opportunities;
Promotion opportunities, and the company's market reputation as a fair and good place to work;
The quality of the organization's managers, executive leadership team, CEO, C-Suite, etc;
The employee's particular Hiring Manager and the associated team;
The company's performance appraisal system;
The quality of the employee's co-workers;
Annual raises and bonuses;
A state of the art computer system and its companion software;
The organization's esprit de corps;
An attractive work location, and, reasonable commuting times;
"Best Place to Work" awards designations;
An equal opportunity workplace environment;
Etc., etc., etc.
Everybody in the organization is responsible for retention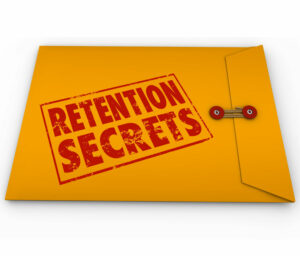 So, should Employee Retention Should Be a Talent Acquisition Responsibility?
No, I don't think so.
When we are all bunched together, we vividly see that "retention" is the responsibility of numerous internal departments which ultimately impact whether or not an individual or individuals choose to stay or leave the company.
These things all provide that special "organizational glue," as I call it, for employee retention.
Surely all of this, cannot and should not be laid at the feet of the over-worked Talent Acquisition Department and its team of professionals. Keep in mind, again, this longstanding truism: the Talent Acquisition staff exists to acquire talent and bring that talent on board.
But since Talent Acquisition is the "first face" the candidate sees, in most cases, it is incumbent upon Talent Acquisition to set the first impression and proper tone with exemplary service delivery and lead the way.
In other words, it takes an entire company, all working together, to provide that much needed "retention glue." And, you won't be retaining very many employees without it. 
---
Authors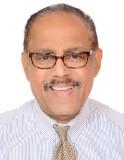 John "Johnny" Torrance-Nesbitt is an award-winning Global Employer Branding & Global Talent Acquisition executive with 15 plus years in building/leading global and regional talent acquisition and employer branding functions at several global Fortune 500 companies. He is global working in Global Employer Branding and was an Employer Branding Director at Randstad and has been Director of Employment Branding & University Relations at Monsanto in St. Louis for over five-plus years where he won four consecutive "Rapid Recognition Awards" for superior achievements. Prior to that, he was at Lockheed (corporate hdqts) in Maryland as head office Corporate Staffing Supervisor & Senior Recruiter, and he built the global recruiting forUnext.com, an innovative Chicago start-up. Johnny was also nominated in 2018 by his former organizational behavior professor, Dave Ulrich, for the prestigious "Employer Brand Leader of the Year 2018 (Global Leader Category.)" and by others in 2019. He is also a volunteer appointed a judge for Employer Brand Management Awards and the Web Marketing Association and a writer. Mr. Nesbitt holds a Bachelors in Anthropology from Amherst with Dean's List honors. While he lived in England, he engaged with the US Embassy there and has a citation from the U.S. Embassy in London for his assistance on "equal access for Americans to UK opportunities." He obtained his MBA in Finance in 1988 (and a Fellowship Winner) and then worked 3 years in Corporate Finance for First Chicago Capital Markets, Inc. You can follow him on Twitter @JohnnyTorrNesbi, or connect with him on LinkedIn.
Recruit Smarter
Weekly news and industry insights delivered straight to your inbox.