Part I: Hitting The Deck
First of three parts
If you've never been to Terranea along the coast just south of Los Angeles, it's hard to describe one of the most picturesque, and privileged, places in the world.
To get there, you have to go through the industrial cities of Torrance and San Pedro, past decaying factories and dilapidated houses, blue collar turned barrio, like so much of the South Bay surrounding it.
You climb up a hill, and turn onto a two-way, winding road, and suddenly, you're coasting along the Pacific Ocean. If you're lucky, you'll see humpback whales or the occasional school of dolphins somewhere out in there in the azure waters.
The post-industrial wasteland and prominent stacks of the largest power plant in the Southland fade behind the hill, replaced with a pastoral postcard of a place that's seemingly removed from the rest of the world.
The run-down duplexes give way to opulent estates worth millions of dollars. This is horse country, so it's not unusual to see the strange sight of thoroughbreds cantering somewhere between the cliffs and the ocean.
This is where the 1 percent live. Where they play lies just down the road, past a bucolic lighthouse and around a sweeping curve, at Terranea (or, a mile or so further down, at the Trump National Golf Club Los Angeles, for heaven's sake). It's easy to miss, despite the subtle signage – a hideaway a world away from the real world.
Nothing Ventured, Nothing Gained
This setting, it seems, was apropos for last week's Code Conference, an annual gathering of the Technorati and Dionysian, self-congratulatory celebration of the excesses of Venture Capitalism. If you're one of the millions of Americans who has to ride public transportation to work, or is more concerned with paying for cell phone data than consuming data about cell phones, it probably wasn't on your radar.
But if you're the kind of person who pays more attention to Sand Hill Road than The Street (probably youngish, predominantly white, overwhelmingly male), the kind of person who slavishly follow TechCrunch, Mashable and The Information as closely as studio execs do Variety or THR, and the kind of person whose sense of self lies more in relative valuations than personal values, then you are aware that the Code Conference was also the setting for one of Silicon Valley's seminal events: the debut of Mary Meeker's annual Internet Trends report.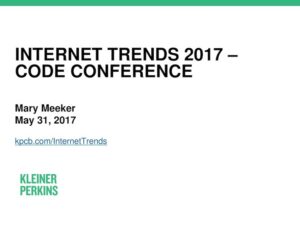 Meeker, a partner at Kleiner Perkins Caufield and Byers (known to most simply as "Kleiner Perkins" or "KPCB"), helps manage the investment decisions of one of the biggest players in the venture capital space.
You might not have heard of KPCB, but inevitably, your life has been touched by one of their big time investments in blue chip tech startups — Google, AirBNB, Uber, Spotify and Twitter are among the companies whose growth was largely financed with venture from this fund.
It's this unique view from the top of the tech industry that gives Meeker's annual report, which, let's face it, is nothing more than a humongous PowerPoint deck (355 slides, to be exact), that makes Meeker's report so anticipated among the head honchoes in hoodies every year.
In typical tech hyperbole, industry journal of record TechCrunch began their lead for their coverage of Meeker's report by asserting that,
This is the best way to get up to speed on everything going on in tech … essentially the state of the union for the technology industry … the most informative research report on what's getting funded, how internet adoption is progressing, which interfaces are resonating, and what will be big next."
If you're a recruiter or talent practitioner, however (or you don't speak douche), there's a chance that you probably haven't had a chance to peruse the hundreds of slides full of statistics and speculation on stuff like "tech wealth creation in China" or the booming viewership and ad dollars pouring into "eSports" (which, let's face it, is something of a contradiction).
Nope. You just want your ATS to f-ing work.
I get this. Which is why I've identified three major trends in Meeker's massive missive that really matter to HR and recruiting professionals – and are the most likely to impact your efforts and efficacy sooner rather than later.
If you're a talent pro, here are the tech trends of tomorrow you need to know in the trenches today:
Enterprise Software = Customer Expectations » Mirroring Those of Consumer Apps.
There's a New HR Echo Chamber.
Your Greatest Asset Isn't Your People. It's the Data About Your People.
A lot of what follows is my personal speculation and secondary, somewhat subjective analysis, but then again, so too is all forward-looking forecasting and futurism.

Trend #1: Enterprise Software = Customer Expectations » Mirroring Those of Consumer Apps
The disparity between HR Technology and consumer technology has largely eroded. While Oracle and its patent attorneys still cling to the dot com paradigm of on premise, "top-down" and "perpetual license" pricing models – their once dominant market share is quickly being eroded by the fact that, simply, the end users of HCM and ATS products are first and foremost consumers of technology.
This means that there's no longer necessarily the expectation, or the patience, for Tier One providers to slowly roll out costly implementations instead of instantaneous configurations, to rely on crappy call centers instead of simple self-service, or to navigate through counterintuitive, confusing interfaces.
HR Technology has long been a bit solipsistic, an island that seemed insulated from the forces of the modern world, which is why so few legacy systems are mobile-enabled or user friendly, and why "decision makers" are still determined by title instead of functional responsibility and professional need.
The focus has been, as Mary Meeker points out, on sales and renewals instead of product R&D and competitive differentiation, which ends up largely screwing the HR and talent professionals who are stuck with an analog anachronism instead of a system that's even close to the consumer adoption curve.
These databases are largely unsearchable; the structured data requirements are onerous (it's why candidates have to spend hours filling out fields and forms simply to apply for a job) and the UI/UX looks like a relic of the DOS and .Net era, evidenced by the fact most are largely usable only in a desktop environment, when the overwhelming majority of online traffic is now coming from smartphones.
Of course, companies like Oracle tout their "cloud" even as they cast long shadows; companies like Workday have great design but hide something of a PaaS Potemkin village; and companies like Ceridian tout their "integrations environment," even when those require custom API development and onerous proprietary development. HR Technology vendors have adopted the lingua franca of consumer tech today, but it's misappropriated malapropisms at best.
The good news is with major tech players like Microsoft, now the parent company for LinkedIn and MS Office (after the Apocalypse, there will be nothing left but cockroaches, Toyota trucks and Powerpoint), Google (both with G Suite and their much ballyhooed Jobs API), Facebook (most sophisticated integrations environment for PII on the planet), Adobe, and even Amazon (more on them in a minute) getting into the game, business as usual should be anything but.
HR Technology has long been a darling of the VC scene, but may well be the victim of its own success, subsumed into the broader enterprise technology suite where HCM and ATS are no longer independent categories, but rather an integrated feature set or end user functionality for broader consumer-facing software and systems.
For candidates and end users, the consumer technology convergence will be good news. Of course, legacy vendors won't go down without a fight, which likely means continuing to drive renewals off of the myth that somehow they're offering some sort of specialization and expertise in HR when, in fact, their lack of technical acumen and inability to push product updates or substantially improve their SaaS offerings are a major liability to every company still tied to their Tier One ERPs.
Of course, Meeker's report suggests what we in this industry have long since suspected: the price of hubris will ultimately be the demise of the traditional HR Technology companies, and the empowerment of the HR end user.
They say you no one gets fired for buying IBM, but I wouldn't bet the farm on Watson or any of its primary competitors. IBM lost the PC market within a period of a decade because they wouldn't port their peripherals, and for the biggest fish in the HR Tech pond, let's just say there are a lot of Compaqs out there waiting to win on ease of user, portability, and cost.
No matter which emerging technology wins the race for the integrated talent management suite (barf), the real winner in the consumerization of HR Technology is you. And that's a good thing for all of us, really.
---
---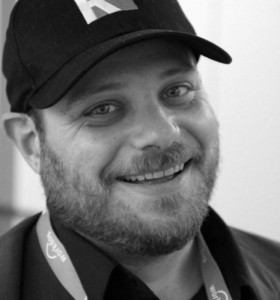 Matt serves as Chief Content Officer and Global Thought Leadership Head for Allegis Global Solutions and is a partner for RecruitingDaily the industry leading online publication for Recruiting and HR Tech. With a unique background that includes HR, blogging and social media, Matt Charney is a key influencer in recruiting and a self-described "kick-butt marketing and communications professional."
Recruit Smarter
Weekly news and industry insights delivered straight to your inbox.