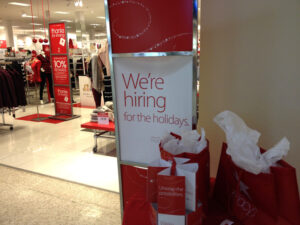 This year's holiday hiring started before the first leaf fell.
First, Target – 105,000. Then, UPS – 95,000. Next, Amazon – 120,000.
Even earlier than last year, the biggest names in retail, logistics, and e-commerce announced the number of temporary employees that will swell their ranks this holiday season.
In fact, the number of job openings for retail sales positions surged by 70 percent in August and 25 percent in September compared with the same months last year, according to data from iCIMS, a recruiting software provider, which analyzed more than 300,000 jobs across roughly 70 customers.
Intense competition for seasonal employees
"It appears that the holiday hiring cycle will prove to be earlier than usual this year," iCIMS Chief Economist Josh Wright said. "It may be that retailers are gearing up to retool their in-store experiences to compete with the convenience of online shopping, and that they need more staff to help with this."
As retailers urgently start their holiday hiring during warmer months, they face an intensifying competition for a shrinking crowd of seasonal talent needed to facilitate the busiest time of the year.
They no longer compete with just each other, but also logistics and e-commerce employers thriving in the digital age in which more people opt for online shopping, an improving economy in which fewer people rely on supplemental income, and the explosion of the gig economy – think Uber – that offers plenty of other sources of it.
With so much resting on retailers' ability to recruit seasonal talent, some of them may reside among the 70 percent of companies that plan to invest in solutions with recruitment marketing capabilities through March 2018, according to a recent report by Aptitude Research Partners.
Rather than rushing to make hundreds of thousands of hires in just a few short months, retailers that invest in a best-of-breed candidate relationship management software solution would gain the capability to proactively build talent pools of passive candidates, who they could then nurture into seasonal employees by the holidays.
More sales, less holiday hiring
While retailers expect more sales this holiday season and started hiring for it earlier, they will actually hire fewer total seasonal employees.
The timing will help sales, as Christmas falls 32 days after Thanksgiving this year, one day later than last year, and on a Monday instead of a Sunday, which means a full extra weekend for shopping.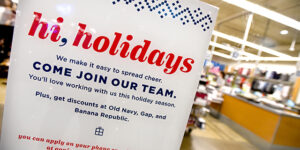 That will translate into $678 billion to $682 billion, up 3.6 to 4 percent from $655 billion last year, marking the ninth consecutive year with a rise, according to estimates from the National Retail Federation (NRF).
"Although this year hasn't been perfect, especially with the recent devastating hurricanes, we believe that a longer shopping season and strong consumer confidence will deliver retailers a strong holiday season," NRF President and CEO Matthew Shay said in a statement.
Yet, retailers will only hire as many as 550,000 or as few as 500,000 seasonal employees to handle this year's sales, down from four to 13 percent from 575,000 last year, marking the fourth straight year with a decline, also according to projections from the NRF.
However, that appears due to retailers' already-strong year of hiring, as they find themselves less in need of help. Job openings for retail sales positions jumped by 42 percent from January to September, while hires for those openings rose by 38 percent at the same time, according to iCIMS.
Nurture now, hire later
While holiday sales and the number of seasonal employees may fluctuate every year, retailers' need for both remains constant.
To make sales possible, retailers must hire for a variety of jobs that extend beyond storefront functions to behind-the-scenes tasks, such as running websites, fielding customer service inquiries, and handling shipping and returns.
In fact, 54 percent of consumers begin researching holiday purchases in October or earlier, 24 percent cite customer service as the factor that convinces them to make a purchase, and 60 percent hesitate to buy from a retailer after a difficult return process, according to the National Retail Federation.
Given those statistics and the make-or-break nature of the holiday season, retailers may consider a proactive approach to holiday hiring, as procrastinating so many hires for such a diversity of positions risks rushing into poor hiring decisions and falling short of the necessary headcount.
By using a CRM tool, retailers can add passive candidates for seasonal jobs into talent pipelines, and then use automated recruitment marketing materials, relevant job recommendations, and other tools to nurture them into seasonal employees well in advance of the holidays.
---
Authors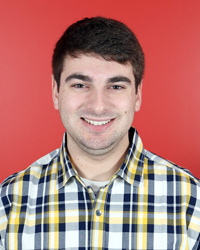 Anthony Panissidi runs social media at iCIMS, a leading provider of talent acquisition software solutions . Previously, he covered business news for the Asbury Park Press, a regional newspaper based in central New Jersey. Follow him on Twitter @APPanissidi  or connect with him on LinkedIn.
Recruit Smarter
Weekly news and industry insights delivered straight to your inbox.