The economy is continuing to add jobs each month, outpacing the number of job seekers. With record inflation putting strain on recruiting budgets, tech companies need the best tools they can get. Yet only about a quarter of companies have caught on to using recruiting automation software.

These companies are gaining an edge in today's market by strategically using technology to automate their manual processes and facilitate excellent candidate experience.

Let's take a look at what recruiting automation is, why more talent teams are using it, and break down five solutions that can save recruiters a lot of time. 
What is Recruiting Automation?
Recruitment automation is any technology that eliminates manual and repetitive tasks that make the recruitment process slow and inefficient. Talent acquisition teams can then shift their focus to building meaningful interactions with top talent. 
A simple use case might mean, managing how candidate data is shared across a hiring team via an applicant tracking system.
While a more advanced example could mean, leveraging machine learning and artificial intelligence to get deeper into the talent pool faster — identifying qualified candidates more quickly than a recruiting team crawling LinkedIn could.
Why are more Recruiters Implementing Recruiting Automation Software?
There's a well-known speech by roboticist Daniela Rus where Rus demonstrated how humans can outperform AI on skilled tasks. Rus's argument wasn't that we should kick machine learning-driven automation to the curb; rather, that we can achieve the best results by using AI-powered automation tools to augment skilled human performance.
On the one hand, recruiters and hiring managers have the very human, very complicated task of developing meaningful candidate relationships and creating a great candidate experience.
On the other, recruiting presents tons of simple but high-volume and time-consuming tasks, ex: candidate sourcing, resume screening and the back-and-forth of updates.
Recruiters and hiring managers who utilize recruiting automation software can reduce time to hire and permit talent acquisition departments to focus on the best candidates.

5 Recruiting Automation Software Solutions

Let's look at the automated solutions that will help recruiters save lots of time while boosting their productivity. We've broken down the hiring process into five steps, and it all starts with your job description.

Ongig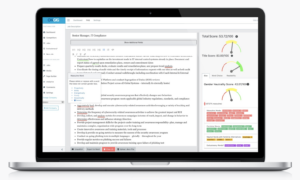 A Harvard University study found that job ads for male-dominated careers like engineering tended to code masculine. As a result, women were left with negative impressions of gender diversity, job appeal and anticipated belongingness.
The good news is that solutions like Ongig can help you rapidly identify words in your postings that are turning off job seekers from underrepresented groups — and let you know what you need to fix to appeal to diverse candidates.
Ongig also helps you turn "boring and biased job descriptions" into effective and consistent ones with custom job description templates and a "missing sections" scanner that shows you if you've left out key sections candidates care about (e.g., salary, benefits, diversity or mission statements).  
Key Features: 
Gender, race, disability, age, neurodiversity, LGBTQ+ and other bias elimination

Neutral and inclusive languaging suggestions

Job description readability score

Job posting template builder

ATS integration for job posting workflow
Celential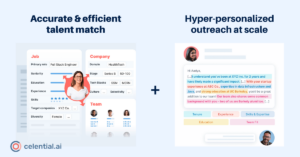 Many recruiters spend around half their time sourcing qualified candidates, so automating that process could have the single greatest impact on ROI.
Celential is an AI-powered, human-in-the-loop recruiting solution that handles the search, matching, and outreach for software engineering, data science/ML and product talent. Once companies sign up, they only need to submit their open job roles and they will start receiving a list of candidates ready to interview.

How is this possible? Celential possesses a tech talent graph of over 10,000,000 tech candidate profiles from the US, Canada and Latin America. They then utilize their matching engine powered by thousands of data sources and Machine Learning models custom-built for tech recruiting to find the most accurate matches to your role, team and product domain.   
Once their AI discovers a mutual fit, it then creates a unique personalized pitch message and contacts candidates on your behalf. All that's left to do is check your email or ATS and select the candidates you want to move to interviews.
Key Features: 
Quality candidates delivered to your inbox within 3 days

70-80+% of candidates presented for interviews are accepted by hiring teams

Dedicated human customer support

ATS and workflow integration

Flexible plans to scale sourcing up and down depending on hiring needs

Diversity-focused sourcing
HackerEarth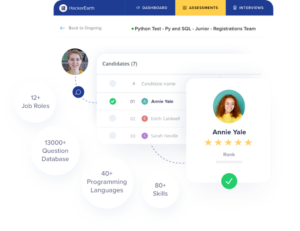 With unfilled technical jobs projected to surpass 80 million by 2030, software engineers can afford to be picky. That's why slow and complicated interview processes are a death blow to hiring for tech organizations in 2022.
It can help to offload the screening itself to a platform like HackerEarth. HackerEarth Assessments is a tech hiring platform that helps recruiters and engineering managers to create accurate, skill-based coding tests.
It offers a rich library of 16,000+ questions across 80+ skills that enables you to create highly accurate coding assessments with very minimal technical knowledge. This platform lets you create your own assessment for any role or skill in under 5 minutes, and you can even add your custom questions.
Since HackerEarth can sync all your candidate data with your ATS, you can directly invite candidates to take the assessment you created on this platform, see at what stage each candidate is in throughout the hiring process, avail performance reports and deliver real-time feedback to candidates – without switching between multiple applications.
Key Features: 
Customized coding tests and assessments

Leverage cutting-edge plagiarism and proctoring controls to ensure fair assessments

Automated scheduling for interviews and assessments

Generate a leaderboard after each test and shortlist candidates with a single click

Get in-depth candidate performance reports with a code playback feature
Workable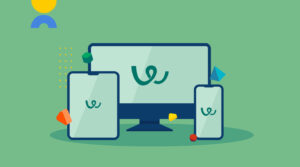 If there's one thing we keep hearing over and over again, it's that Talent Acquisition teams need to become more data-driven to survive 2022's economic uncertainty.
Workable's intuitive ATS can help with reporting and analytics. Geared towards startups and SMBs, Workable allows you to manage — and track — all stages of the recruiting process, from job posting to interview to hire. 
That clear data is a huge asset when it comes to improving your hiring process. An ATS can help you identify recruiting bottlenecks at a high level and eliminate them for a better candidate experience.
As a standard on every plan, Workable offers features such as an advanced careers page builder, interview self-scheduling, a referrals portal and Developer API. You only get two languages on the more basic plan (English + one more) and then the Premier plan gets 6 different languages.
Key Features: 
Easy-to-use centralized hiring workspace

Candidate finding features and browser extension

Reporting and analytics

Integrations with 70+ apps including email, calendar and background check 

Diversity features (anonymized screening, demographic data reporting…)
RingCentral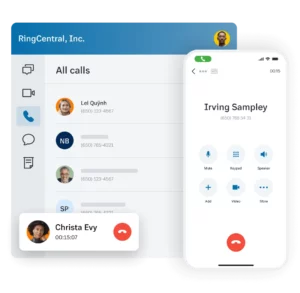 The average executive loses an hour per day searching for lost and misplaced information. RingCentral's unified platform can help prevent wasted time by aggregating all of your communications and contacts with colleagues, customers, vendors and everyone in between. 
Once you've short-listed your ideal candidates, you'll need a reliable web-based video conferencing tool for setting up online interviews. It's ideal to use software that allows you to sync your calendar.  For example, with RingCentral, you can connect your Microsoft or Google Calendar to schedule, view and join meetings on the RingCentral app.
Key Features: 
Сloud phone system

AI-powered contact center

HD video meetings

Unlimited team messaging

Integrations and APIs

Privacy and security features
The Benefits of Recruiting Automation
These various sourcing and recruiting technologies help you save time and money in three major ways. They allow you to: 
See more candidates with fewer resources. The ongoing turbulence in tech these last few months has seen some companies forced to lay off parts or all of their recruiting team to cut costs. 
But unless a company is pausing hiring altogether, they still need to be ready to sift through hundreds of applicants per job posting. Leaning into recruitment automation tools can allow smaller talent acquisition teams to quickly screen out resumes from all but the best candidates.
Boost your diversity hiring. Relying on professional networks and job boards for potential candidates can replicate existing demographic imbalances in your hiring process. 
AI sourcing tools can target candidates from nontraditional backgrounds and underrepresented groups, identifying potential candidates that might otherwise go unnoticed by human recruiters. By standardizing processes and tracking demographic data, AI solutions can also help you remove bias from your hiring process.
Multiply the efforts of your human recruiters. You want to evolve your recruitment process to the point where humans are only doing the things that only humans can do: nurturing a good candidate relationship, separating the minimally qualified candidates from the top talent and speaking face-to-face during the interview and hiring process.
Anything else — any manual tasks that don't put you in front of candidates — should be considered a potential use case for recruiting automation software. Simple.
Wrapping Up: Why AI Recruiting Automation is the Future of the Recruiting Industry
You might have noticed a trend amongst the recruiting automation software we've discussed so far: they all involve handling large volumes of data in some form or another.
With 90% of the world's data created in just the last two years, it's clear the technological revolution is coming to all corners of the world — including talent acquisition.
Deftly handling large volumes of data is practically the definition of artificial intelligence, and talent teams and the future of talent acquisition belong to recruiters and hiring managers who skillfully augment their recruitment process with AI.
---
Authors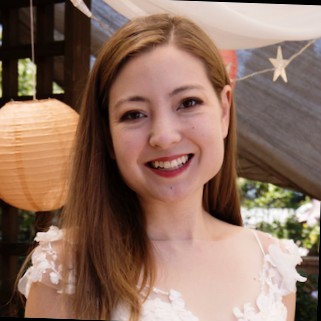 Lauren Greer is a tech recruiting manager and content marketer at Celential.ai, an AI-powered, human-in-the-loop sourcing solution that builds strong pipelines of candidates ready for interviews cost-effectively. Prior to joining Celential.ai, Lauren was a researcher and award-winning instructor at UC Berkeley. So what are you waiting for? Try this tech out for yourself to see the results they bring. Celential offers a free trial where companies can submit a JD and receive ~5 candidate profiles in a few hours.
Recruit Smarter
Weekly news and industry insights delivered straight to your inbox.